Ronda Rousey Will Give Tina Fey A Rude Awakening In 'Do Nothing Bitches'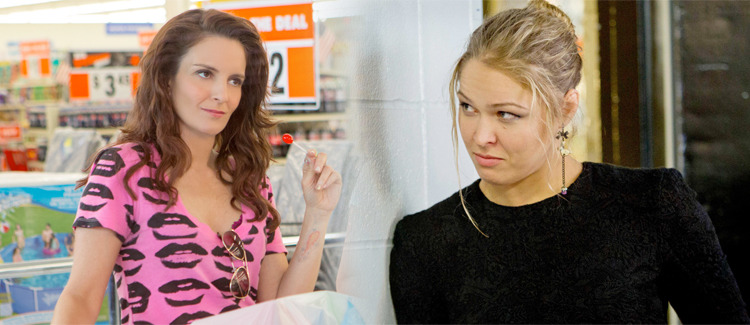 If the second big screen team up of Amy Poehler and Tina Fey in Sisters wasn't quite as good as you hoped, then maybe teaming up one-half of the comedienne duo with MMA champion turned actress Ronda Rousey will do the trick. Universal Pictures has just picked up a comedy pitch called Do Nothing Bitches that will have Fey and Rousey co-starring.
Deadline reports the pitch comes from Paula Pell, a veteran Saturday Night Live writer fresh off scripting Sisters, and Fey will be producing by way of her Little Stranger Productions banner. Before we get to the story details, you might want to watch this video that inspired the title and basic concept behind the movie:
That Ronda Rousey Do Nothing Bitches philosophy sparked the story that will see a group of wealthy, pampered wives getting their life overhauled by a no-nonsense instructor. Fey will play one of the wives in question with Rousey playing their new overseer. I'm betting this will be something like Private Benjamin meets one of those garbage Real Housewives shows with Rousey delivering some Full Metal Jacket supervision.
It sounds like Rousey is putting some serious focus on her future in film after suffering a crushing defeat last year that really shook up her fighting career. She's had some fun in the action department with Expendables 3 and Furious 7, but her only comedy experience was in Entourage playing herself, and that's not exactly the height of hilarity. And while Rousey is a very endearing real-life personality, her performance skills leave a little something to be desired, so I hope she's putting some time into acting classes.
Rousey will get some more comedy experience under her belt before this movie gets off the ground, because she's hosting Saturday Night Live on January 23rd. That will be a real test of her comedic charm. Hopefully Fey will help Rousey blossom a little more with this feature comedy.
So it doesn't sound like we'll see Rousey get back in the ring anytime soon, but that doesn't mean she won't be around to kick some ass. She was recently lined up to star in the remake of Road House at MGM and she's also supposed to star in her own biopic, My Fight/Your Fight, at Paramount Pictures. Stay tuned for more on all of Rousey's projects.