Exclusive: Syfy's '12 Monkeys' Producer Says Series Will Circle Back To The Pilot, Just Like 'La Jetée'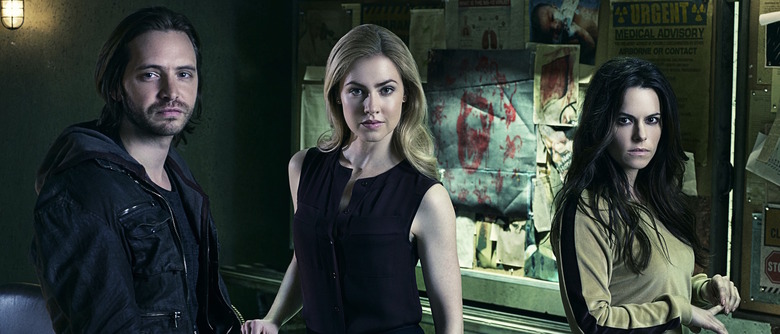 This week at the Television Critics Association winter press tour, I got a chance to interview Natalie Chaidez on her upcoming Syfy series Hunters. We'll bring you the full interview when the show premieres in April, but Chaidez was also a producer of the Syfy series 12 Monkeys so we got some news while we spoke about Hunters.
Based on the Terry Gilliam film, 12 Monkeys has updated the timeline to encompass the present day, the past, and an even more distant viral apocalyptic future. As the film was based on the short La Jetée it had a circular logic revealed in the film's finale. Chaidez said the show has also been designed to circle back to its own pilot, whenever the series ultimately ends. 
"Yes, there is definitely a big plan," Chaidez said. "I think [series co-creator] Terry [Matalas] has said it publicly in interviews, I know he's said it privately to me, that he and [co-creator] Travis [Ficket] knew the way that the series was going to end when they pitched the pilot. It will indeed circle back when the show finishes in season five hopefully, Syfy willing."
The first season's present day was bumped up from 2014 to 2015 when the show premiered in January last year. The present day will now move ahead to 2016.
"There actually is a time jump and some things have occurred," Chaidez said. "We meet Cole and Ramse in a whole new place, in a little bit of a different time but still on the trail of the Monkeys. Jennifer Goines is still out there as well. The future has also changed because of what happened at the end of season one. It's cool. Season two is really cool."
The first season made some interesting music choices. While the film had Cole (Bruce Willis) listening to the classic song "Sleep Walk" on the radio, the series made prominent use of "These Arms of Mine."
"'These Arms of Mine' was Jeffrey Reiner, who directed the pilot, a song that he chose and then just really wove itself through the fabric of the show," Chaidez said. "It is beautiful."
In the season finale, Jennifer Goines gave a presentation set to "The Wind Beneath My Wings." That was more of a joke because she was passive-aggressively sabotaging her father's company. "I don't know the legal details of how that shook out but that was really funny," Chaidez said.
Syfy announced that 12 Monkeys season two will return Monday, April 18 at 9PM.