'Fuller House' Teaser: Welcome Back, Tanners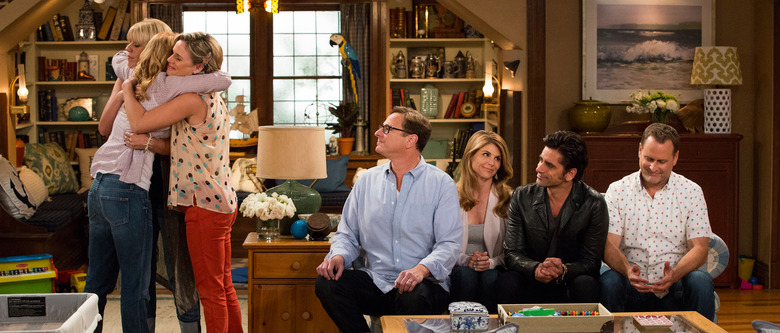 Who's ready for a heady dose of '90s nostalgia? Netflix has debuted a new teaser for its Full House sequel Fuller House, and unlike that last trailer it actually shows the whole gang, not just Comet 2.0. Well, the whole gang minus Michelle, anyway, since both she and her real-life counterparts off enjoying high-powered careers in fashion. Watch it after the jump.
I know it's a small, silly thing, but doesn't it seem like the Tanners should have bought more living room furniture by now? If this family can afford a spacious, gorgeous, multi-story house in the heart of San Francisco, they can certainly afford to buy some new Ikea sectionals so three or four fully grown adults aren't forced to squeeze into a teeny-tiny loveseat.
That minor detail aside, the new Full House teaser is very effective at getting the memories flowing. Here's the whole family (minus Michelle), back in that living room you once knew as well as your own. Maybe even better than your own. In real life, homes change with the people in them. Fashions come and go, needs evolve, stuff breaks. In TV land, everything can always remain exactly as it was, right down to the new dog that looks and acts just like the old dog that presumably died many years ago.
The real question is what Fuller House will have going for it besides the nostalgia factor. The original Full House was hugely popular in its day, but it hasn't really held up that well. Its very '90s sensibility would feel stale and out-of-date in this day and age. On the other hand, if the show tried to go too modern, it would cease to feel like Full House. We'll see how it all pans out when Fuller House hits Netflix February 26.
In Fuller House, the adventures that began in 1987 on Full House continue, with veterinarian D.J. Tanner-Fuller (Candace Cameron-Bure) recently widowed and living in San Francisco. D.J.'s younger sister/aspiring musician Stephanie Tanner (Jodie Sweetin) and D.J.'s lifelong best friend/fellow single mother Kimmy Gibbler (Andrea Barber), along with Kimmy's feisty teenage daughter Ramona, all move in to help take care of D.J.'s three boys — the rebellious 12-year-old Jackson, neurotic 7-year-old Max and her newborn baby, Tommy Jr.
Fuller House is the long-awaited sequel to the iconic hit series Full House. Created by original Full House creator Jeff Franklin, Fuller House will premiere exclusively across all Netflix territories February 26, 2016.