'Alien: Covenant' Will Be A "Hard R" Says The Always Bloodthirsty Ridley Scott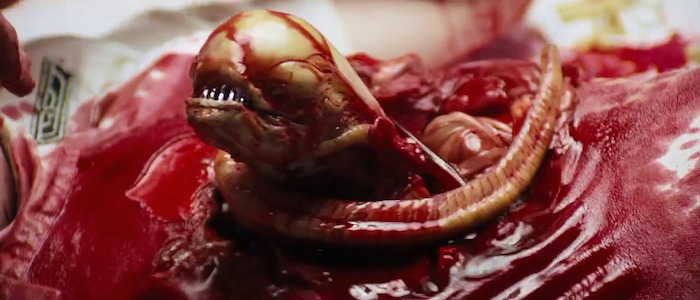 With the exception of Alien vs Predator, a movie that has been all but forgotten thanks to some voluntary worldwide hypnosis that you don't remember, the Alien series has trafficked in just enough extreme violence to warrant R-ratings on each and every entry. The original 1979 film, its three increasingly wonky sequels, and the 2012 prequel Prometheus have all worn their rating as a badge of honor – when you buy a ticket for one of these movies, you are guaranteed something harsh and visceral.
So it's not too surprising that director Ridley Scott has revealed that he has every intention of making the upcoming Alien: Covenant a "hard R." We would expect nothing less from this series and nothing less from Scott, who has never shied away from the blood 'n guts throughout his long career.
This little piece of news broke at the Golden Globes of all places, where Scott's The Martian took home the trophy for Best Musical or Comedy, despite being neither a musical or a comedy. Ah, movie awards politics! Anyway, the legendary director behind Alien, Blade Runner, Gladiator, Black Hawk Down, Thelma and Louise, and, uh, Exodus: Gods and Kings assured the gathered journalists that he wouldn't pull any punches with Alien: Covenant. And we believe him, too. Say what you want about Prometheus (we'll say it's a fascinating misfire), but it certainly slides right into the Alien canon where violence is concerned. It's appropriately gnarly.
Although he didn't spill a single bloody drop of detail, Scott also mentioned that he was plotting something "much worse" than the iconic chestburster scene from his original Alien. Normally we'd scoff at someone brashly talking about one-upping one of the best scenes in movie history, but Scott actually filmed the original scene in question. It's his prerogative to top it!
This may seem like an odd conversation to be having at the Golden Globes, but we're glad this was said out loud and in public. We live in the age of franchises and movie studios have a vested interest in making sure that these franchises make money. One surefire way to impede the march to profitability is an R-rating, which has led to a few too many great movie franchises abandoning their nerve so kids can fill out the extra seats. Knowing that Alien: Covenant won't pull a Terminator: Genisys or Live Free or Die Hard is like a sip of damn good coffee – it perks you up and prepares your for the road ahead.
Here's Scott's full Golden Globes Q&A, just in case you want to see all of this in context. A tip of the hat to ScreenCrush for bringing this video to our attention.
Alien: Covenant, which will take place ten years after the events of Prometheus, act as the first in a new trilogy, and star the wonderful Katherine Waterston, will begin filming this spring for an October 6, 2017 release date.