The 'Jumanji' Remake Tracks Down Director Jake Kasdan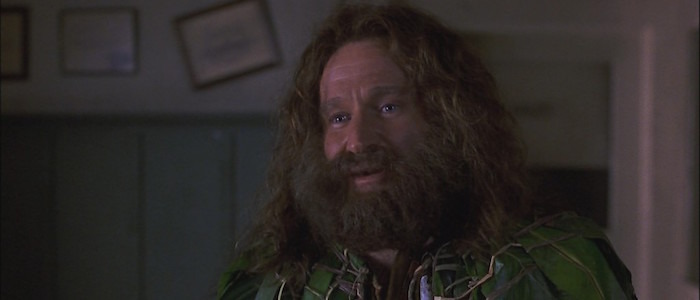 After several years of development and a revolving door of screenwriters, the upcoming remake (or reboot, if you prefer that parlance) of Jumanji has landed a director in Jake Kasdan. And while it's too early to have an opinion on this project in any way, we do hope Kasdan is ready to work at the speed of a charging rhino – because Sony already set a release date last year and that is still in place.
The news of Kasdan's hiring was announced over at The Wrap, who say that the upcoming film is "a new take on the book." In other words, we probably shouldn't expect too many callbacks to the 1995 film version starring Robin Williams, which was a pretty impressive technical achievement in its day and has emerged as an nostalgic millennial favorite. Chris Van Allsburg's award-winning children book has no real plot and was just an excuse to draw a bunch of really cool stuff anyway. This is a beloved title that gives Kasdan, Sony, and screenwriters Scott Rosenberg and Jeff Pinkner a bunch of elbow room to whatever they want...as long as the plot is still about a magical board game that transports animals into suburbia, wreaking havoc.
The original adaptation adopted a family-friendly and comedic tone, blending humor and laughs. It also leaned heavily on the always energetic Williams, who could spice up any joke through pure enthusiasm. The hiring of Kasdan, a comedy veteran, suggests that this new version may also tackle this concept through comedy. Kasdan himself is a mixed bag – his Walk Hard: The Dewey Cox Story is a miraculous gem of a movie, but Bad Teacher and Sex Tape are, well, less inspired efforts. Other credits include the generally well-liked Zero Effect and producing credits on shows like The New Girl, Freaks and Geeks, and Fresh Off the Boat.
So Kasdan is a solid choice for a gig like this and we wish him the best. Especially since The Wrap also reports that the film's December 25, 2016 release date (which was first announced last August) hasn't changed. That means Kasdan has less than a year to develop, shoot, and finish a film that will be filled with all kinds of complex visual effects. One of two things happens here: Sony budges and pushes that release date to give everyone involved the time necessary to actually breathe... or we see whether or not Kasdan can produce a good movie under not-so-ideal circumstances.
Unless something changes, expect to see Jumanji this Christmas. Hopefully, Mr. Kasdan won't die from stress. We're rooting for you, guy. Try to get at least some sleep every day or two.