'The Secret Life Of Pets' Teaser: Kevin Hart Is A Fluffy Little Bunny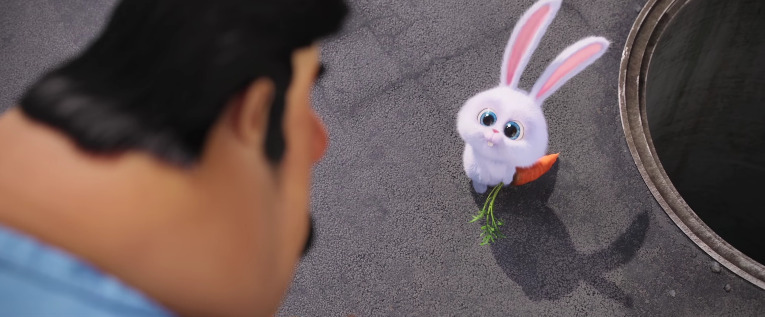 Everyone claims to know their pets — their likes, their dislikes, their habits and personality quirks — but do we really? Or are we just projecting our own ideas and preferences onto a bunch of unamused creatures? Universal's upcoming The Secret Life of Pets posits that there's a lot more to these animals than we might suspect. Maybe they have feelings we don't understand. Maybe they actually get up to all kinds of forbidden mischief while we're out. Maybe they're quietly plotting to get their revenge on us, the unsuspecting suckers.
The latest The Secret Life of Pets teaser helps us get to know, really know, one of these pets, a bunny named Snowball voiced by Kevin Hart (who, as we've already discussed, is Universal's favorite star this year). Watch it after the jump. 
Sure, Snowball may look innocent and helpless, but as anyone who's seen Monty Python and the Holy Grail knows — or as anyone who remembers those Happy Bunny stickers from the mid-aughts could tell you — cute widdle bunnies are very rarely what they seem. This one turns out to be some kind of rambunctious renegade leading an army of abandoned pets underneath the city. Surprise!
This teaser is all about Hart's Snowball, but it seems likely there are similar promos coming for the other two main characters of the movie: Max, the terrier voiced by Louis C.K., and Duke, the mongrel voiced by Eric Stonestreet. Ellie Kemper, Lake Bell, Jenny Slate, Bobby Moynihan, Hannibal Buress, and Albert Brooks also lend their voices to the film directed by Chris Renaud and Yarrow Cheney. The Secret Life of Pets opens July 8, 2016.
Taking place in a Manhattan apartment building, Max's life as a favorite pet is turned upside down, when his owner brings home a sloppy mongrel named Duke. They have to put their quarrels behind when they find out that an adorable white bunny named Snowball is building an army of abandoned pets determined to take revenge on all happy-owned pets and their owners.