Force Awakens Bits: Rian Johnson Teases, VFX Wizards Speak, Rey's Toy Upgraded, Life-Size LEGO BB-8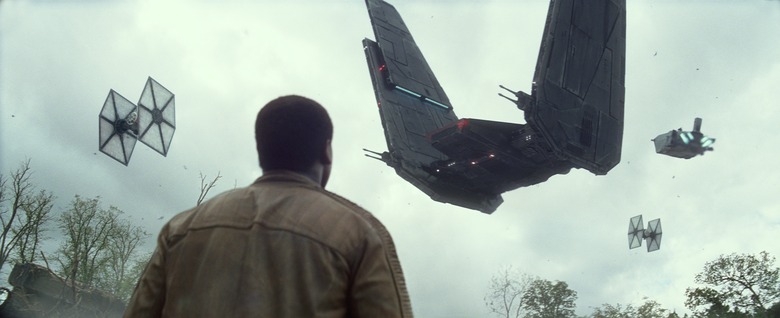 Welcome back to The Force Awakens Bits, your regular source of news about the movie you've already watched seven times! In today's edition:
Hot Toys' Rey figure has received a very cool (and spoiler-y) upgrade.
Star Wars: The Force Awakens keeps on breaking box office records.
Rian Johnson teases all of the Finn/Poe shippers out there.
The team behind BB-8 explains how they brought his crazier effects to life.
Someone built a life-size LEGO BB-8.
An inside look at how to build a 70mm print of The Force Awakens.
The John Williams The Force Awakens soundtrack guide you didn't know you needed.
Patton Oswalt and Conan O'Brien chat about The Force Awakens.
One guy who really wants to spoil Star Wars for everyone.
All this and more, after the jump.
The days of The Force Awakens doing totally insane box office numbers on a daily basis may be over, but it's still moving at a remarkable clip. Deadline reports that the film has officially surpassed Avengers: Age of Ultron at the international box office, with $946 million earned at the international box office. For those keeping score at home, that makes it the sixth highest grossing movie of all time in foreign territories. The next movie to beat: Harry Potter and the Deathly Hallows Part 2 and its $960 million international gross.
Here is Star Wars: Episode 8 director Rian Johnson dumping a couple gallons of fuel on the fanboy fire. Sure, everyone involved in the movies keeps on saying that Poe Dameron and Finn aren't going to get it on anytime soon. And sure, Johnson is known to be playful on Twitter. But go ahead and start your sexy, sexy speculation right now.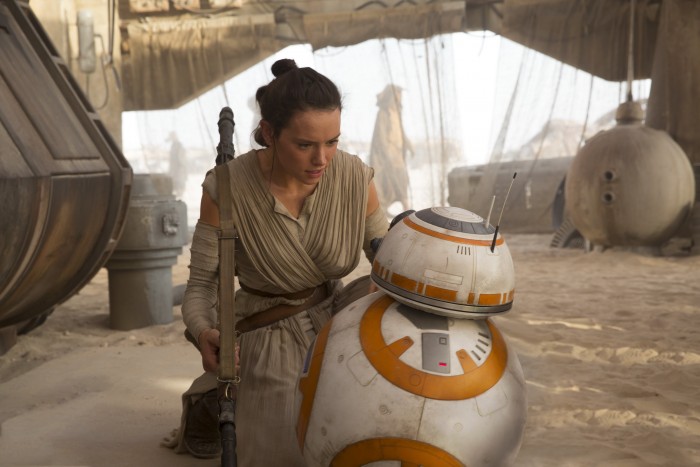 Although a great deal of the business involving the adorable BB-8 was achieved with a practical robot, certain aspects of the character had to be accomplished with digital effects. One of these was the amusing bit were the lovable droid using a lighter to simulate a thumbs up, a bit that wasn't in the script and was improvised on set...and it was harder to pull off than you'd think. Says Patrick Tubach, one of the ILM visual effects supervisors working on the film:
"We did several different prototype ideas of what that could look like, and we had various amounts of metal and plastic on there. One of the difficult things with animating something like that is you have to be very careful that it doesn't look like he's giving you some other sort of gesture! We moved all the pieces around to make sure it was very clearly a thumbs up over any other kind of 'salute.'"
Some talented fellow with far too much time on his hands went and built a life-size BB-8. To be fair, it was built for the U.K. premiere of The Force Awakens, so it's not like he was just building this schmucks on the internet – he had a live crowd to impress! You can watch a time-lapse of the construction above and check out the final version below, where it's flanked by equally impressive LEGO versions of Finn and Rey.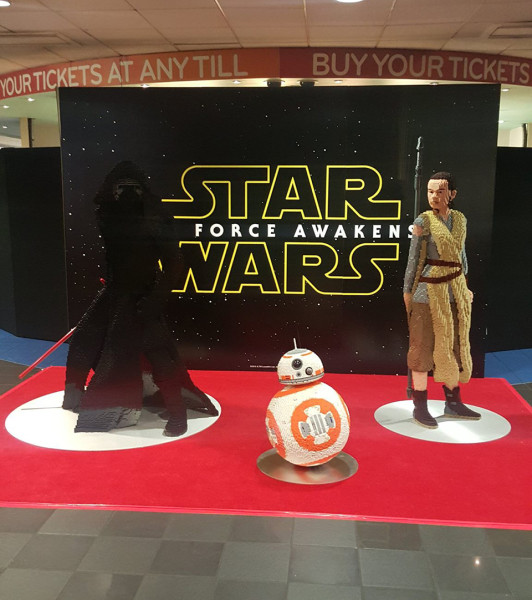 Star Wars: The Force Awakens scored five Oscar nods this week. That brings the entire saga's Academy Award nomination count to 30, tying the Lord of the Rings trilogy for the most nominations for any one film franchise. It's not even close: the Harry Potter movies have 12 nominations, Star Trek and Batman 15, and the James Bond series 14. And with more Star Wars movies on the way, it will surely break that record very, very soon.
Only fifteen theaters in the entire world were able to screen The Force Awakens in 70mm and San Jose's IMAX Dome Theater was one of them. While 70mm film projection is the absolute best way to watch a movie (seriously, it's unreal), it's not a simple process and it require a certain amount of effort and dedication on the part of the projectionist. Thankfully, cameras were on hand to document this process for future generations, showcasing just what's it's like to build and project a print of the most anticipated movie in years.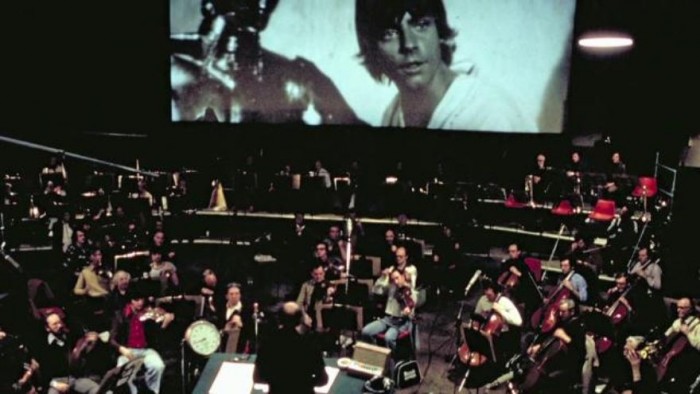 An intrepid user on the John Williams Fan Network Forums has gone through The Force Awakens beat-by-beat, examining where each track on the released soundtrack is placed and tracking the stretches of unreleased music. It's exhaustive and if you're a soundtrack aficionado, potentially invaluable. You can pursue the various notes, charts and lists right over here.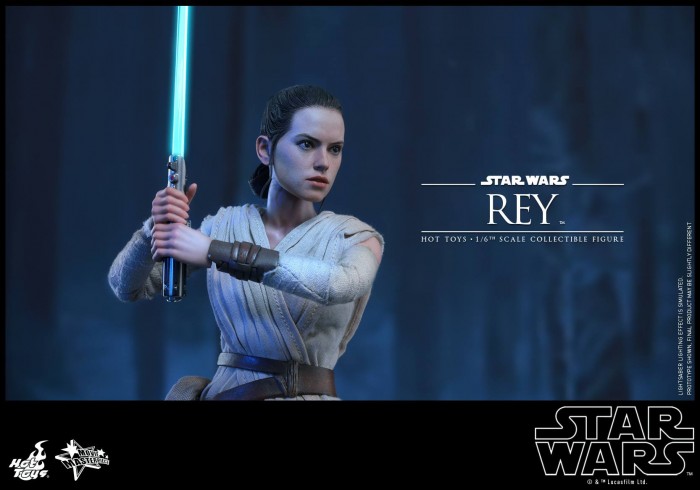 The upcoming Rey figure from Hot Toys is receiving an upgrade. Now, the highly detailed (and not cheap) toy will offer a few unexpected bonus. The figure will now come equipped with removable desert headgear and, more importantly, a lightsaber. Namely, Luke and Anakin Skywalker's old lightsaber, which she wields against Kylo Ren during the climax of the film. It's actually kind of cool that Hot Toys kept these details under wraps for this long – after all, the inclusion of a lightsaber at all is a huge spoiler! These accessories will be available in every version of the figure, including for those who pre-ordered.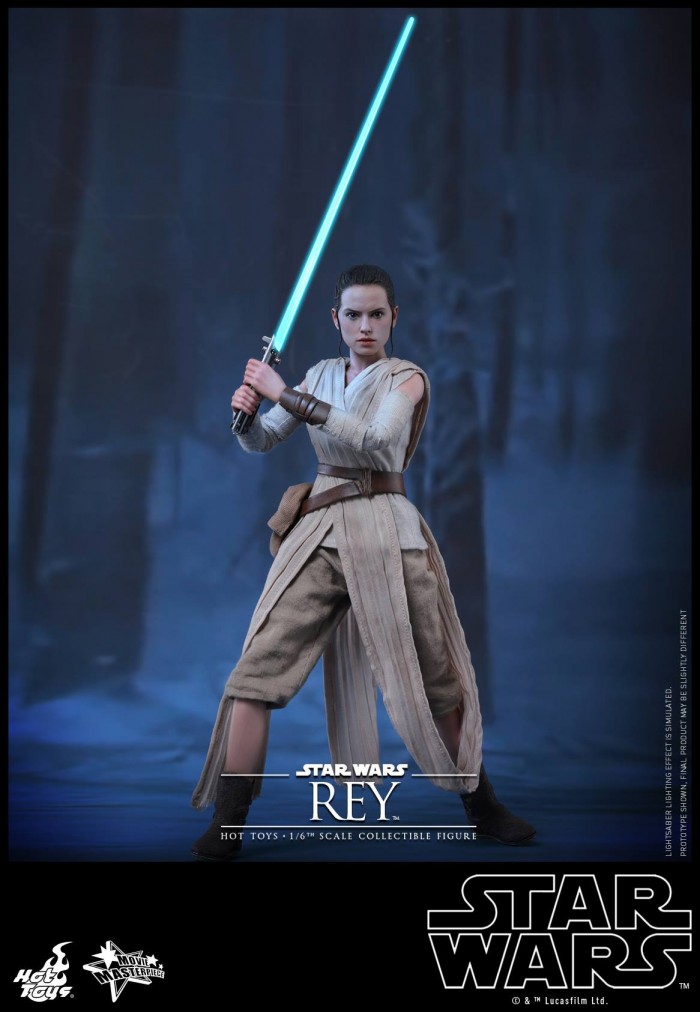 The Verge has published a long and fascinating conversation with Chris Corbould and Neal Scanlan, the two guys responsible for the practical effects of The Force Awakens. Although just about everything they say is fascinating, Scanlan has a terrific anecdote about trying and failing and trying again to recreate Chewbacca. It turns out the making a character this iconic look just right is a difficult task:
There was very little information that we could take from the Lucas archives, because the old suits now are very, very perished. We learned as much as we possibly could from, literally, online sources. It's like an archeological dig. We recreated Chewbacca exactly the way Stuart created him. It was literally a replica. We knitted the suit, and we added the yak hair and the individual fibers; we sculpted directly onto Peter's face to get the Chewbacca likeness. Individual hairs were punched in. And it just humbles you. You know a good Chewie suit when you see it, and you know a bad one when you see it, and getting a good one is much harder than I think the world appreciates. And for that — Stuart Freeborn's unfortunately no longer with us — I put a huge nod toward his brilliance. Just the way that head works, when Peter puts the head on it just lights up. And you go, "Oh my god, that's Chewbacca, isn't it?"
Corbould has a similar story, explaining how his crew tried to recreate how blaster hits look and feel on screen:
But probably the most classic thing we looked at are the blaster hits, where they fire a laser and you get that effect in the wall. I went away with my crew, and we did about 50 different ones. Ones with a lot more sparks, one with different colors, and all that. And I went to J.J. and said, alright, here's a library. Do any of these make you tick up, do any hit the right note? And I think we looked through them all, and at the end of it we all looked at each other and said, you know what? We should stick with what they did in Episode IV, because everybody knows them, everybody's familiar with them, and they still look great. They work, so why change it?
The second half of the article is dedicated to the digital effects of The Force Awakens, with ILM visual effects supervisors Roger Guyett and Patrick Tubach fielding questions. Guyett has this great quote about trying to make sure that the digit effects mesh with the practical stuff to create a cohesive reality:
We want to believe that as a kid, that you would go, "My god, they're flying X-wings." Or you're a pilot in that thing. And a lot of the way we tried to tee it up was make you believe, that if you were flying an F-16, you would photograph it in a certain way. You'd have POV shots; you'd have shots of the pilot. You'd have cameras mounted on the wings. All those things just reinforce the notion that it's happening [for real]. So it's really just trying to feel out how do you distill that down to an approach that gives you those moments, where your family turn to you and say, "Well, it's all happening."
Comedian and nerd royalty Patton Oswald appeared on Conan, where he naturally found time to talk about The Force Awakens. What, did you expect the guy with the famous bit tearing apart the prequels to not talk about the new movie? Anyway, he explains how the new movie is like doing drugs with an old friend and it's very amusing and you should watch it.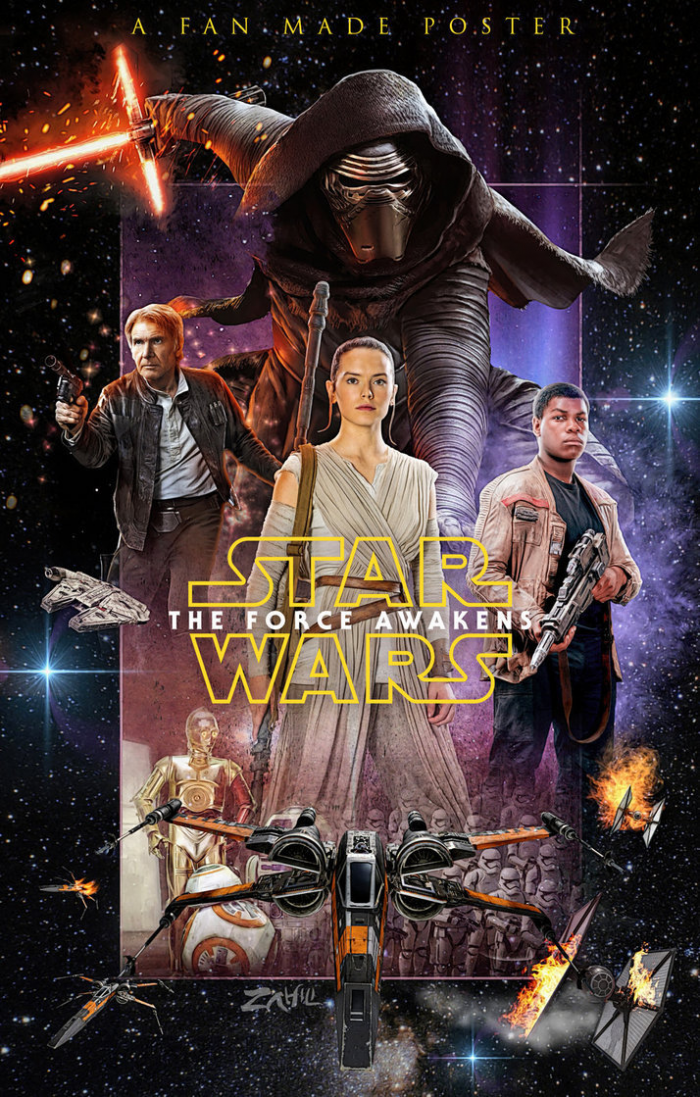 Deviantart user Zahili has created this slick fan made poster for The Force Awakens and in some ways, it's an improvement over the far-too-busy official one-sheet.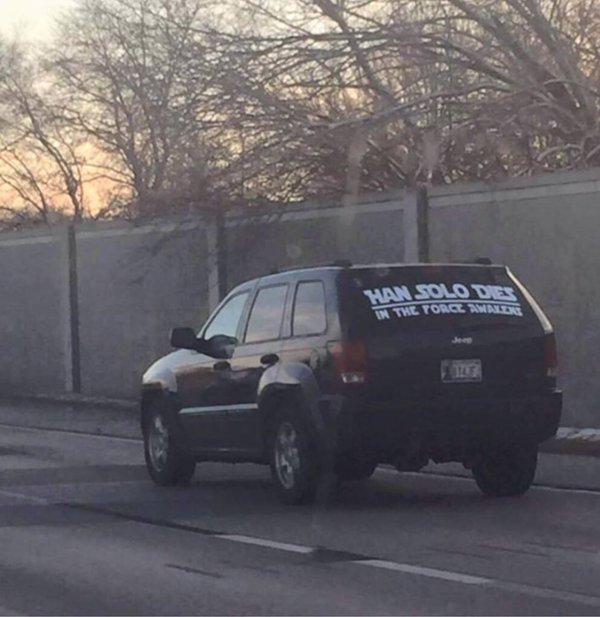 And finally, here is a guy who's on a mission to spoil The Force Awakens for everyone who hasn't seen it yet. Obnoxious? Of course. But you can't help but admire this kind of ridiculous persistence. This is the new "Snape kills Dumbledore."