Mr Robot Cast And Creator Talk Season 2 Themes And Season 1 Twists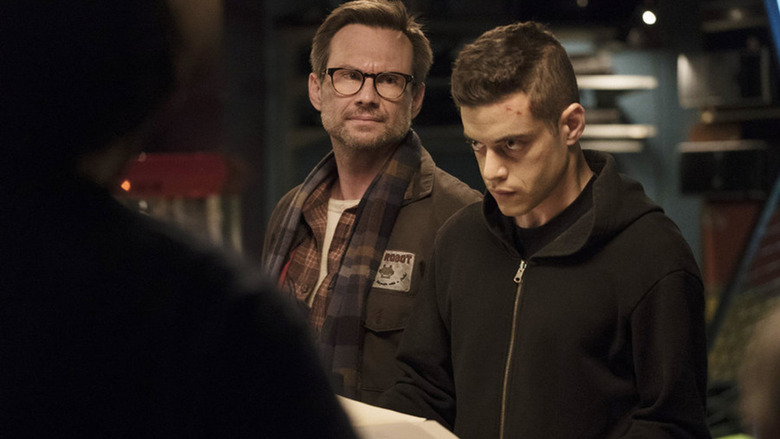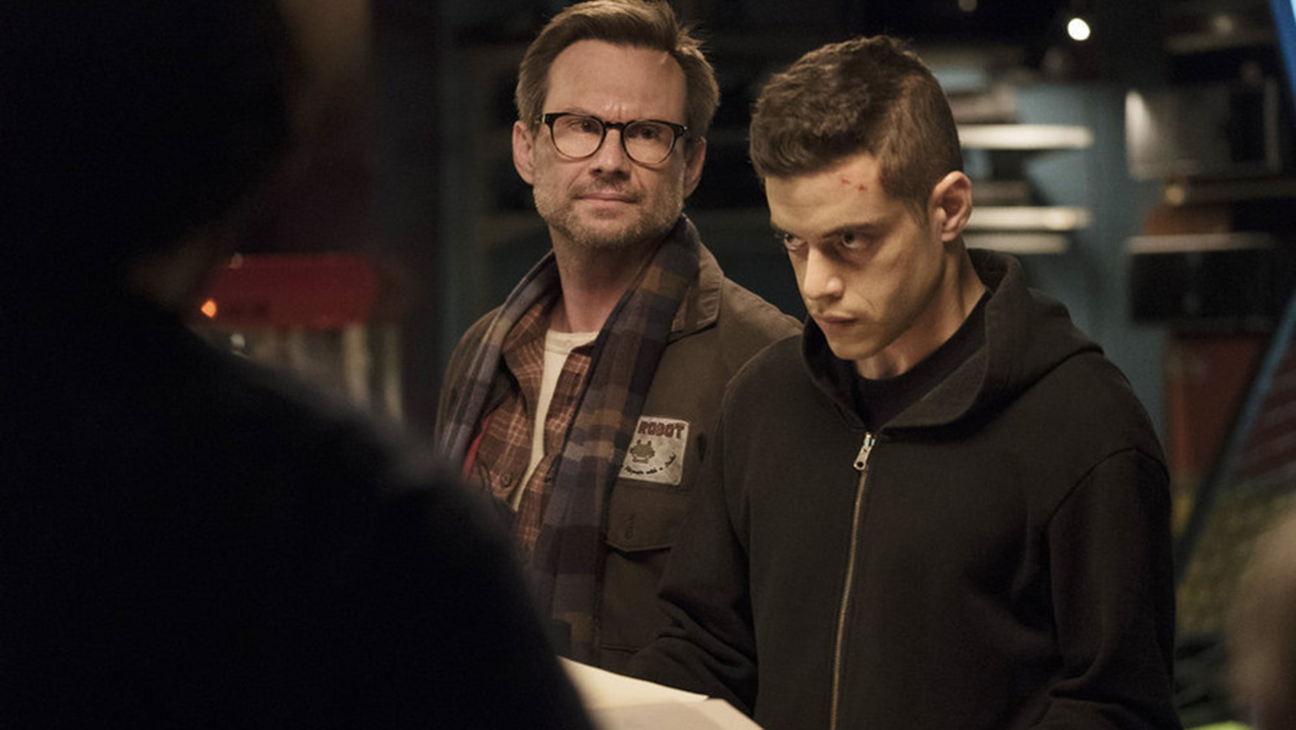 F Society hacked the Television Critics Association before the USA Networks panels in a video accusing us of telling viewers what to watch so they don't have to think for themselves. Their video concluded with a veiled threat that they're monitoring all of our Wifi usage, so we need better security protocols.
The Mr. Robot panel included creator Sam Esmail and cast members Rami Malek, Christian Slater, Portia Doubleday and Carly Chaikin, fresh off their Golden Globe wins for Slater and the series. Esmail was careful about season two spoilers, but big spoilers for season one follow.
"I think the whole show's been about Elliot's emotional journey," Esmail said. "I really wanted to focus on that and make it less about the plot. So for me, the headline for season two is how do these two guys reconcile? How does Elliot reconcile the fact that he's aware he's seeing this fantasy? That's the struggle that is going to take over in season two."
Spoiler alert, the big twists of season one were the Mr. Robot (Slater) was actually in Elliot (Malek)'s head, a vision of his dead father. Also, Darlene (Chaikin) is Elliot's sister. Elliot had forgotten certain aspects of reality. There will be more plot twists, but only as they inform Elliot.
"I want to stay true to Elliot," Esmail said. "Even in the first season, I'm not interested in gotcha moments or trying to shock the audience or surprise the audience. Even though it happens, I think it really happens because Rami brilliantly plays Elliot in a way that draws you into his psyche. So you're learning it with him. As long as that feels organic, feels real, the twists will feel real. It's not my agenda to keep shocking you. It really isn't."
Since the big twist only came in episode eight of the first 10, there is still a lot of fallout with which to deal.
"It's going to be about Elliot really negotiating with himself," Esmail said. "Look, it's about a guy who becomes aware of this delusion he's having. That's a tough pill to swallow. We're really going to go into the mind of a person who's just become aware of that and what's the next step? How do you reconcile that?"
That includes delving deeper into the past of Elliot and his family.
"In season two there will be a lot more backstory that will be shown," Esmail said. "The timeline is going to get a little clearer. Not 100% clearer because what's the fun in that? But a little clearer."
For their parts, the actors suspected the twists before they were cast.
"I said to my agent, 'Do you think that guy's really there?'" Slater said. "He said, 'That's crazy, they'd never do that.' I met with Sam and asked him point blank. He said, 'Do you really want to know?' And he gave me the outline."
Malek also suspected before filming began.
"I knew very early on," Malek said. "I think even before the pilot. I felt the same way, that's really cool and I just hope we can keep it a secret, which was difficult at times when you're on set and you're telling other actors, 'Just try not to look at him.' If you get enough actors on set that aren't part of this crew, you're trying to convince them there's some other reason they can't look at him, people get suspicious."
Slater was a bit of a prankster with costars trying to play their scenes in a Sixth Sense kind of way.
"I would test the other actors," Slater said. "I'd ask them questions and when they'd answer me I'd yell at them."
Esmail also promised to address the threads of Africa that were peppered throughout season one.
"It's not going to dominate the second season but it's going to be addressed," Esmail said.
And B.D. Wong will return.
"He was so amazing in the first season, I would be stupid not to use him more this season," Esmail said. "I do have to use him sparingly because a lot of what's gerat about his character is he's got such a great mystery around him."
Among questions Esmail dodged: He would not answer whether or not Elliot would see additional fictional people in season two. There are additional portions of season one that we should suspect are fantasy due to Elliot's unreliable narration, but Esmail won't say what they are. Also think about why Darlene wasn't in Elliot's Times Square fantasy. There's a reason.
Mr. Robot returns to USA this Summer.