Alan Rickman Has Died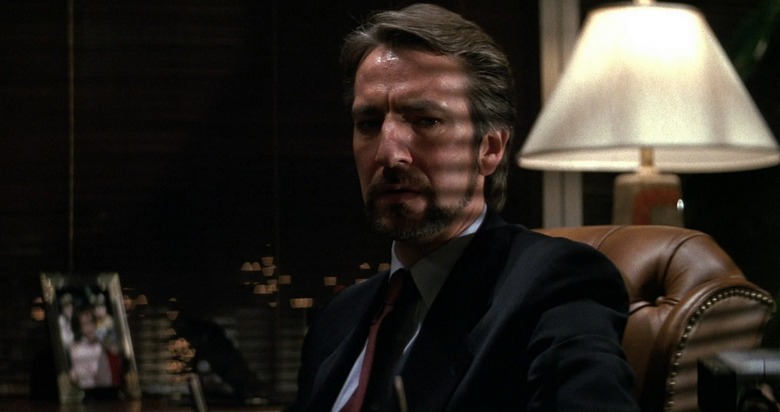 British actor Alan Rickman, known for his roles in films like Die Hard, Galaxy Quest, and the Harry Potter series, has died after a battle with cancer. He was 69.
Born in London in 1946, Rickman first made his name in theater and TV, breaking through with a Tony-nominated performance as the Vicomte de Valmont in a 1986 production of Les Liasons Dangereuses. A few years later, he became an international sensation with his very first movie role, as iconic baddie Hans Gruber in Die Hard. Over the next three years, he slipped nimbly between genres in a wide range of roles — as a character actor and a love interest, as a villain and a leading man.
He played another baddie, the Sheriff of Nottingham, in Robin Hood: Prince of Thieves, and the kindhearted love interest, Colonel Brandon, in Ang Lee's Sense and Sensibility. He spoofed his own "serious actor" image as sci-fi TV star Alexander Dane in Galaxy Quest, and played Metatron, the voice of God, in Kevin Smith's Dogma. Another signature role came in the 2000s, when he played Severus Snape in the Harry Potter films.
Throughout his career, Rickman stayed involved in the theater. He also dipped a toe into filmmaking, putting out two features as a director: 1997's The Winter Guest, which reunited him with his Sense and Sensibility and Love Actually co-star Emma Thompson, and last year's A Little Chaos, which reunited him with his other Sense and Sensibility co-star Emma Thompson.
The Guardian confirmed the news of Rickman's passing with his family. He is survived by his wife Rima Horton, whom he married in 2012 after meeting nearly 50 years earlier. Rickman leaves behind decades of work on the screen and stage, including two completed but as-yet-unreleased roles in Eye in the Sky and Alice Through the Looking Glass.