'Better Call Saul' Season 2 Calls Up Ed Begley Jr.; Aaron Paul Teases Potential Cameo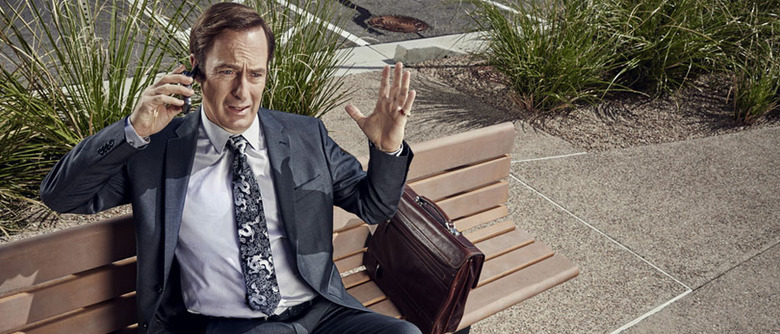 The first season of Better Call Saul ended with some major shakeups to Jimmy's closest relationships, and season two will see him meeting even more people to help or hinder him on his way to becoming Saul Goodman. One key new figure will be Clifford, a friendly-seeming power player to be played by Ed Begley Jr. Meanwhile, Aaron Paul is teasing another important encounter that may or may not be on the horizon for Jimmy — his first encounter with Paul's Breaking Bad character Jesse Pinkman. 
EW reports Begley's character will make his first appearance in the season 2 premiere, and then recur throughout the season. Clifford is an "authority figure who has the power to make many of Jimmy's dreams come true, if Jimmy can only play ball," explained showrunner Peter Gould. "When you first meet him, he is highly avuncular and somebody whom you'd like to spend time with and is a very sweet guy. But you wouldn't want to cross him, let's put it that way."
To cast the role, the producers looked for an actor who, like lead Bob Odenkirk, could do both comedy and drama. Begley is a veteran of film, TV, and theater, and has recently recurred on shows like Arrested Development, Portlandia, Family Tree, and Blunt Talk. He'll be seen later this year in the Netflix movie Mascots, which reunites him with This Is Spinal Tap and Best in Show director Christopher Guest. See Begley as Clifford in the photo gallery below.
As for Jesse Pinkman, we know Jimmy / Saul meets him eventually, but it remains to be seen whether the character will actually make his way to the Better Call Saul. Paul certainly hopes so. "Hopefully, I will be involved," he told Variety when asked whether he might appear on the series. "But I don't know when that may be. I'm not going to say anything more. But I'm absolutely open to the idea. Hopefully it happens. I'm all about it."
Although Paul is keeping his mouth shut about when, or whether, Jesse Pinkman might return, he was able to confirm he's already discussed a possible return appearance with Breaking Bad and Better Call Saul career Vince Gilligan. "We've been talking about it even before they started shooting the show," he said. "He asked if I would be open to it, and I said of course. 'Anything you're involved with, you don't even have to send me the material. I'll just say yes. I owe you my career.' I have a career because of that man. I would do anything he asked me to do."
Better Call Saul has been very careful so far about how and when it introduces familiar faces from Breaking Bad, and the theoretical Jesse Pinkman cameo will be no different. "If I were to be involved, I can promise that it would be done in the most beautiful way, because there's no way they're going to bring Jesse Pinkman back just to bring him back," said Paul. "They're going to bring him back and the audience is going to be very excited not just to see him, but to see how it all unfolded."
The second season of Better Call Saul begins February 15.