Shanghai Disneyland Will Open This June, So Start Saving Your Pennies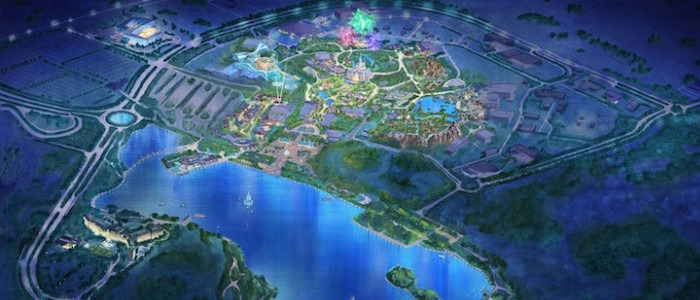 After more than a decade of planning and a five years of construction, the Walt Disney Company has revealed an opening date for their newest theme park. The Shanghai Disney Resort will open its gates on June 16, 2016, bringing the most popular name in themed entertainment to an audience who is becoming more and more important to every media company's bottom line.
And while we can (and will) dip our toe into what Shanghai Disneyland means in the grand scheme of theme parks, movies, and the future of mass entertainment, we also have to accept that this is one slick looking destination. Full details, including pictures of several new rides and attractions, can be found below.
Disney and More has posted the entire press release, but here's the paragraph that cuts to the chase:
Once operational, a visit to Shanghai Disney Resort will be unlike any experience in the world and will demonstrate Disney's relentless innovation and famous creativity. With Shanghai Disneyland, a Magic Kingdom-style theme park with six themed lands, two richly themed hotels, Disneytown, a huge shopping, dining and entertainment district and Wishing Star Park available to guests at opening, Shanghai Disney Resort will not only showcase the best of Disney's storytelling but also celebrate China's incredibly rich heritage and cultural elements to create a one-of-a-kind destination. From world-class attractions to Broadway-quality entertainment, the newest Disney destination will offer premium experiences that guests can only find at Shanghai Disney Resort.
Like most Disney parks, Shanghai Disneyland follows the template established by California's Disneyland and further embellished by Florida's Walt Disney World. Park guests enter through a themed corridor that leads them directly to a central hub dominated by a gigantic fairy tale castle. From there, they can follow a number of paths to various themed lands filled with rides, shows, and attractions. The lands of Shanghai Disneyland are a mixture of the familiar and the fresh: Adventure Isle, Gardens of Imagination, Mickey Avenue, Tomorrowland, Treasure Cove and Fantasyland. The press release also boasts of the longest parade route in any Disney park so far.
Although Shanghai Disneyland is the centerpiece of this whole enterprise, the Shanghai Disney Resort also includes a shopping and entertainment district called Disneytown (an apparent riff on Disneyland's Downtown Disney and Disney World's Disney Springs), two hotels (the Art Nouveau-inspired Shanghai Disneyland Hotel and the Toy Story Hotel), and the Wishing Star Park (a garden park the size of 56 football fields). This place is no small investment.
Shanghai Disneyland follows the pattern we've been seeing in all forms of entertainment over the past decade – the international bottom line has begun to matter more than the domestic buck. This is evident in how hard Disney has tried to push Star Wars: The Force Awakens in China, a nation that is largely unfamiliar with the series. This is evident in the number of theme parks being built in Southeast Asia, Japan, and the United Arab Emirates. As that irritating and iconic song reminds us, "It's a small world, after all" and quintessential American corporations like Disney are simply going where their new audiences are going to be.
Interestingly, this has resulted in Disney having to shake up some of its core concepts in a fundamental way. If you read the full press release, you'll find numerous references to how distinctly Chinese this new park is and how it blends traditional "Disney magic" and with Chinese culture and so on. That's because this new park couldn't just be a transplant of what we've already seen in other parks. Disney has bent over backwards to make something that will be a hit with this nation rather than simply transport ideas that have worked in other nations. That's why "Mickey Avenue" has replaced the traditional "Main Street" as the opening section of the park – Chinese audiences have no familiarity or nostalgia for a small American town circa 1900. Watching Disney, and every other company who produces entertainment on the global scale, work to accommodate a the larger international market is going to prove fascinating.
Anyway, here are some new photos taken straight from the site of the park, which is still going through testing and final construction. The attractions pictured include the Seven Dwarfs Mine train, the Roaring Rapids water ride, the Tron Lightcycle Power Run roller coaster, Buzz Lightyear Planet Rescue, and the Fantasia Carousel.