Rumor: 'Batman V Superman' May Have Yet Another Villain Waiting To Be Unleashed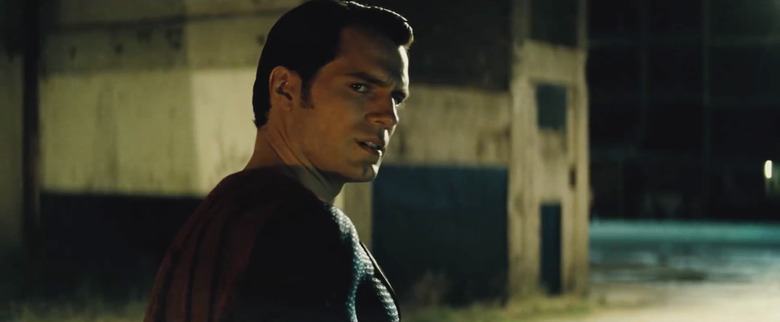 All right, folks, it's time to put on your rumor hats, because the internet has a fresh one regarding Batman v Superman: Dawn of Justice. With the movie just a couple months away from release, we're probably going to start hearing more and more about this big launch into the larger DC Comics cinematic universe, and this new rumor is something that will take us straight into Justice League. Get the details on this other Batman v Superman villain after the jump, but beware of potential spoilers!
The often reliable Latino Review has chimed in with this latest rumor. According to their sources, in addition to Lex Luthor (Jesse Eisenberg) creating problems for Batman and Superman by way of the other villain Doomsday, Zack Snyder will also bring Bizarro to the big screen for the first time.
For those who don't know, Bizarro is actually a villain whose origins began in Superboy comics back in 1958, a villain who had all the powers of the teenage superhero but had a very grotesque appearance. It wasn't until 1959 that Bizarro became part of the primary Superman comic book.
Since then, the character has become quite an adversary for Superman, and we may find hints to his DC Extended Universe origins in the comic books that followed Crisis on Infinite Earths. In the post-crisis storyline, Bizarro is a clone of Superman made by Lex Luthor, but the results aren't pleasing to the villain, so Lex tries to dispose of him. Instead, Bizarro survives and at first begins to mimic Superman by helping people, but eventually ends up kidnapping Lois Lane and being destroyed by Supes.
So if we take into account what we already know about Lex Luthor using General Zod's DNA to create Doomsday in Batman v Superman, what if Luthor ends up being able to get ahold of Superman's DNA in order to create Bizarro? After all, Batman just recently taunted Superman with that famous "Do you bleed?" line in a new TV spot. If he can hurt the Kryptonian enough to draw blood, then Luthor may be able to get his hands on it and create this other villain.
One would assume that Bizarro won't see any action in Batman v Superman, because this is all supposed to be set up for what Justice League will have to deal with in their first movie. But Devin Faraci at Birth.Death.Movies recently posted this on Twitter:
Including Bizarro as a tease in Batman v Superman is a fine idea, but I hope he's not part of a tacked on action sequence that shows how deadly he is before flying away and leaving a cliffhanger to be solved by Justice League. That just seems like it would be too much in a movie that's already crowded. This is all just a rumor for now, but we'll find out what's true in a couple months when Batman v Superman: Dawn of Justice hits theaters on March 25th.