'Money Monster' Trailer: George Clooney Needs To Get Some Answers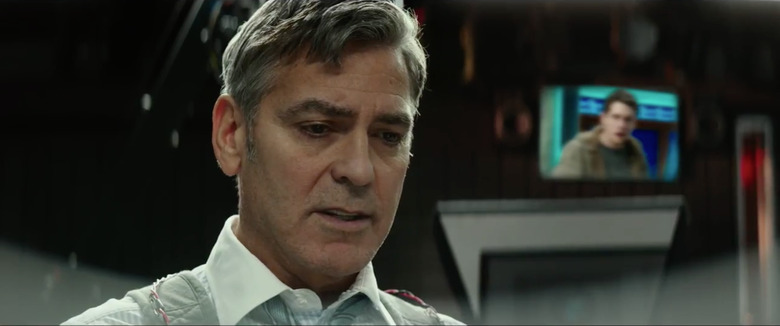 Jodie Foster's last directorial effort, The Beaver, made less than a million dollars domestically. That's unfortunate, because the 2011 drama, starring Mel Gibson, is a very good film that deserved more love than it got. The Beaver isn't a movie for everybody, but Foster's newest film, Money Monster, looks far more accessible.
Watch the Money Monster trailer after the jump.
George Clooney plays Lee Gates, an outlandish host of a popular financial network show. One day an angry investor (Jack O'Connell) takes him hostage, after a recommended high-tech stock crashes and loses the investor all his money.
Here's the Monster Money trailer (source: Yahoo! Movies):
As the Yahoo! article points out, there is a slight Sidney Lumet vibe to the trailer. Money Monster takes place in real time and focuses on a single event, so it's an apt comparison. Foster says there are some similarities to Lumet's work:
He's really the greatest — my favorite filmmaker. And yes, the circumstances are definitely the same. It has that tone of something that's deadly real, yet, there's a hint of satire in it. Though we have a little less satire than Lumet in Network, for example.
We recently saw Adam McKay's The Big Short tackle the stock market crash, and what was so great about that film is it didn't feel simply an angry message movie — which something like Money Monster could easily be:
This poor guy Kyle put the only amount of money he has in one stock and loses everything in nine minutes. It's really hard to explain to somebody what happened to their money. It takes an hour and a half of tense time to tell him what happened. It is rigged for the elite who understand the system. It's specifically intended that the casual stockholder does not have the benefit of the best choices.
The trailer, which feels like it shows too much, hints that there's more to it than that. With this concept and the real time approach, Monster Monster could actually be a thrilling movie. Foster says the film is really about "the brotherhood" these two men form, and a brotherhood between George Clooney and Jack O'Connell should be a film worth watching.
Here's the official synopsis for Money Monster:
In the taut and tense thriller Money Monster, Lee Gates (George Clooney) is a bombastic TV personality whose popular financial network show has made him the money wiz of Wall Street. But after he hawks a high tech stock that mysteriously crashes, an irate investor (Jack O'Connell) takes Gates, his crew, and his ace producer Patty Fenn (Julia Roberts) hostage live on air. Unfolding in real time, Gates and Fenn must find a way to keep themselves alive while simultaneously uncovering the truth behind a tangle of big money lies.
Money Monster opens in theaters March 31st.