Concept Art: See How Star Wars Land Will Change Disneyland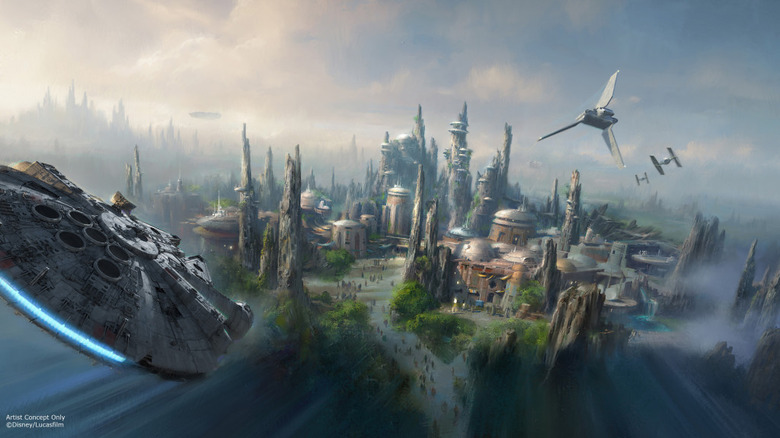 In September, we told you that Star Wars Land would mean huge changes for Disneyland. The changes included the removal of Big Thunder Ranch and a re-routing of Walt Disney's Rivers of America. Now that construction is about to begin, Disneyland Railroad and the attractions and shows that take place in Rivers of America have closed to make way for Star Wars Land. How will Disneyland look after Star Wars Land is added to the park? Find out, after the jump.
Here is the previous animated gif image that attempted to estimate how Star Wars Land may effect Disneyland. Of course, we still don't have the permit maps to tell how accurate this estimate is.
While we reported that Rivers Of America would be getting approximately 25% shorter than its original 1955 layout, we had no idea what it would look like. Walt Disney Imagineering have released new concept art showing how the area will look after the waterway has been reverted to make way for Star Wars Land. When Rivers of America and Disneyland Railroad reopens, the north bank of the Rivers of America will have a beautiful new waterfront.
New Rivers Of America Concept Art
Here is the new Rivers of America concept art:

As you can see from this artist's rendering, the Disneyland Railroad will travel over an elevated trestle over the revamped river way with a background of waterfalls.  I got to say the concept art makes it look beautiful. I know there are a lot of Disneyland fanatics out there that are angry about Star Wars Land being added to Disneyland, and I see a lot of complaining about what Walt would or wouldn't have done if he was around today. In my opinion, anyone who claims to know what Walt Disney would or wouldn't have done today and posts about it on social media, is an a**hole. Plain and simple.
I think we can all agree that if the new river way looks half as beautiful as this artists rendering we're in for a treat. I don't know what Walt Disney would want, but I can say this certainly looks better than a bunch of old fake-looking Native American figures positioned between trees.
Of course, no dates have been officially announced yet as to when the new Rivers of America or Star Wars Land will open, but we've heard that Walt Disney Imagineering hopes to finish work on the new Rivers by April 2017, and will open with a "freshened Fantasmic! show" by July 2017.