'Guardians Of The Galaxy Vol. 2' Will Not Bring Back Benicio Del Toro's The Collector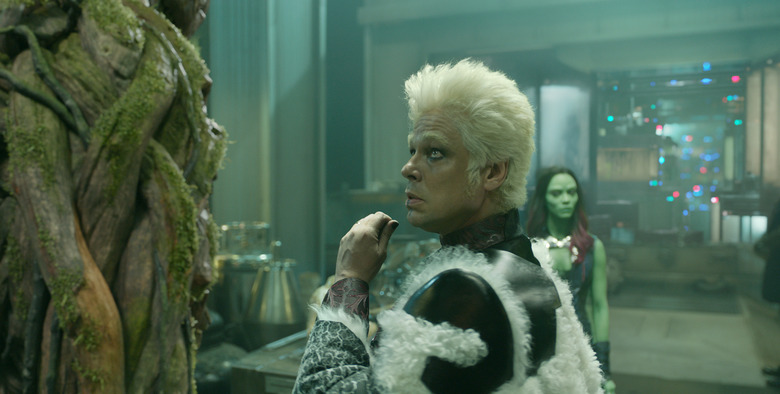 It was always a given that Guardians of the Galaxy Vol. 2 would bring back its five core cast members (Chris Pratt, Zoe Saldana, Dave Bautista, Bradley Cooper, and Vin Diesel). But the status of the franchise's supporting characters have been a little less certain. Yondu (Michael Rooker) and Nebula (Karen Gillan) are both confirmed to return; Ronan (Lee Pace), not so much. And what about the Collector? According to Benicio Del Toro, he won't be back for the next installment, either. 
Coming Soon got the chance to ask Del Toro whether the Collector might return for the next installment of the Marvel franchise. His response was not terribly optimistic. "I don't think so," he said. "They would have told me, I hope... I do hope to play that character again at some point."
Last fall, Saldana seemingly confirmed Del Toro's involvement on social media. In a video praising the actor for his work in Sicario, she added, "I'll see you on Guardians!" But it seems either things have changed, or (more likely) Saldana was just making an assumption that didn't pan out.
Del Toro does have a multi-picture deal with Marvel, as was revealed when he signed on for the first Guardians. However, such contracts don't guarantee an actor will actually be in future installments — they just make it easier for the studio to bring the actor back if they feel like it. And while Del Toro may not be in Guardians Vol. 2, that doesn't necessarily mean we've seen the last of the Collector. There's every possibility he'll show up in a different film down the line, especially with Infinity War coming in 2018 and 2019.
In any case, it's doubtful Del Toro will have too much time to sit around feeling sorry for himself about missing out on Guardians. He's all set to star in Star Wars Episode VIII, which opens May 26 – a mere three weeks after Guardians of the Galaxy Vol. 2 hits theaters on May 5.