New 'Hail, Caesar!' Trailer Is Basically A Simple, Hilarious Scene With Ralph Fiennes And Alden Ehrenreich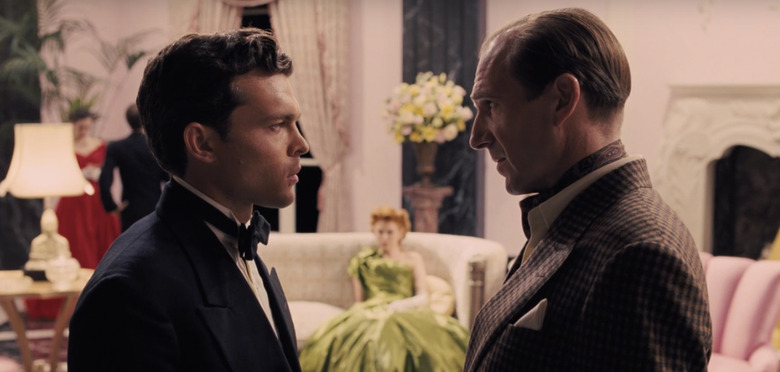 If you're a Coen Brothers fan, then you're probably already excited about the directing and writing duo's new film coming next month, the comedy Hail, Caesar! starring a cavalcade of great talent. We've already seen one trailer showing off the quirky story that takes place in the Golden Age of Hollywood, and now a new trailer shows us even more. But rather than taking the traditional trailer route, they basically use an entire, hilarious scene to sell the movie with a brief montage at the end. And it's just as fantastic as you'd hope.
Here's the new Hail Caesar trailer from Universal Pictures:
As you can see, Alden Ehrenreich simply can't get his Southern drawl out of the way to play the lead role properly in Ralph Fiennes' film. I love how long this scene goes on with Fiennes trying to correct Ehrenreich's poor British accent, and I love even more how it keeps going over the clips from the rest of the movie. It's simple, effective, and just plain hilarious.
However, I'm really looking forward to seeing what Channing Tatum does in this movie. We've already seen him dancing as a sailor, but we've seen plenty of that in both Magic Mike movies. But this time, he's also supposed to do some singing, and that's likely going to be something special to see.
It's been about eight years since we've gotten a straight up comedy from Joel and Ethan Coen. Inside Llewyn Davis and True Grit had some funny moments, but this is clearly the Coen Brothers going for laughs. And the fact that it's set in old Hollywood just has me even more excited. It's certainly one that I can't wait to see when it hits theaters next month.
Four-time Oscar®-winning filmmakers Joel and Ethan Coen (No Country for Old Men, True Grit, Fargo) write and direct HAIL, CAESAR!, an all-star comedy set during the latter years of Hollywood's Golden Age. Starring Josh Brolin, George Clooney, Ralph Fiennes, Tilda Swinton, Channing Tatum, Scarlett Johansson, Jonah Hill and Frances McDormand, Hail, Caesar! follows a single day in the life of a studio fixer who is presented with plenty of problems to fix.
The comedy is produced by the Coen brothers under their Mike Zoss Productions banner alongside Working Title Films' Eric Fellner and Tim Bevan.
Hail, Caesar! hits theaters February 5, 2016.