Quentin Tarantino Will Write And Direct 'The Hateful Eight' Stage Play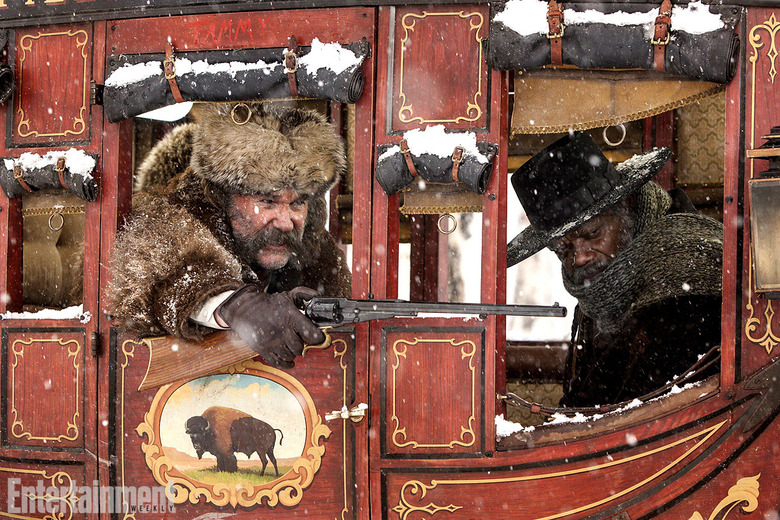 Quentin Tarantino's The Hateful Eight is now in theaters. While the film has been a tad divisive amongst the filmmaker's fans and critics, both Jacob Hall and I absolutely adore the film. In fact, I'm seeing it for a third time tonight, and I can't wait to once again unravel Tarantino's rewarding narrative. It's simply great storytelling, and as he's stated before, it would work just as well on the stage. Now, he's making the prospect of The Hateful Eight stage play sound more likely.
Read Tarantino's future plans for the material after the jump.
Just last week we shared a wonderful interview with Tarantino, in which he said this story easily lends itself to the stage:
My feeling was this: with this material and these actors, this is just a really solid piece. I could do it on the London stage, I could do it on the New York stage, I could do it at a 99-seat theater off of Santa Monica Boulevard, I could shoot it on 16mm — and all those versions would be good, would be solid, and would work. If I feel that confident about that material, well, then let's just do it big. Let me take advantage of the situation I have right now and make it an event.
Last night at the Golden Globes, Tarantino elaborated to The Wrap his plans to turn the story into a stage play, which he would direct:
I've thought it out completely. I'm just waiting for this [awards] season to be over so I can write it. I gotta put myself there and write it for this. Harvey actually — he tried to talk me into doing it as a play first. "He said, 'Let's just say this out loud before we commit to doing the movie.' And I was like, 'Look, I could. But I like the mystery aspect and the mystery aspect will really only work in the movie. And I have the 70mm and I have the snow. So let me do that.'
Tarantino's passion for his latest film is obvious. He's never seemed to lack confidence, but he's right — this story could play incredibly well in a theater. A part of the fun of The Hateful Eight is what you're not seeing in frame, and on the stage, Tarantino could toy with that element in new ways.
Here's the official synopsis for The Hateful Eight:
In THE HATEFUL EIGHT, set six or eight or twelve years after the Civil War, a stagecoach hurtles through the wintry Wyoming landscape. The passengers, bounty hunter John Ruth (Kurt Russell) and his fugitive Daisy Domergue (Jennifer Jason Leigh), race towards the town of Red Rock where Ruth, known in these parts as "The Hangman," will bring Domergue to justice. Along the road, they encounter two strangers: Major Marquis Warren (Samuel L. Jackson), a black former union soldier turned infamous bounty hunter, and Chris Mannix (Walton Goggins), a southern renegade who claims to be the town's new Sheriff.
Losing their lead on the blizzard, Ruth, Domergue, Warren and Mannix seek refuge at Minnie's Haberdashery, a stagecoach stopover on a mountain pass. When they arrive at Minnie's, they are greeted not by the proprietor but by four unfamiliar faces. Bob (Demian Bichir), who's taking care of Minnie's while she's visiting her mother, is holed up with Oswaldo Mobray (Tim Roth), the hangman of Red Rock, cow-puncher Joe Gage (Michael Madsen), and Confederate General Sanford Smithers (Bruce Dern). As the storm overtakes the mountainside stopover, our eight travelers come to learn they may not make it to Red Rock after all...
The Hateful Eight is now in theaters.