'Creed' Sequel Targets November 2017 Release Date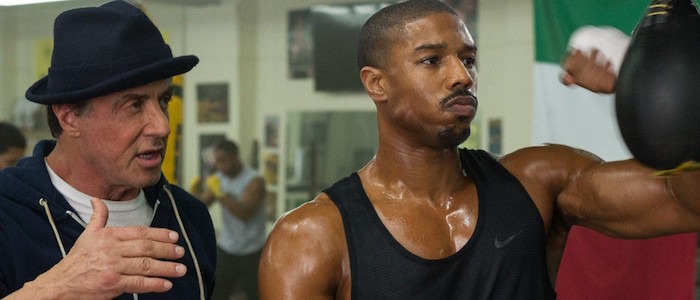 A Rocky spinoff about Apollo Creed's son may have sounded like a terrible idea on paper, but when Creed actually opened it was an unqualified success. Audiences loved it — it's made $105 million so far in the U.S. and counting — and critics adored it. It made a creaky old franchise feel fresh again, without undoing all the earlier installments. Heck, it even won Sylvester Stallone a Golden Globe last night.
All of which is to say a Creed sequel was only a question of when, not if, and now we have our answer. MGM is reportedly eyeing a November 2017 release date for the film, putting it about two years after Creed's release. That's the good news. The bad news is what this might mean for director Ryan Coogler's involvement. 
Speaking to Variety last night, MGM CEO Gary Barber revealed his hope of getting the Creed sequel out in November 2017. "That's my goal," he said. Although Barber clarified that a release date has not been locked in at this point, a November opening makes sense. Creed did great business by opening over Thanksgiving weekend last year, so there's no reason not to claim that slot again for the sequel.
Unfortunately, a 2017 release date means Coogler is unlikely to direct. The filmmaker is currently in talks for Marvel's Black Panther, due out February 2018 — just a few months after the targeted Creed sequel release date. Stallone acknowledged the possibility of moving forward with a different director in an earlier interview. "I know Ryan is probably going to be gone for a couple years," he said. "So there will be a quandary on: Do we work with another director and have Ryan produce, or do we wait?" As Stallone pointed out, they can't wait forever: "There's a diminishing time acceptance of a sequel. Now they are cranking them out in a year."
While MGM hasn't officially announced a Creed sequel — Barber's comments above are as close as we've gotten – it's probably safe to assume the studio always hoped it'd get to make one. And Creed was a pretty great argument for restarting the franchise. Michael B. Jordan made for a compelling lead as Adonis, and his story hearkened back to the series' roots while also updating it for the modern day.
As for what a second film would entail, Stallone has teased that a sequel could go back in time. "Ryan has some ideas of going forward and backward and actually seeing Rocky and Apollo together. Think of The Godfather 2," he said. "That's what he was thinking of, which was kind of ambitious."