The Force Awakens Bits: The "Official" 'Star Wars' Music Video, Your Poe/Finn Shipping Gets Shot Down, More Broken Box Office Records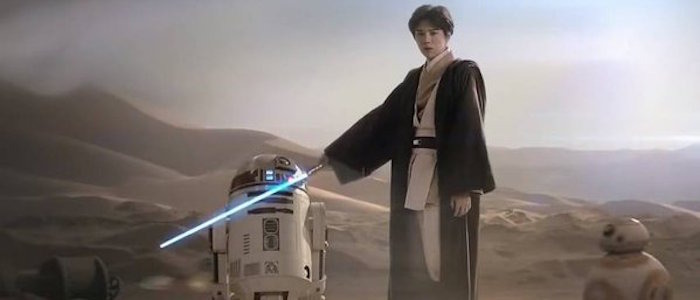 Welcome back to The Force Awakens Bits, the regular feature that will exist until Star Wars: Episode 8 decides to murder Star Wars: The Force Awakens and steal its throne. In today's edition:
The amazingly awful "official" The Force Awakens music video.
Star Wars' uphill battle at the Chinese box office.
A certain set being recreated for Star Wars: Episode 8...
The unfortunate end to your Poe/Finn fanfic.
Samuel L. Jackson is still talking about Star Wars.
That secret connection between The Force Awakens and Parks and Recreation.
The editors of The Force Awakens speak up.
A The Force Awakens comic that may inspire a tear or two.
The original Star Wars trilogy was not available in China until last year, which means that the audiences there (who can often make or break the international gross of a movie) have no nostalgic attachment to this series. This has led Lucasfilm and Disney to fret over whether or not the movie will make a splash at the box office there, which has led them to hiring LuHan, a young pop star, as the "official China Ambassador for Star Wars: The Force Awakens." Step one in his new gig: this spellbindingly awful music video, brought to our attention by the folks at ScreenCrush. Enjoy. Sort of.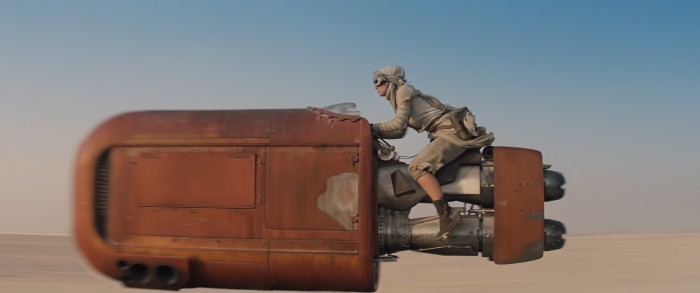 So, how has The Force Awakens been performing in China since it opened on January 9? It depends on whom you ask and where you look. Variety reported its record-breaking $33 million opening day. Deadline offered an update, claiming that it made $52 million over the entire weekend. However, Forbes reports that its box office has plunged every day since the opening, suggesting that the film simply isn't catching on with Chinese audiences. What does this mean? If nothing else, it means that The Force Awakens probably won't catch up to Avatar (which was an enormous success in China) at the international box office. That's okay. Star Wars will have to settle for only $2 billion and change.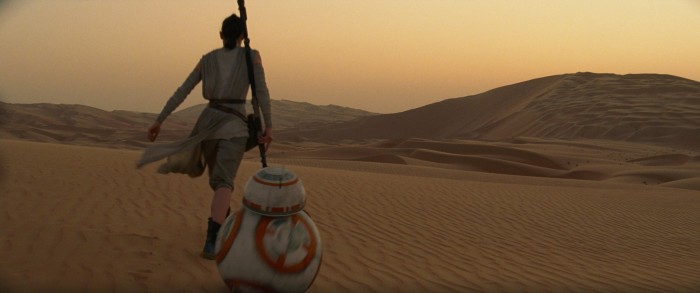 In all seriousness, don't weep for The Force Awakens' box office. Even if it doesn't break every record, it's broken enough records to make everyone involved happy for a long time. Deadline has compiled a complete list:
Fastest highest-grossing film at domestic B.O.: 20 days (beats Avatar's $760.5M)
Fastest to $700M at domestic B.O.: 16 days (crossed January 2)
Fastest to $600M at domestic B.O.: 12 days (crossed December 29)
Fastest to $500M at domestic B.O.: 10 days (crossed December 27)
Fastest to $400M at domestic B.O.: 8 days (crossed December 25)
Fastest to $300M at domestic B.O.: 5 days (crossed December 22)
Fastest to $200M at domestic B.O.: 3 days (crossed December 20)
Fastest to $100M at domestic B.O.: 21 hours (crossed December 18)
Biggest preview night ever: $57M
Biggest opening day at the domestic B.O.: $119.1M
Biggest opening weekend at the domestic B.O.: $247.97M
Highest per-theater average for a wide debut: $59,982
Best Imax opening: global ($48M) and domestic ($30.1M)
Biggest opening week at the domestic B.O.: $390.85M
Biggest opening weekend at the worldwide B.O.: $528.97M
Biggest domestic Sunday ($60.55M), Monday ($40.1M), Tuesday ($37.3M), Christmas Day ($49.3M) and New Year's Day ($34.39M)
Biggest second domestic weekend: $149.2M
Biggest third domestic weekend: $90.2M
Pushed the total domestic annual box office to a record $11B on December 29
Fastest to cross $1 billion at global B.O.: 12 days (crossed December 27, beating Jurassic World's record of 13 days)
Led biggest total weekend (for all films): $312.9M (December 18-20)
Led biggest total Christmas weekend (for all films): $296.4M (December 25-27)
Biggest December foreign debut: $281M (beating Avatar's $164.5M in 2009)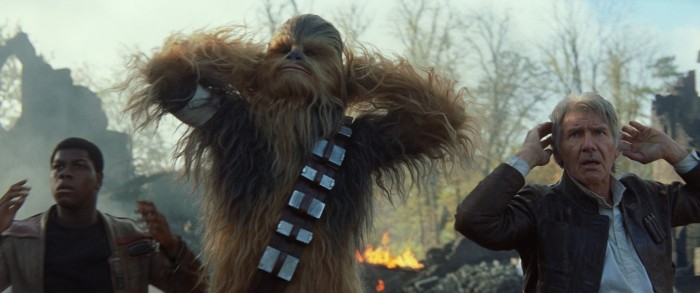 As previously suspected and reported, Star Wars: Episode 8 is recreating key areas of Skellig Michael, the Irish island that served as a location for the final scene of The Force Awakens, on sound stages and other locations. Making Star Wars notes that the production is creating "cheat" location that will double as the gorgeous, mountainous isle... it just won't require the danger and difficulty that accompanies filming on a gorgeous, mountainous isle.
A set pic of @simonpegg and I having some laughs... pic.twitter.com/0jswHrZRmD

— Peter Mayhew Foundation (@TheWookieeRoars) January 7, 2016
Here's a picture of Chewbacca actor Peter Mayhew and Simon Pegg hanging out, because why not? You know these two had some fun conversations. And now that Pegg has played a Star Wars alien, they can swap stories about wearing uncomfortable costumes in the desert heat.
Remember when the Star Wars: The Force Unleashed II video game predicted the end of The Force Awakens by featuring the death of Han Solo at the hands of a lightsaber-wielding maniac? The internet remembers.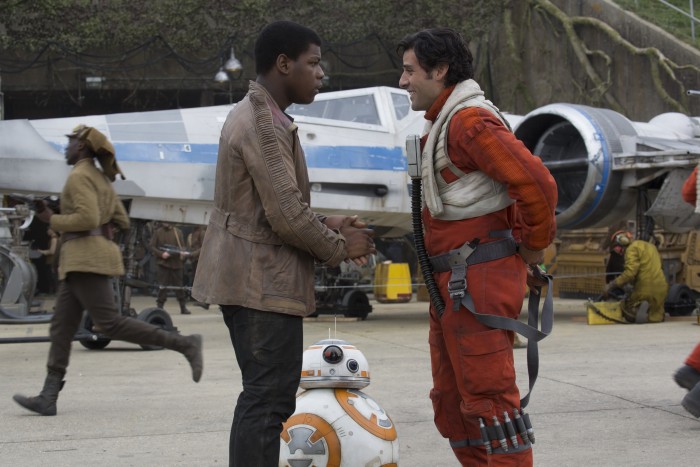 Sad new, Poe/Finn shippers: these two aren't going to be eloping anytime soon. However, this doesn't mean that Mr. Dameron isn't going to fall for another heroic young man in the near future. So keep your other specific Poe Dameron fantasies alive, everyone.
We, as a people, should probably stop asking Samuel L. Jackson about Star Wars: The Force Awakens. While appearing on Watch What Happens Live (via CinemaBlend), the current Hateful Eight star and former Star Wars prequels actor said this about John Boyega's totally-not-in-love-with-Poe Finn:
Well, apparently he's [Finn] got some midi-chlorians of he wouldn't have been able to turn the fucking lightsaber on.
You know he brought up midi-chlorians just to rile up the nerds and... well, good on you, Mr. Jackson. You marvelous troll, you. But as any self-respecting nerd will tell you, a lightsaber is just a tool – Han Solo uses one to cut open a Tauntaun in The Empire Strikes Back.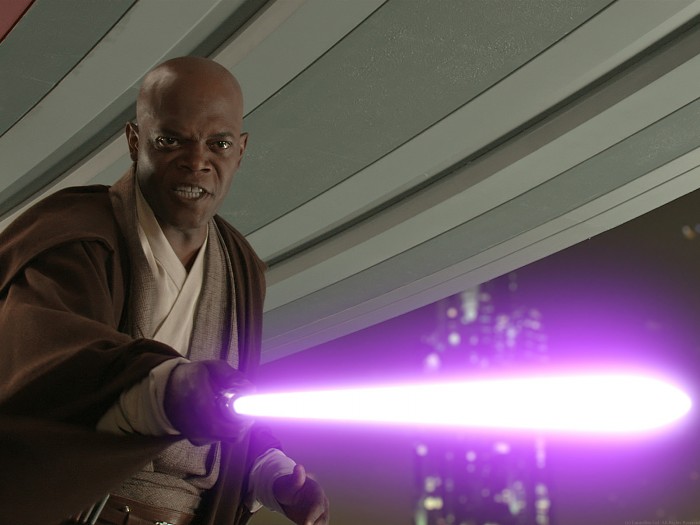 Maybe Mr. Jackson is just grumpy that The Force Awakens has officially allowed Harrison Ford to surpass him as the highest grossing actor in U.S. box office history. With Star Wars' record-breaking box office backing him up, Ford's totally career haul now sits at $4.699 billion, while Jackson's career box office is now a totally pathetic $4.626 billion.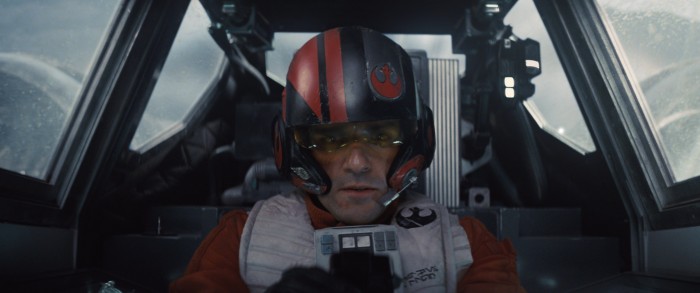 And while we're talking about people being grumpy, the always fascinating critic/uber-troll Armond White has published his annual "Better-Than" list, where he arbitrarily compares movies seemingly for the sake of creating conversation and/or riling people up. And as you'd expect, he's not particularly fond of The Force Awakens. Here he is explaining why Macbeth is better than the new Star Wars:
Justin Kurzel uses Shakespeare to envision a metaphor for modern political nihilism, a moving, classical reminder of what has been lost to Star Wars infantilism. Yes, Star Wars again. Its menace is no phantom.
"It's menace is no phantom." Never change, Mr. White. You are one of this industry's few genuine weirdos.
Spoilers if you haven't seen #TheForceAwakens. This #StarWars comic really tugs at the ol' heartstrings. pic.twitter.com/BlSuqGtVeU

— Dan Casey (@DanCasey) January 9, 2016
This has been making the social media rounds lately... and for good reason. Grab your tear-wiping, snot-collecting implement of choice!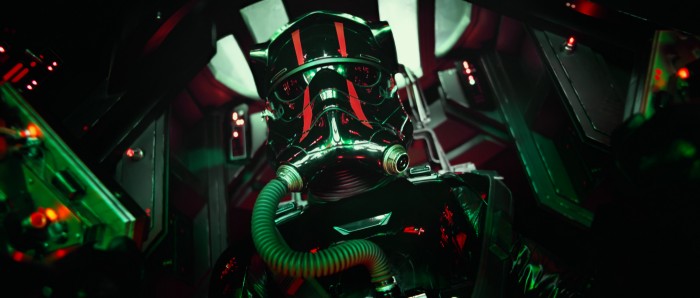 Just when you thought the internet was all out of nifty Star Wars things to offer, the official Star Wars site had to go and offer you the chance to explore virtual versions of Jakku and a First Order Star Destroyer. It's not the most most immersive thing in the galaxy, but now you have something to fiddle with instead of doing work.
Bill Hader and Ben Schwartz are credited as the "voice" of BB-8, as they were drafted to record lines that would influence how the adorable little droid spoke. Schwartz spoke about the experience on Comedy Bang Bang (via The Mary Sue). However, the real reason you're here is to see Schwartz's Parks and Recreation character, Jean-Ralphio, mashed up with BB-8. So here you go.
The Guardian has published a fun article about what it's like to watch The Force Awakens seven times in theaters and how you start to notice the little things. Case in point:
Don't believe me? Having now seen The Force Awakens more times than it's had major premiere events, I can tell you that the meal Rey is eating at Maz Kanata's tavern looks like a halved horned melon stuffed with a romanesco broccoli floret and a sprig of dill, and that Rey's tabard is pleated, not draped, and tacked in place over the shoulders. Also, Kylo Ren's sleeves have a zipper at the seam. You're welcome!
Indeed, I stopped wearing my Rey costume to see The Force Awakens after the fourth screening because I was beginning to get horrifically embarrassed about its lack of screen accuracy (in my defence, I did make it for the Melbourne premiere with only the trailers and posters as my guide). Screen accuracy is in the eye of the beholder, however, and it didn't stop little girls from rushing up to me for photos in the candy bar or whispering "it's Rey" as they passed me on the escalators.
And here's the costume in question:
Back in the saddle, doing a throw for tonight's episode of THE PROJECT ????????????
A photo posted by Clem Bastow (@clambistro) on
The Hollywood Reporter had a really interesting chat with The Force Awakens editors Maryann Brandon and Mary Jo Markey, who revealed that the key scene where Kylo Ren talks to Darth Vader's ruined helmet originally appeared much earlier in the movie:
That originally came much earlier in the film. It was scripted to happen after Poe and Finn escape from the Star Destroyer, and Kylo Ren would be berating himself for having seen that Finn was a traitor on the battlefield and not have done anything about it. But we realized the moment was wasted there. It wasn't a big enough event and and it came too early in the film.
Also noteworthy: Leia was originally introduced much earlier in the film, but they chose to build up to her appearance instead.