Han Solo Shortlist Includes Miles Teller And Dave Franco; 'Rogue One' Cameo Rumored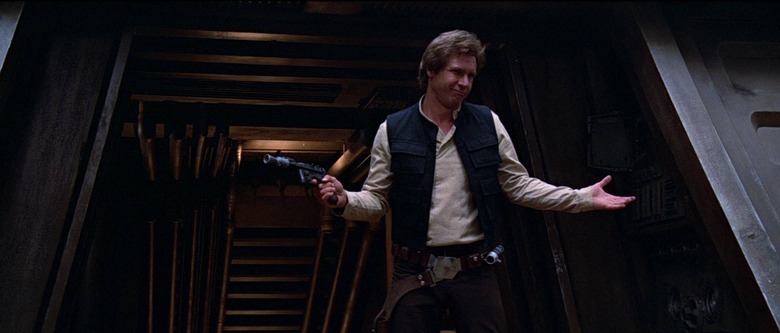 Harrison Ford is Han Solo, as much as any real person can embody any fictional character, and it's tough to imagine anyone else stepping into the role after nearly 40 years. But with a "young Han Solo" spinoff in the works from Phil Lord and Chris Miller, the time has come for us to meet and hopefully fall for a different stuck-up, half-witted, scruffy-looking nerf herder.
The filmmakers have taken their time, reportedly looking at thousands of young actors for the part, and now they've finally started to narrow down their choices. Among those on the shortlist are Miles Teller, Ansel Elgort, Dave Franco, and Logan Lerman. Hit the jump for more on the Han Solo shortlist. 
Variety reports that the Han Solo shortlist currently consists of about a dozen names, including Teller, Elgort, Franco, Lerman, Jack Reynor (Transformers: Age of Extinction), Scott Eastwood (Suicide Squad), Emory Cohen (Brooklyn), and Blake Jenner (Everybody Wants Some). Lord, Miller, and producer Kathleen Kennedy are expected to test the finalists and zero in on a winner within the next few weeks.
The Han Solo movie isn't due out until May 25, 2018 and won't start shooting until January 2017. However, the trade notes, there may be a very interesting reason why the filmmakers are so eager to lock down a lead. Rumor has it the new Han Solo will be introduced via a small cameo in Rogue One: A Star Wars Story, which arrives December 16, 2016. The film, set between Episode III and Episode IV, has about one month of shooting left.
Not surprisingly, the actors on the shortlist fit a similar profile. While the initial casting search included actors as young as 16 (Chandler Riggs) and as old as 34 (Rami Malek), the names above mostly fall in their early 20s. Some are more famous than others, but all are actors who could use a big, splashy franchise role to boost their careers to the next level.
Personally, I think Teller seems like the most obvious choice, but also one of the less interesting ones. A lesser known actor like Reynor would have more capacity to surprise, and would come with less baggage from his previous roles. I'd also love to see Cohen, so magnetic in last year's Brooklyn, get the opportunity to shine on his own. Which actors do you like for the part?