'13 Hours' Trailer: The Secret Soldiers Of Benghazi Will Not Stand Down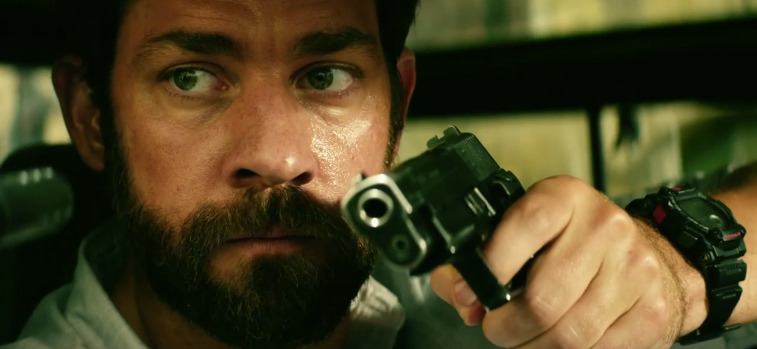 Hoping to find the same audience that made American Sniper a hit around this same time last year, Paramount Pictures is releasing 13 Hours: The Secret Soldiers of Benghazi this weekend. And now a new international trailer has arrived, showing what director Michael Bay can do with action and drama that doesn't have any transforming robots, but still has plenty of gunfire and explosions. Check out the new 13 Hours trailer after the jump!
The film features an ensemble cast that includes John Krasinski, James Badge Dale, Pablo Schreiber, David Denman, Max Martini and Dominic Fumusa. They all get caught up in a terrorist attack on the US State Department Special Mission Compound in Libya, and make the decision to defend the building and the Americans inside without being ordered to do so.
The Town scribe Chuck Hogan adapted the book based on the personal account of these soldiers, and Bay has delivered pretty much exactly the kind of movie you'd expect him to. It certainly has a Black Hawk Down vibe to it, but the trailer also shows that we'll get a glimpse into at least some of their personal lives back home, with Krasinski's character's family specifically highlighted.
Every time I see a trailer for this movie, I'm reminded of how interesting it would have been if John Krasinski got the part of Captain America. The actor was up for the role before Chris Evans landed the part, and his inclusion on the shortlist as a potential option confused everyone, mostly because his persona on The Office didn't lend itself to the kind of superhero audiences wanted Captain America to be. But it's clear that he would have gotten in great shape and done a fine job. Perhaps he'll end up suiting up as another hero sometime down the line.
If you want to see more from 13 Hours: The Secret Soldiers of Benghazi, check out a featurette that shows how Michael Bay directs, and also watch a more intense red band trailer right here.
13 HOURS presents, for the first time ever, the true account of the events of September 11, 2012, when terrorists attacked the US State Department Special Mission Compound and a nearby CIA station called the Annex in Benghazi, Libya. A team of six American security operators fought to repel the attackers and protect the Americans stationed there. Those men went beyond the call of duty, performing extraordinary acts of courage and heroism, to avert tragedy on a much larger scale.
This is their personal account, never before told, of what happened during the thirteen hours of that now-infamous attack. 13 HOURS sets the record straight on what happened during a night that has been shrouded in mystery and controversy. Written by New York Times bestselling author Mitchell Zuckoff, this riveting book takes readers into the action-packed story of heroes who laid their lives on the line for one another, for their countrymen, and for their country. 13 HOURS is a stunning, eye-opening, and intense book–but most importantly, it is the truth. The story of what happened to these men–and what they accomplished–is unforgettable.
13 Hours: The Secret Soldiers of Benghazi opens in theaters January 15th.