How The 'Legends Of Tomorrow' Producers Established Their Rules For Time Travel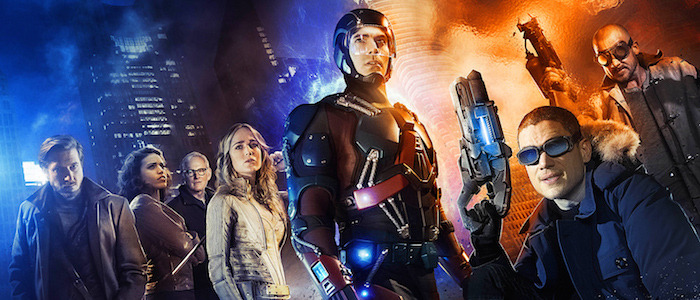 This weekend, The CW presented a panel on their latest DC superhero show for the Television Critics Association. Legends of Tomorrow features Atom (Brandon Routh), Captain Cold (Wentworth Miller), Heat Wave (Dominic Purcell), White Canary (Caity Lotz), Hawkgirl (Ciara Renee), Hawkman (Falk Hentschel) and Firestorm (Victor Garber and Franz Drameh) traveling through time.
In explaining how they established the show's time travel rules, producers Greg Berlanti and Phil Klemmer referred to other time travel classics, and revealed why we we'll never see a Groundhog Day situation on the show. 
"We try to exist by the rules we establish for ourselves," Berlanti said. "Our real goal is to make something emotionally true and truthful. Whenever we can have conversations about time travel, I always ask my questions in terms of Back to the Future or 12 Monkeys and use other examples that have preexisted. As Andrew [Kreisberg] says, as far as we know, time travel is not real. If there were an actual rulebook we could read and learn, we would follow that. We try and follow whatever rules we establish for ourselves. All the characters are learning as they go along. As we go along and establish rules, some of which we've established on Flash, the audience is learning it too."
One rule of Legends of Tomorrow is that the characters cannot visit an event in which they participated. Showrunner Phil Klemmer explained why. "We make rules that make good drama," Klemmer said. "We gave up our Get Out of Jail Free card so it wouldn't become Groundhog Day where if someone died we'd just keep going back again and again. It's important to have consequences and real deaths on the show."
The team behind Legends also produces Arrow, The Flash and Supergirl. DC chief Geoff Johns explained what makes DC decide to launch a new show.
"I think as long as all the shows, first of all they've all got to be great, but they each explore something different," Johns said. "As long as they're great shows, personally I don't think there is a saturation point. There is a point where you say we feel like we're covering enough where we've got enough great shows out there that you don't want to have all superhero shows. I think ti's just like the comics. There are hundreds published a year. Each one has a different thematic, world and tone. Some are solo characters, some are teams. The ones that survive are about different worlds they explore and are metaphors for real life. That's what superheroes are."
In Legends of Tomorrow, Rip Hunter (Arthur Darvill) recruits the above characters telling them they will be legends in the future. By the end of the pilot (spoiler alert!), he reveals that he lied. This only motivates the team to change the future and become legends.
"The metaphor is destiny," Johns said. "You can see that right in the pilot. Is my life going to matter? When you're told, 'You guys are going to make an impact on life' and then you're told you actually don't make an impact on life, I think that's a really sobering, challenging thing to hear. I can't think of one person that would say, 'I never think about the impact I have on life.'"
Legends of Tomorrow premieres Thursday, January 21 at 8PM.