'Colonia' Trailer: Emma Watson Must Save Daniel Bruhl From A Dangerous Cult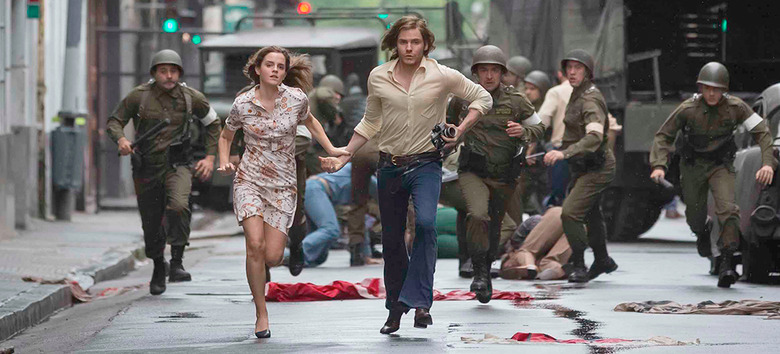 Following the first trailer for Hulu's cult-centric drama series The Path, we're heading into the compound of another cult with a second trailer for the thriller Colonia starring Emma Watson and Daniel Brühl. Inspired by real events, the film takes us back to Chile in 1973 when a woman named Lena (Watson) sees her boyfriend (Brühl) taken to a stronghold called Colonia Dignidad, and the only way to get him back is to infiltrate the cult herself.
Watch the new Colonia trailer after the jump!
Michael Nyqvist (Mission: Impossible – Ghost Protocol) plays the menacing minister at the head of this cult that was a force to be reckoned with during the Cold War. Watson takes the lead while Brühl takes the damsel in distress role in a movie that seems to be a political thriller and a horror movie all in one package. However, the film hasn't been given the most glowing reviews.
After premiering at TIFF last year, THR said:
"Colonia marks a truly misguided attempt to fabricate a Hollywood-style thriller out of the darkest quarters of Latin American history. Inspired by the Colonia Dignidad religious and agricultural settlement, which the Chilean dictatorship used as a front to torture political prisoners throughout its long reign, this poorly plotted, shoddily made feature from globetrotting German director Florian Gallenberger (Shadows of Time) will mostly see small screen action after a world premiere at the Toronto Film Festival."
The review seems to be right on the money, because the film hasn't landed distribution in the United States yet, though it is due to hit theaters in Germany and Switzerland on February 18th, which is why we're getting this trailer today. There's no word on when the movie might play in the United States, but if the reviews are any indication, there's no hurry to make that happen anytime soon. But if you want to see more of the movie, check out the first trailer right here.
Chile, 1973. Lufthansa flight attendant Lena (Emma Watson) is in Santiago to visit her boyfriend, Daniel (Daniel Brühl), a talented graphic artist creating images in support of embattled President Salvador Allende. When Allende is violently ousted, General Augusto Pinochet's forces begin rounding up dissidents. Daniel is taken to the remote stronghold of Colonia Dignidad ("Dignity Colony"), home to a secret agricultural commune and crypto-fascist sect led by sinister minister Paul Schäfer (Michael Nyqvist). Daniel is interrogated and tortured, but feigns severe mental deterioration to stay alive. Valiant and wily, Lena travels to Colonia and offers herself up to Schäfer as a follower. She is determined to find and free Daniel — but first she must ensure that she herself can survive Schäfer's crushingly oppressive, viciously misogynistic practices.
Stay tuned to find out when Colonia will get a US release date.