'Avengers: Infinity War' Will Have All The Superheroes, But What About 'Guardians Of The Galaxy'?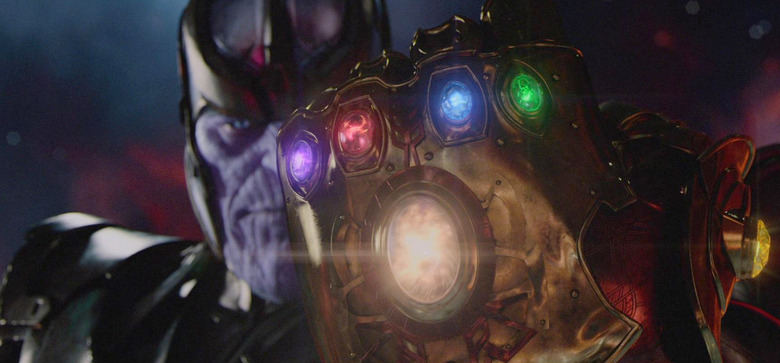 There's a big shockwave that will be sent through the Marvel cinematic universe once Captain America: Civil War arrives in a few months. But it sounds like that will be nothing compared to what's in store when Avengers: Infinity War hits theaters in 2018. We already know that Civil War is packed with plenty of Avengers, but Infinity War promises to be even bigger, and Anthony and Joe Russo promise that fans "will not be disappointed in the amount of characters in the movie." Does that include bringing the Guardians of the Galaxy into the fight?
Joe Russo had a chat with ComicBook.com and was asked about the line-up of heroes we'll see, including whether or not the ragtag team of cosmic criminals will enter the fray. Here's what the co-director had to say:
"That is another one that we would have to reserve as a surprise, but we will say this: People will not be disappointed in the amount of characters in the movie. The concept of Infinity War is that the Marvel universe unites to battle the greatest threat to the world and universe that you've ever seen, and we're going to honor that concept."
The appearance of the Guardians of the Galaxy in Infinity War is certainly a surprise that would be best saved for at least some kind of trailer reveal. But it would be even better if it was just a big surprise for them to pop up unexpectedly in the movie. Their involvement sees to be a foregone conclusion if only because of their ties to Thanos, but nothing is guaranteed at this point.
So even though Joe Russo couldn't talk about the specific roster of Marvel characters coming to Infinity War, he was able to address how the two-part sequel will be extremely different from their work on Captain America: The Winter Soldier and Captain America: Civil War.
"I sat in the theater and watched Empire Strikes Back seven times in a row when I was a kid. Yeah, we're science fiction fans as well, Dungeons and Dragons. We collected all the books when we were kids. We had figurines. Anything that you could think of that has to do with fantasy or sci-fi or superheroes was in our universe. We're just going to approach the cosmic side with the same fervor that we did the earthbound work we've been doing. We also are going to work really hard to bring a psychological realism. We obviously can't bring a naturalism to it because it doesn't really exist outside of science fiction, but we can bring that psychological realism to it, to the characters, and that's going to be our focus... Also, it's going to be our focus to explore the cosmic side, applying the same rules that we like to apply to the last two films that we've done."
Anthony and Joe Russo have proven that they know how to deliver a grounded superhero story that is just as compelling as an other Marvel movie, so I'm quite interested to see how they tackle something that literally takes them out of this world. Of course, we'll be waiting a couple years before that happens since Avengers: Infinity War – Part 1 won't arrive until May 4th, 2018 with Avengers: Infinity War – Part 2 on May 3rd, 2019.