'Furious 8': Jordana Brewster Addresses Potential Return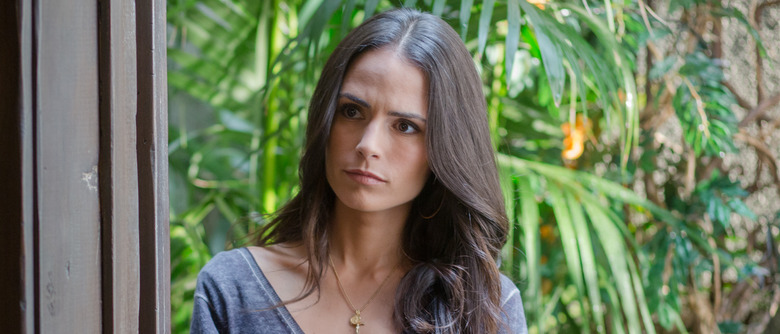 Jordana Brewster was on a Television Critics Association panel for the second season of Secrets and Lies on ABC, in which she will play a murdered wife seen in flashbacks. After the panel, Brewster spoke with reporters about the status of Furious 8. Since Paul Walker's death necessitated retiring his character Brian O'Conner, it's been unclear whether Brewster's character Mia Toretto would have to be retired as well. Brewster spoke with us about the possibility of her return.
"There hasn't been discussion but I can kind of see it go either way," Brewster said. "Mia is with Brian but on the other hand she's still Dom's sister. I don't know. I'm not sure."
Many cast members are confirmed to return, including Diesel, Dwayne Johnson, and Jason Statham. F. Gary Gray has been hired to direct, with shooting taking place in New York and possibly Cuba. All the cast and and filmmakers have acknowledged making the first film without Walker would be bittersweet, but are motivated to continue. That includes Brewster, if she is included.
"The best part was Paul and now it's the fans," she said. "I think the fans have a hunger for it which is amazing, but it'll be different for sure."
Furious 7 made $1.5 billion, so a Furious 8 was assured in some form. Vin Diesel has teased the idea of trilogy, which would take the franchise through a tenth film. Walker and Brewster co-starred in the original The Fast and the Furious in 2001, where O'Conner pursued Mia romantically as a way to go undercover with Dom (Diesel). After O'Conner was exposed as a cop, he and Mia reunited in the fourth film Fast & Furious, initially with some antagonism since Mia felt he had torn their family apart. By the end of the Fast & Furious, Brian and Mia were helping bust Dom out of prison, and she became pregnant in Fast Five. Furious 7 ends in a tribute to Walker, with Brian playing with his children on the beach, finished with the fast and furious life.Furious 8 is due in theaters April 14, 2017.