James Franco's 'Mother, May I Sleep With Danger?' Remake Was Inspired By Will Ferrell (Who Was Inspired By James Franco)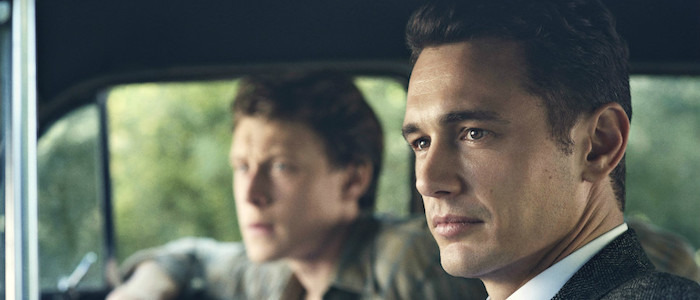 James Franco was on a Television Critics Association panel for his Hulu series 11.22.63. After the panel he stayed to speak with journalists further. One project that came up was Franco's remake of the Lifetime original movie Mother, May I Sleep With Danger?. Franco said the opportunity came about because Will Ferrell had done a straight Lifetime movie last year. 
"Mother May I Sleep With Danger? came out of Will Ferrell having done Deadly Adoption," Franco said. "Will told me that he was actually inspired by my going on General Hospital when he did that. Then Lifetime came to me and said, would I like to recreate one of their movies like Will did. I said yes, as long as I could change it a bit. It has some similar elements of the original but it's completely revamped."
The original Mother, May I Sleep With Danger? starred Tori Spelling as a girl dating a man who turned into a stalker. The TV movie became a cult classic for campy movie-of-the-week drama. The film aired on NBC in 1996, but now the home for such movies is on cable channels like Lifetime. Franco continued that, while Lifetime is still making straight TV dramas including A Deadly Adoption, his Mother remake will have a twist.
"I didn't see Will's. It sounded conceptually what he did was amazing and it sort of sounded in line with what I had done on General Hospital," Franco said. "When I went on General Hospital, I didn't want to change anything. I wanted to have the full soap opera makeover. It sounded like Will and Kristen Wiig just wanted to have the Lifetime makeover. They just wanted to be part of the Lifetime world. I had kind of already done that, so when they asked me to do it I said I'll do it if I can change it."
Franco added, "You'll have a very non Lifetime movie on Lifetime."
Spelling is cast in Franco's film. This time she plays the mother.
11.22.63, based on the Stephen King novel, premieres February 15 on Hulu. We'll have an interview with showrunner Bridget Carpener next month, and more news from TCA here at /Film.