Hugh Dancy Keeps Hope Alive For More 'Hannibal', Teases Season 4 Storyline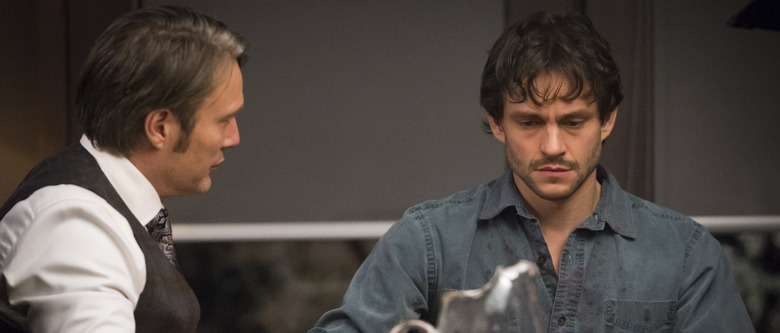 Hugh Dancy was on a Television Critics Association panel for his upcoming Hulu series The Path this morning. After the panel he stayed to speak with journalists further, and we asked him about the hypothetical fourth season of Hannibal. Bryan Fuller had teased potential Silence of the Lambs storylines, but Dancy clarified some of the possibilities. 
"First of all, we didn't have the rights to Silence of the Lambs," Dancy said. "Bryan had described to me in a kind of overview what he wanted to do with the fourth season had there been one, and it was fantastic. It was really a complete restart in a way, without describing it, because who knows? God knows, maybe some day we'll get to do it in the future. I would love that but it took us back to the first season in a very unexpected way, but made total sense of that cliffhanger ending. It seemed justified. It was borne out of a part of one of the books so it was still coming out of that universe, but it wasn't the Clarice part of Silence of the Lambs."
All this continued talk of Hannibal shouldn't get fans' hopes up too much. There are no concrete offers, but everyone involved with the show is hoping to put it out there into the universe.
"I just think that if I keep saying it, it might happen," Dancy said. "I know there were conversations. I know it was complicated for lots of reasons that I was probably late to the party to know about. The fans honestly were better informed than I was about a lot of stuff. All I can say is I know that Bryan's very busy, Mads [Mikkelsen] is busy, I'm busy right now but I know that all of us would, I think, happily come back in the future if we could."
One potential plan was for a movie to follow the three televised seasons. Dancy doesn't know specifics but speculates a movie could work.
"The answer is that I don't know. I think we would be very happy to return in some capacity. I think the idea of a movie is really interesting. Obviously one of the things we did on the show, Bryan did really, was a very languorous, very image-rich storytelling. How to fit that into a movie, I'm not sure. As I was saying, the version of the fourth season described to me maybe would work like that. I just know I'd like it to happen."
The Path premieres March 30 on Hulu.