J.J. Abrams Spills His Oscar Hopes For 'Star Wars: The Force Awakens'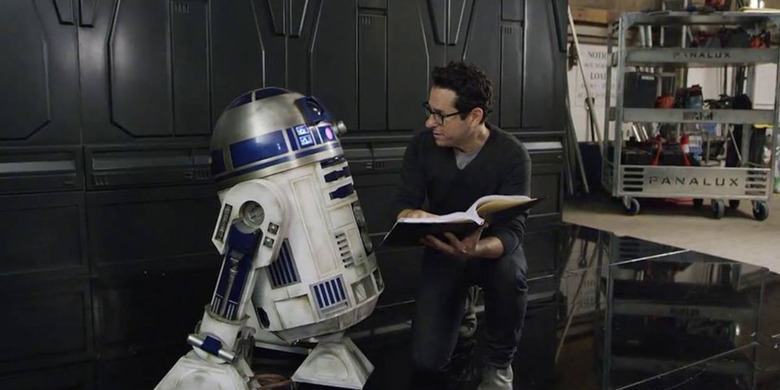 J.J. Abrams was on a panel for the Television Critics Association for the Hulu miniseries 11.22.63, which he is producing. After the panel, he spoke with reporters for another 10 minutes and addressed some Star Wars: The Force Awakens questions during TV talk. With Oscar nominations coming Thursday, Abrams hopes many of his crew get nominated.
"I'm hoping that there are certain people that I know deserve it definitely and it would be wonderful if they got it. I feel like the gift of working on that film is such that I don't need any further validation than the movie being out there and people liking the movie. There are people that I will be disappointed if they don't get nominated because I think that the work they did was really exemplary." 
Per Hollywood diplomacy, Abrams of course wouldn't name his nominee suggestions. "If I mention eight people, the ninth person would be like, 'Thanks.' But honestly, it feels obvious to me who deserves that kind of recognition. They might not even care. This may be something that they're like, 'Oh please.' I feel like I saw how hard some of these artists worked and I feel they are deserving, but they probably don't."
One of the reporters suggested a nomination for BB-8 and Abrams ran with it. "I'm hoping for a new category."
Abrams was also asked for his reaction to the film grossing over $1 billion and being on track to overtake Avatar worldwide. His response could be taken as a personal thank you to everyone who's seen The Force Awakens multiple times.
"I'm grateful to anyone who's gone to see the movie," Abrams said. "When I hear anecdotally people have gone seven or eight times, I just want to apologize to I'm guessing their parents. Honestly, I'm just very grateful. I can't believe that it's done. It's three years of very intense work by a lot of people, so I'm just so happy all the work that everyone did, even the people who you don't even see in the movie, the puppeteers who were painted out. I watched them in 125 degree heat in Abu Dhabi bringing BB-8 to life. Then we painted them out of the movie. I'm just so glad people get to see all the work that this amazing crew and cast did, whatever the numbers are. Whatever the numbers are, I'm just so grateful that the movie's out there and has been well received."
This weekend brings the wide release of Alejandro González Iñárritu's The Revenant, which could potentially be the first new film to hit number one at the box office since The Force Awakens premiered in December. If that happens, Abrams is cool with it. "Could you imagine me complaining about anything about it? I'm so grateful that the movie did what it did. There's room for everyone."
Last week it was reported, via Abrams' friend Greg Grunberg, that Abrams wished he'd stayed on to direct Episode VIII. In person, however, he was singing director Rian Johnson's praises. "Rian's an amazing writer/director and I'm obviously really excited about what he's going to do."
With success also comes a lot of commentary, whether it be Max Landis's Mary Sue tweets or even suggestions that Abrams and Disney ransom the film's release until nerds rally for gun control. While Abrams is busy making movies and TV shows, he is somewhat aware of the social media memes.
"I think like anyone, either you're forwarded things or you discover things yourself. I know that there are probably a vast majority that I'm unaware of. There are some that sometimes I stumble upon. Some are funnier than others and everyone's entitled to their opinion."
We'll have more interviews for 11.22.63 here at /Film.