HBO Says A 'Deadwood' Movie Is Still In The Cards (No, For Real This Time)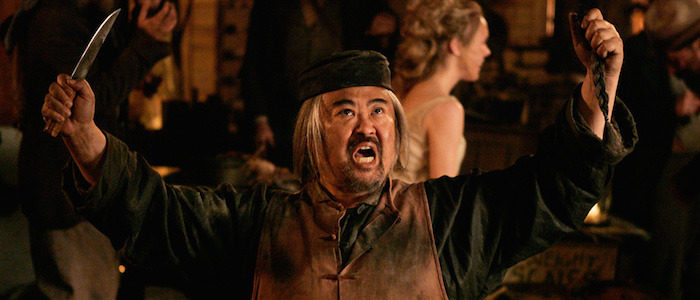 If you were to sit down and hammer out a list of the best modern television shows that feel like they represent everything the medium can accomplish while quietly pushing media and culture to another level with their prodding, impossible-to-exaggerate greatness, HBO's Deadwood would be in the top five. Top three, if you decide to not kid yourself. It was a good show. You should watch it. Call your parents and get their HBO Go password, kids.
Unfortunately, David Milch's profane, beautiful and immersive western series was cancelled too early, concluding after three seasons with a final episode that was a fine season finale but a lackluster series finale. But now, HBO says that the series will finally get to go out in a blaze of glory with a proper Deadwood movie. Which is great news! But temper your expectations, hold on to your horses, etc. This isn't the first time we've heard this kind of news.
Before we dive into the hopeful, optimistic stuff, let's remember the first time we were promised a Deadwood movie: literally right after Deadwood the series was cancelled. Originally, Milch and his crew were promised that they could wrap up their story in a series of TV movies. Then behind-the-scenes politics interfered, the movies never materialized, the show's sets were dismantled, and everyone went their separate ways. Every few years, new rumblings of more Deadwood echo across the internet and every few years, we all walk away disappointed.
But could it be different this time? Maybe! The first wave of "Deadwood is coming back for real!" stories began a few months ago and now HBO programming president Michael Lombardo is telling TV Line that yes, Deadwood is still coming back for real. Right now, he says, the ball is in Milch's court – HBO is ready when he's ready:
David has our commitment that we are going to do it. He pitched what he thought generally the storyline would be — and knowing David, that could change. But it's going to happen.
Milch, who also created the ill-fated John From Cincinnati and the even more ill-fated Luck for the network, is currently embroiled in another project, but Lombardo expects the Deadwood movie to become his next priority after that. So that probably means that this potential Deadwood movie wouldn't arrive until sometime in 2017 at the earliest, and that's being optimistic. Plus, there's the fact that Milch is a total maniac (in a good way!), known for running a tight-but-insane set where anything can happen and tiny improvisations create massive changes to planned storylines. There's no way this will be a straightforward development process.
As for the show's gigantic cast, full of people who would later become proper leading men (Timothy Olyphant), Oscar-nominees (John Hawkes), and in-demand character actors (Ian McShane), Lombardo feels confident that everyone will return:
The cast is unbelievably [tight]. Some casts and creators form a bond that becomes relevant for the rest of their lives. This was a defining moment for a lot of them.
And that's not just idle talk, either. Read any interview with a former Deadwood cast member and you'll eventually start sharing stories from the set of the show. I've yet to hear a Deadwood anecdote that didn't put most stories about film and television to shame. The wonderful I Was There Too podcast has an episode featuring several Deadwood veterans and the brilliant Stephen Tobolowsky has shared plenty of stories from the set during episodes of The Tobolowksy Files. Honestly, it's hard to imagine many cast members refusing this particular call.
So allow yourself some excitement, Deadwood fans. But not too much. Like a rough and tumble frontier town, the world of cable television can be an unforgiving place.