Animal Kingdom TV Series Will Be More Family Drama Than Crime Show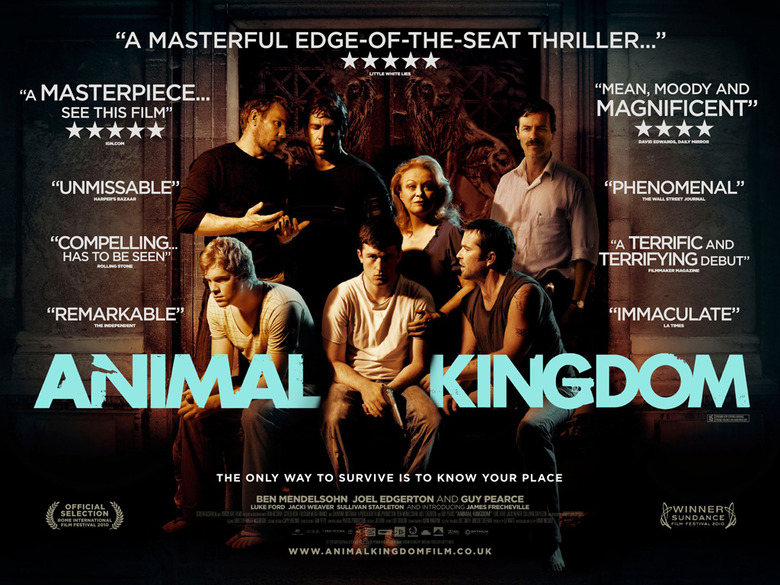 The 2010 Australian drama Animal Kingdom is going to become a TV series on TNT this summer. The cast and creators of the TNT show presented a panel for the Television Critics Association to discuss their adaptation, which is now American starring Ellen Barkin as the matriarch Smurf Cody.  It was revealed that the Animal Kingdom tv series will be more of a family drama than crime show.
The film itself was an adaptation of the Pettingill crime family.
"[Film writer/director] David Michod and [producer] Liz Watts are involved in this TV show," Showrunner Jonathan Lisco said. "I think David would say the inspiration for the movie came from the Pettingill family, an Australian crime family. They're a little over the top. I believe the matriarch of that family wound up with a glass eye. She got shot through the doorway by an adversary. I think the material is an example of truth being a little stranger than fiction and she wound up being a moustache twirly villain. We're portraying a mother who infantalizes her sons, warps them while infantalizes them."
Barkin, for her part, wanted to have a glass eye but he producers opted against it.
"For me, what attracted me to the project was that it was a television show about not just a dysfunctional family," Barkin said. "It to me is a family that's using their skill sets to survive in a very dark and dangerous world. So far, they're doing a pretty good job of it. They're really succeeding I think. How that family works internally and in the external world is what fascinates me about it. Also, I always like playing with the idea of twisted motherhood and the ways in which that can go."
The show begins when Smurf's estranged daughter dies of a heroine overdose. Her grandson Josh "J" Cody comes into Smurf's immediate family for the first time. Finn Cole plays J.
"It's a really exciting role, a character that comes from where he has and has been brought up by a heroine addict, to experience real life for the first itme in quite an incestuous way," Cole said. "The exciting thing about shooting the pilot was exploring those things. J is still exploring this family and exploring what they're about. There's a lot to explore. Where is this character going to go? Where could he go? What could be the potential of this family? And explore all the other issues the family has as well."
One character not represented on the panel was Det. Leckie, played by Guy Pearce in the film version. Lisco said there would be a character in law enforcement on the show, but wanted to emphasize the focus would be on the Cody family dynamic, not their crimes.
"Look, there's going to be a concrete crime component to the story," Lisco said. "We're telling a story about a family of criminals who pull jobs. That won't necessarily be the A story. Will the cops eventually  We'll do it in a way that will surprise you and not hew to the movie. Were we to do that, Scott Speedman would not be sitting here."
Spoiler alert for the movie, but Speedman plays Barry "Baz" Brown, Smurf's right hand. Look for Animal Kingdom on TNT this summer.