M. Night Shyamalan Rebooting 'Tales From The Crypt' For New Horror Block At TNT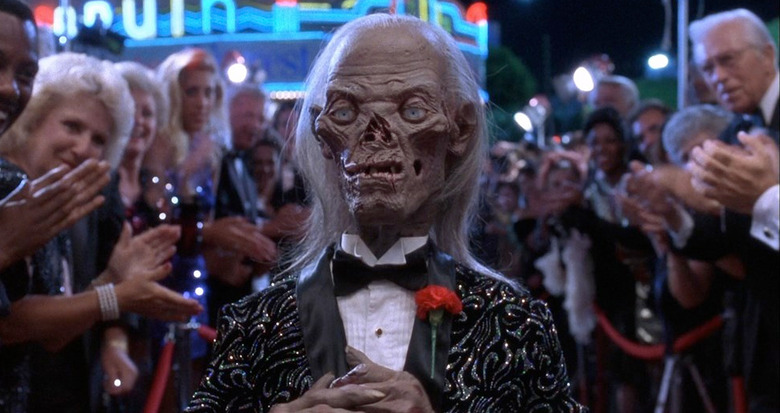 Back in 2011, a reboot of Tales from the Crypt was said to be in development, but hadn't established a network home yet. Over the past five years, we haven't heard anything about the project, and it was presumed dead. But today, the Crypt Keeper has life again as TNT has announced a reboot of the horror anthology series that originated on HBO. However, the dealbreaker may be that M. Night Shyamalan is executive producing the series reboot. Get more details on the Tales from the Crypt reboot after the jump!
Note: Additional reporting provided by /Film's correspondent Fred Topel from the TCAs.
First of all, for those who don't know, Tales from the Crypt was a show reminiscent of The Twilight Zone, featuring anthology horror stories that were introduced by a creepy, pun-tastic skeleton called the Crypt Keeper. Since it was on HBO from 1989 to 1996, this was an R-rated series that definitely had some blood, nudity and salty language. Here's the intro to the series:
Even though the HBO series was an R-rated endeavor, it shouldn't be hard to do a series like Tales from the Crypt for a network that isn't anywhere near as risque. But there's a chance it might turn off some fans of the original series, which was actually inspired by a 1950s comic book of the same name by William Gaines, who would go on to create MAD Magazine. In fact, the comics may serve as more direct inspiration this time as TBS/TNT executive Kevin Reilly says:
"We are definitely going to utilize the underlying comics. There's something we're doing online that I think could lead to a very unique aspect of audience participation.  We'll talk more about that as it evolves."
Now that the series is being situated at TNT, it'll be interesting to see if any of the elements of the original show beyond the anthology format will survive. Specifically, we were curious about whether the Crypt Keeper, voiced by John Kassir, would be incorporated, to which Reilly responded, "We'll save that for a later announcement."
At the very least, having someone like Shyamalan on board feels like good news, and Reilly says he will direct at least the first episode in the reboot. The director proved he still has a knack for suspense with The Visit this past year, not to mention making a splash on television with Wayward Pines, and the format of Tales from the Crypt seems well-suited to his storytelling style. After all, plenty of the Tales from the Crypt episodes had twist endings.
Joining Shyamalan as executive producers will be Ashwin Rajan (Shyamalan's partner at Blinding Edge Pictures), James D. Stern, John Santilli and Dan McKinnon, who will be bringing the reboot to TNT beginning this fall. But that's not all the network will have from Shyamalan.
TNT is putting together a two-hour block of horror and suspense programming to air each week that Shyamalan will also oversee, featuring long and short form content. Tales from the Crypt is meant to be the core of the block, but Reilly also said:
"We're going to put a variety of different genre shows, some which may have a weird sense of humor, some downright frightening, some a blend of genres, all united under the Tales From the Crypt brand. We already have about four properties in the development pipeline to move through this."
Don't forget that there were two other comic books called Vault of Horror and Two Fisted Tales that fell under the EC brand that created Tales from the Crypt. It would be cool to see those make their way to television as well. Now if we could just get a Twilight Zone reboot in the works to go with Bryan Fuller's Amazing Stories revamp, that would be grand.