Watch Quentin Tarantino Discuss 'The Hateful Eight' For 30 Minutes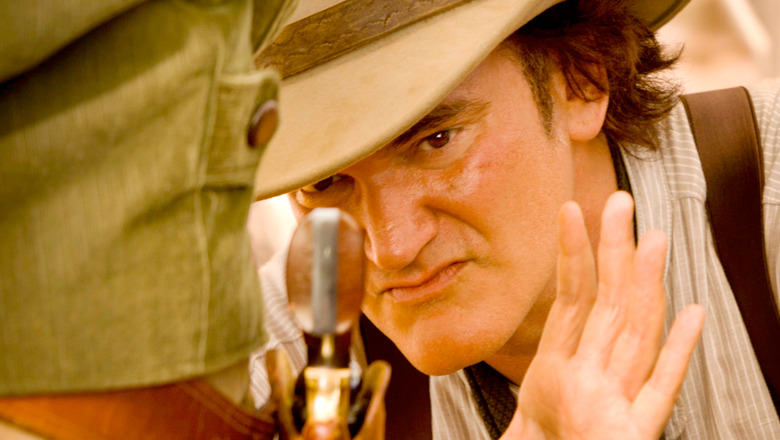 People were fortunate enough to get to see The Hateful Eight earlier than expected last year. After writer-director Quentin Tarantino's eighth feature film performed as well as it did in limited release, The Weinstein Company pushed up the expansion date. So, by now, the hope is most of you have seen this fantastic film. But whether or not you have, you might enjoy watching Quentin Tarantino discuss The Hateful Eight for 30 minutes. Click the jump to see his (not-very-spoiler-y) talk.
The film had a bit of a rocky birth. Not creatively, but after someone leaked the script, Tarantino wasn't even sure if he wanted to make the movie anymore. But after performing a live-reading of the script, with most of the final cast in attendance, he became convinced this needed to be his next film. What initially began as an idea for Django Unchained sequels, in novel form, led to The Hateful Eight – a piece of material the director one day hopes to do on the stage:
My feeling was this: with this material and these actors, this is just a really solid piece. I could do it on the London stage, I could do it on the New York stage, I could do it at a 99-seat theater off of Santa Monica Boulevard, I could shoot it on 16mm — and all those versions would be good, would be solid, and would work. If I feel that confident about that material, well, then let's just do it big. Let me take advantage of the situation I have right now and make it an event.
This interview with Tarantino is light on spoilers and more focused on his creative process, so if you haven't seen The Hateful Eight, you're safe to watch this wonderful talk.
Here's Dave Poland's interview with Quentin Tarantino:
Poland also conducted interviews with actors Samuel L. Jackson and Jennifer Jason Leigh. I've yet to watch the latter, but the former is absolutely worth checking out.
Here's the official synopsis for The Hateful Eight:
In THE HATEFUL EIGHT, set six or eight or twelve years after the Civil War, a stagecoach hurtles through the wintry Wyoming landscape. The passengers, bounty hunter John Ruth (Kurt Russell) and his fugitive Daisy Domergue (Jennifer Jason Leigh), race towards the town of Red Rock where Ruth, known in these parts as "The Hangman," will bring Domergue to justice. Along the road, they encounter two strangers: Major Marquis Warren (Samuel L. Jackson), a black former union soldier turned infamous bounty hunter, and Chris Mannix (Walton Goggins), a southern renegade who claims to be the town's new Sheriff.
Losing their lead on the blizzard, Ruth, Domergue, Warren and Mannix seek refuge at Minnie's Haberdashery, a stagecoach stopover on a mountain pass. When they arrive at Minnie's, they are greeted not by the proprietor but by four unfamiliar faces. Bob (Demian Bichir), who's taking care of Minnie's while she's visiting her mother, is holed up with Oswaldo Mobray (Tim Roth), the hangman of Red Rock, cow-puncher Joe Gage (Michael Madsen), and Confederate General Sanford Smithers (Bruce Dern). As the storm overtakes the mountainside stopover, our eight travelers come to learn they may not make it to Red Rock after all...
The Hateful Eight is now in theaters.