First Official 'Fuller House' Photos Get The Tanner Family Back Together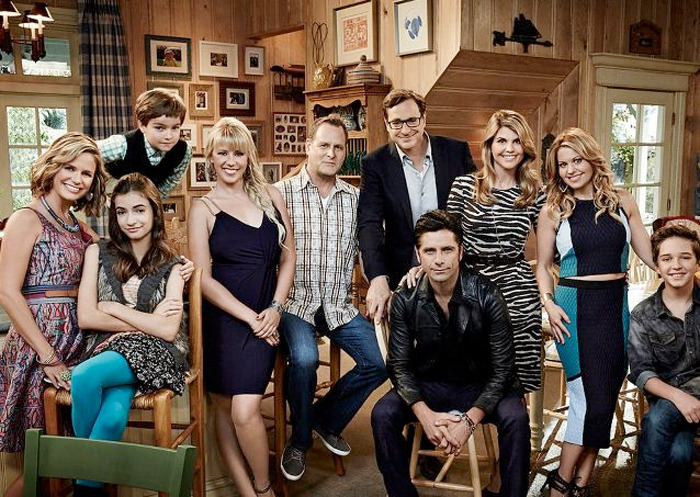 In just over a month, children of the '90s will get another dose of nostalgia with the debut of Fuller House on Netflix. A sequel to the cheesy sitcom Full House, the new series follows the younger generation of the Tanner family in their adult years. D.J. (Candace Cameron Bure) has two kids of her own named JD (Michael Campion) and Max (Elias Harger) while her best friend Kimmy (Andrea Barber) has a daughter named Ramona (Soni Nicole Bringas). And they can all be seen, along with some other familiar Full House faces, in the first official photos from the show.
Here's the first Fuller House photos from Netflix:
As you can see, the rest of the cast includes Jodie Sweetin as Stephanie, Bob Saget as Danny, John Stamos as Uncle Jesse, Dave Coulier as Uncle Joey and Lori Laughlin as Aunt Becky. Not pictured in any of the images are Blake and Dylan Tuomy-Wilhoit, who played Jesse and Becky's twin boys Nicky and Alex in the original series, but they'll be appearing in the show too.
As we know, Mary-Kate and Ashley Olsen are the only ones from the original series who aren't back, though producers did try to get their sister Elizabeth Olsen to play Michelle instead. However, there aren't any hard feelings among the cast regarding the twins' decision not to come back. As Coulier puts it:
When we get together and we reminisce, they were babies [at the time]. So they don't share those same memories. I can't really speak for them but I would understand why they don't have the same sentiments that we all do.
But fans are certainly getting sentimental about that familiar Tanner household, which now seems to be occupied by D.J., Stephanie and Kimmy. We don't really know what's happening in these photos other than sitcom nostalgia, but Stephanie and Kimmy look like they're ready for a night on the town while D.J. may be stuck at home with the kids. That could end up being a conflict that needs resolving in traditional Full House fashion. And even though Kimmy is all dressed up, it's clear that she's still a bit of an oddball.
Fuller House debuts on Netflix on February 26th, and you can watch the teaser trailer for the show right here. We'll probably get a better trailer for the series sometime soon though, so stay tuned.