Meet The Colorful Characters And Presumably Very Well Paid Cast Of DreamWorks Animation's 'Trolls'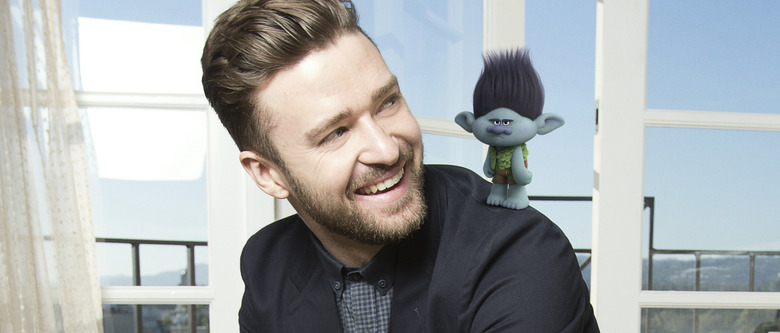 Hollywood's been rooting around in your old childhood toybox again, and this time they've dug up your forgotten troll collection. You remember trolls, right? Those pug-nosed plastic dolls with the bright big furry hair? Well, they're getting their own movie from DreamWorks Animation and 20th Century Fox later this year, and today we have a first look at its star-studded cast (including Anna Kendrick and Justin Timberlake) and the characters they'll be voicing. 
The Troll cast "posed" with their characters on social media.
Hair we go...I'm officially a #Troll. #TrollsMovie #MeetBranch #HairPuns #ItsJustTheBeginning pic.twitter.com/IOhNvDqok7

— Justin Timberlake (@jtimberlake) January 6, 2016
Hair we go! Meet Poppy! #DreamWorksTrolls #HairGoals #NewYearNewMe pic.twitter.com/3CUNSVYtsK

— Anna Kendrick (@AnnaKendrick47) January 6, 2016
Hair we go! Meet DJ Suki! #DreamWorksTrolls #RockinTroll pic.twitter.com/6eOdaLKXuo

— Gwen Stefani (@gwenstefani) January 6, 2016
Hair we go! Meet Biggie! #DreamWorksTrolls #TheySeeMeTrollin pic.twitter.com/3bZje7IiB2

— James Corden (@JKCorden) January 6, 2016
Hair we go! Meet Creek! #DreamWorksTrolls #LetYourHairUp pic.twitter.com/DSZDhqF7W8

— Russell Brand (@rustyrockets) January 6, 2016
Hair we go! Meet the Fashionistas! #DreamWorksTrolls #TwiceAsNice pic.twitter.com/wmey2OQaNs

— Icona Pop (@iconapop) January 6, 2016
Apparently Ronald Funches did not get the memo about starting his tweet with "Hair we go!" Would that all of the other actors had missed that memo too. The pun wasn't that clever the first time, and it's definitely not any cleverer the seventh time.
As you may have guessed based on that cast, Trolls is a musical. In fact, it'll feature original music written and performed by Timberlake, who hasn't put out a new album since 2013's The 20/20 Experience. His character is described as a Scandinavian troll who's a hardcore survivalist hiding his surprising true colors. Here's the official synopsis for the film:
DreamWorks Animation's

TROLLS

is an irreverent comedy extravaganza with incredible music! From the genius creators of SHREK,

TROLLS

stars Anna Kendrick as Poppy, the optimistic leader of the

Trolls

, and her polar opposite, Branch, played by Justin Timberlake. Together, this unlikely pair of

Trolls

must embark on an adventure that takes them far beyond the only world they've ever known.
Look, it's way too early to judge Trolls based on a handful of promo stills. But this whole campaign just feels so half-assed. The troll characters look like they were hastily copy-and-pasted onto existing promo shots, and the puns are terrible. There's no effort to explain why we should care about a Trolls movie in the year 2016, a good 20 years after the height of the troll fad. Sorry, DreamWorks Animation. Maybe your next Trolls marketing effort will turn out better.
Interestingly, the Trolls cast announcement comes just days after we learned Guillermo del Toro was working on a mysterious Trollhunters animated series for DreamWorks Animation and Netflix. As far as we know, the two projects are not related. But until we hear otherwise, feel free to assume del Toro is working on a show about children setting out to find and kill the colorful creatures you see above.
Trolls arrives November 4. Mike Mitchell is directing, Walt Dohrn is co-directing, and Gina Shay is producing. All of them worked together on Shrek Forever After.