Netflix Claims Adam Sandler's 'The Ridiculous Six' Is Its Most-Watched Movie Ever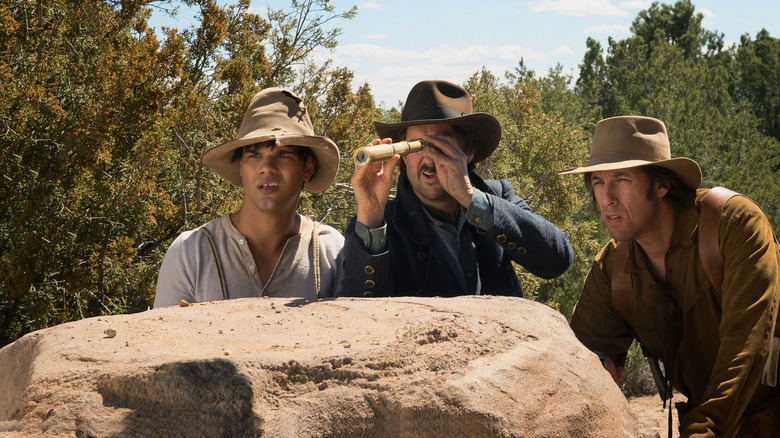 Adam Sandler's box office track record has been pretty shaky lately. Grown Ups 2 was a hit, but That's My Boy tanked hard. Pixels and Blended performed decently overseas, but floundered in the U.S. Even his would-be prestige projects, Tom McCarthy's The Cobbler and Jason Reitman's Men, Women & Children, have turned out to be critical and commercial duds.
On Netflix, though, Sandler is still king. Apparently. According to the streaming service, Sandler's comedy Western The Ridiculous 6 is already the most-watched movie ever on Netflix, less than a month after it first hit.
Netflix's chief content officer Ted Sarandos served up this interesting (and, if you're a Sandler hater, chilling) bit of trivia at the company's CES 2016 keynote. "The Ridiculous 6, by way of example, in the first 30 days on Netflix it's been the most-watched movie in the history of Netflix," he said. "It's also enjoyed a spot at #1 in every territory we operate in, and in many of them it's still #1."
The Verge, which first reported Sarandos' quote, clarifies that the statistic includes both Netflix's homegrown original projects and its licensed content. Still, it's difficult to interpret what exactly this means. For starters, without hard data we only have Netflix's word to go on. Plus, it's unclear what Netflix considers "watched." Netflix promoted the movie heavily within its own platform, so it's no surprise a lot of people clicked play — but how many people actually finished the movie, and how many wandered off after the first couple minutes? (For the record, though, if you "hate-watched" the whole thing, that should definitely count. Hate-watches and ironic watches are watches too.)
In any case, Netflix is clearly pleased with the film's performance. It surely helps the numbers that The Ridiculous 6 was only available through the Netflix, and that it was free to subscribers. Many of whom, it should be noted, are big Sandler fans to begin with. When the company first announced their deal with him, Sarandos said Sandler's films were consistently among their most-viewed offerings: "His appeal spans across viewers of all ages — everybody has a favorite movie, everyone has a favorite line."
In fact, when Netflix struck a deal with the critically approved Duplass brothers a few months later, Sarandos credited the Sandler deal for making it possible. "Independent film has always been a big part of Netflix, and the reason we do things like the Adam Sandler deal is so we can do things like this as well," explained Sarandos at the time.
Which is a pretty good way of thinking about it, really. We can mourn our fellow movie-watchers' terrible taste, and fret about what this "means" for popular culture. Or we can just shrug it off. No one's forcing anyone to watch it against their will, after all. And if Sandler's continued popularity makes it a little bit easier for Netflix to fund more offbeat, esoteric fare like Christopher Guest's Mascots or the Wachowskis' Sense8, I'm more than happy to make that deal.