'The Conjuring 2' Trailer: Ed And Lorraine Warren Are Back And They Ain't Afraid Of No Ghosts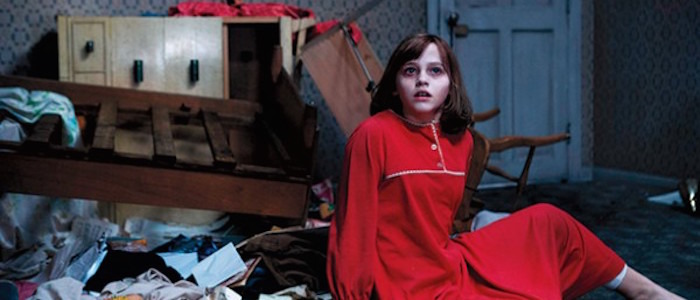 When The Conjuring originally opened in 2013, I couldn't help but feel a little guilty placing it on my top ten of the year. After all, horror fans can be a desperate lot – we see something passable in an ocean of junk and latch on to it like it's the second coming. As much as I loved James Wan's creepy, classy, and perfectly assembled haunted house movie, I was worried it wasn't going to stand the test of time. I was worried that repeat viewings would reveal it to be something interesting but lackluster, a well-executed but empty experience.
Boy, was I wrong. Several years later, the first trailer for The Conjuring 2 is here and I have enough viewings of the first movie under my belt to know that this is the sequel to one of the best horror movies of the millennium. The second cinematic adventure of real-life paranormal researchers Ed and Lorraine Warren already has a place on my list of most anticipated movies of 2016.
Watch the Conjuring 2 trailer after the jump.
The first Conjuring movie was a gigantic hit, grossing $318 million worldwide and inspiring a not-as-bad-as-you've-heard spin-off in Annabelle. With numbers like that, Warner Bros. could have easily rushed a sequel into production, replacing Wan (who was off making Furious 7) with someone cheaper and trying to pump another Warren case file out every year or so. Instead, they waited nearly three years and made sure to assemble as much of the original team as possible. That everyone took their time to put this follow-up together makes it easy to feel optimistic.
So, does that trailer reward our optimism? Let's find out:
A roomful of crosses slowly turning upside down thanks to an unseen force? You had me at hello, The Conjuring 2.
While the first film found the Warrens exorcising a Rhode Island farmhouse haunted by a demonic spirit, the sequel sends them across the Atlantic to London to investigate a council house where things are going bump in the night. Once again, that '70s setting allows everyone to rock killer facial hair and wear great clothes. Much like the first film, The Conjuring 2 is based on a supposedly true story (Google the Enfield Polertgeist if you're up for some potential spoilers), but the known facts will probably just be a launching pad for whatever scares Wan wants to cook up.
Although it was fun to watch Wan stretch his filmmaking muscles with Furious 7, it gives me warm and slightly drunk feeling to see him back at work in his hometown genre. Sure, he has Aquaman on deck, but horror is where he got his start and horror has allowed him to showcase so many of his strengths. Equally important is the return of Vera Farmiga and Patrick Wilson as Ed and Lorraine, the demon-busting husband and wife team whose marital chemistry is just as compelling as their knowledge of the creepy and and unknown.
The Conjuring 2 will open on June 10, 2016. You can also check out the first official still from the film below.