'The Crown' Trailer: What Is The Purpose Of The Crown?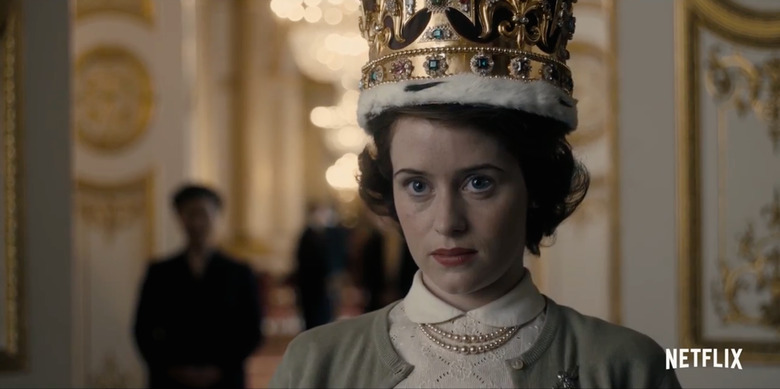 Netflix's upcoming drama has some serious talent behind it. That's generally the case, but The Crown, in particular, has such a promising cast and writer involved. Based on the award-winning play "The Audience" and written by Academy Award nominee Peter Morgan (Rush, The Queen), the Netflix drama focuses on Queen Elizabeth II's early reign.
Watch The Crown trailer after the jump.
Stephen Daldry (Extremely Loud and Incredibly Close, The Hours) is involved as well, as a director and executive producer. Daldry's work is hit and miss, but we can almost always expect good things from Peter Morgan. The writer's period pieces generally aren't the typical stuffy period pieces, even though that's what this sizzle reel for The Crown feels like.
Here's The Crown trailer:
The cover of Daft Punk's "Outlands," from the Tron: Legacy score, doesn't exactly suit the material we see in the trailer. This thrilling piece of music placed over quietly whispered and heated discussions about the monarchy feels off. Of all the songs to use, why pick a tune from the Tron: Legacy score?
There is promise in this sizzle reel, though. The 10-episode season features Matt Smith, John Lithgow, Jared Harris, and more. Claire Foy also looks excellent as Queen Elizabeth II. She's a very good actress, who, at least in the States, hasn't quite gotten her due on the big screen.
Morgan had this to say about the series:
'The Crown' is not only about the royal family but about an empire in decline, a world in disarray and the dawn of a new era. I am beyond thrilled to be reunited with partners from film, theatre and television for this epic project and delighted to be working for the first time with Netflix.
Here's the official synopsis for The Crown:
A Netflix original series, The Crown focuses on Queen Elizabeth II as a 25-year-old newlywed faced with the daunting prospect of leading the world's most famous monarchy while forging a relationship with legendary Prime Minister, Sir Winston Churchill. The British Empire is in decline, the political world is in disarray, and a young woman takes the throne....a new era is dawning. Peter Morgan's masterfully researched scripts reveal the Queen's private journey behind the public facade with daring frankness. Prepare to be welcomed into the coveted world of power and privilege and behind locked doors in Westminster and Buckingham Palace....the leaders of an empire await.
The Crown will premiere in 2016.