Star Wars Bits: Minor 'Rogue One' Characters, Simon Pegg's 'Star Wars' Journey, The BB-8 Upgrade You've Been Looking For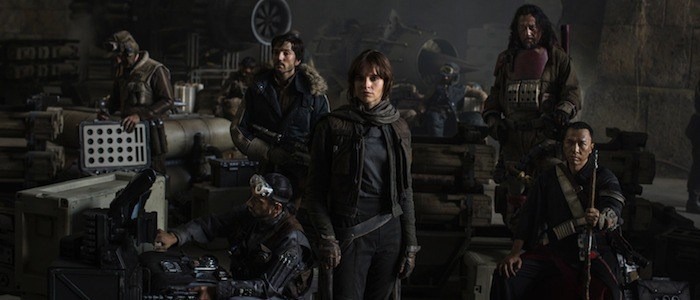 That sound you hear is Rogue One: A Star Wars Story slowly stepping up to the plate as "the Star Wars movie everyone watches intently and over-analyzes for the next 11 months." In today's edition of Star Wars Bits:
A few nuggets of Rogue One story info.
Simon Pegg writes about his Star Wars journey.
A possible return date for Star Wars Rebels.
The last thing you want to see in a Target toy aisle...
A fresh look at some stunning Ralph McQuarrie artwork.
Will Star Wars become a December franchise?
A new way to control your Sphero BB-8.
We still know precious little about Rogue One: A Star Wars Story, but thanks to Making Star Wars, we know know a tiny little bit more than we did earlier today. Thanks to some browsing in a movie extras database (where the film is listed by its fake title, Los Alamos), we now know that Justin Calignawan will play an alien of some kind, Jimi Finn will play a marine, Nick SKC will play a creature, and Anthony Beal will play...well, he's just credited as "cast extra," but he's a solider in the British Army, which backs up reports that the film was using real soldiers as extras. Well, we now know that Rogue One will feature aliens and creatures and soldiers. Your toddler whose only exposure to Star Wars is his Darth Vader pajamas could have told you that. But hey, you drink when you're in a desert and Rogue One has yet to guide us to a proper news-oasis.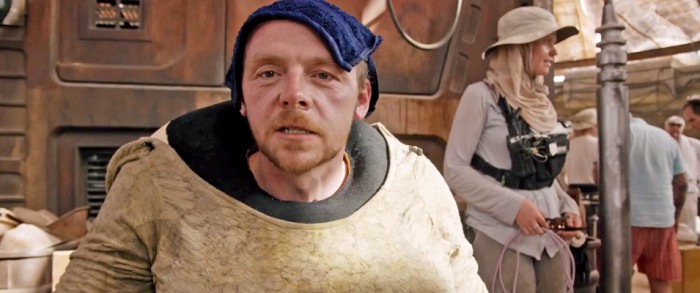 Simon Pegg earned his geek royalty through years of blood, sweat, and total obsession. His Star Wars fanaticism has been documented on countless occasions, so it's no surprise that he got to play the minor role of Unkar Plutt in Star Wars: The Force Awakens (it also helps that he's buds with J.J. Abrams). But just in case you doubt his credentials, Pegg has written a lovely article for Empire where he explores his relationship with the series, from his childhood all the way up through his time on the set of the new movie. Here's one lovely bit:
And now I am standing on the set of the Millennium Falcon (the entrance corridor with the smuggling compartments), holding Chewbacca's bowcaster, quietly "pew-pewing" to myself, waiting for Han and Chewie to arrive on set and make that entrance. I've been on a number of film sets over the years, witnessed a number of cool moments, but I have never seen so many people gathered around the monitors as on that day.
And here's another:
I am on set as a consultant, acting as a sounding board for J.J., who is making tweaks to the already wonderful screenplay. My computer is open in Final Draft and, at the top of my screen, the scene heading reads, "INT. S-REDACTED-R — DAY". I hear a familiar voice and turn to see Mark walking onto set, looking trim and cool, with a beard that he grumbles about but makes him look handsome and Jedi-like. When they shot Luke placing his robotic hand on R2's head, a moment glimpsed in the trailer, I sat at the monitors with Mark's family and marvelled at the huge significance of the moment.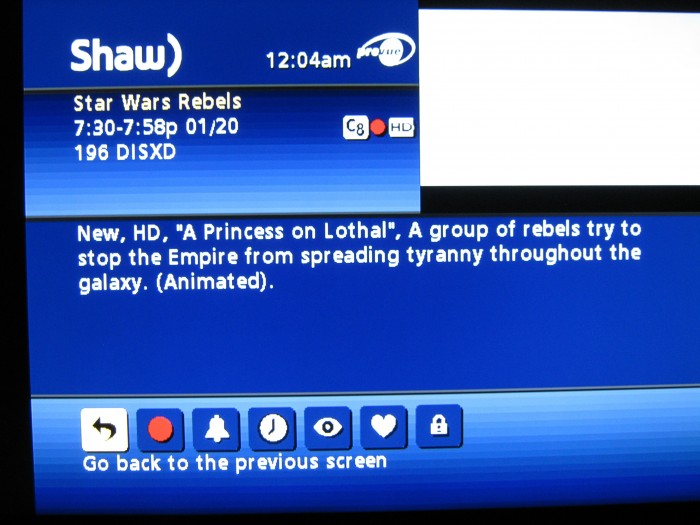 Is Star Wars Rebels making a surprise return on January 20? Disney hasn't announced an official air date for the next episode of their animated series, but Making Star Wars has this image taken straight from a cable listing, revealing an air date for a new episode titled "A Princess on Lothal." This could be a mistake, some kind of glitch on the part of the cable provider, or it could be a listing that went up a little too early. Feel free to speculate wildly!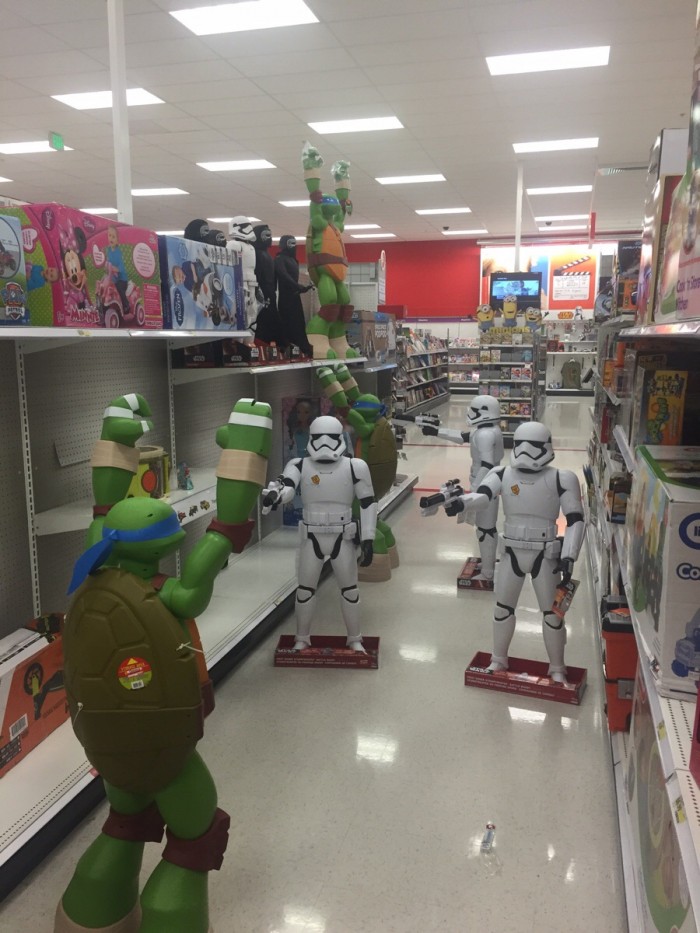 Reddit user Nallo Mallo was shopping at Target when he stumbled across this horrifying sight. Will we ever feel safe in public again? What is going on in this world?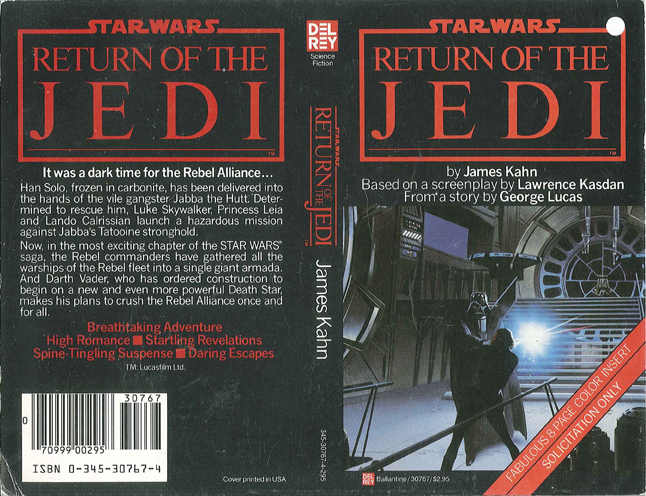 The official Star Wars website has been publishing an ongoing series showcasing the art that beloved concept and storyboard artist Ralph McQuarrie crafted for various Star Wars books and today's entry is a real treat. Above is the cover for for the novelization of Return of the Jedi. Below is the original painting.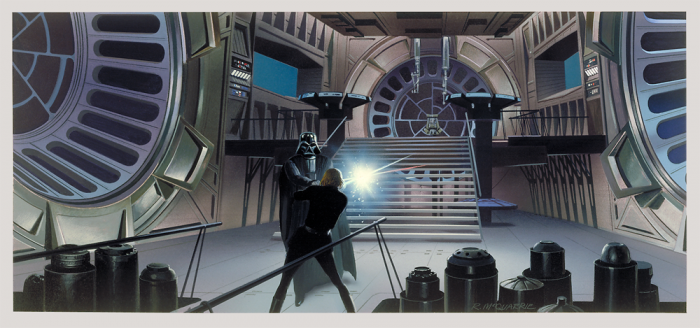 Collider has written a very good article about whether or not Disney and Lucasfilm might consider permanently moving the Star Wars series to December. Although Memorial Day has been the franchise's standard home for decades, it's hard to argue with those record breaking grosses and, as the article points out, it's even harder to argue with the lack of competition:
As it stands now, The Force Awakens not only benefitted from kids being out of school for winter break and families looking for something to share at the multiplex together over the holidays, but there's little standing in its way in terms of box office competition. Folks have been going back two, three, four times to see The Force Awakens not just because it's an entertaining flick, but because there's really nothing else playing that offers the same popcorn, blockbuster-type feel. Indeed, the film looks to have free reign at the box office until, at the earliest, January 15th, when Ride Along 2 and 13 Hours open in theaters, and even then the possibility of it being usurped is far from solidified. In terms of scale and family-wide appeal, the closest competitor doesn't arrive until Kung Fu Panda 3 opens on January 29th, nearly a month and a half after The Force Awakens first arrived in theaters. Now that's the kind of wide open box office run you want.
Rogue One is currently scheduled for release this December, Star Wars: Episode VIII for the following May, and that Han Solo spin-off will arrive one year after that in 2018. There's plenty of time to shift things around, should Disney decide that that holiday cash is greater than summer cash.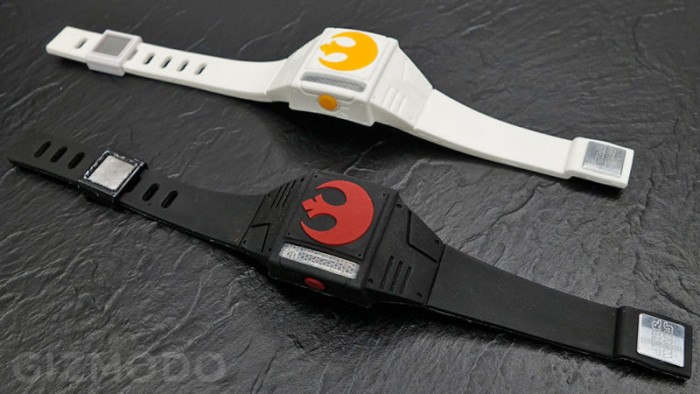 Gizmodo has the scoop on the latest upgrade to Sphero's massively popular BB-8 toy and it's a doozy. A new wearable will allow you to control your adorable little droid through hand motions alone. The big question now is whether this is just cool motion-tracking technology or a device that directly connects you with the Force.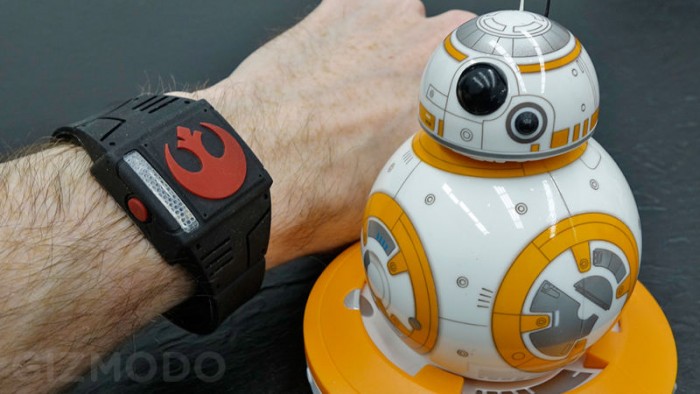 In news that should surprise absolutely no one, Marvel's Star Wars line dominated comic book sales in 2015, beating out Frank Miller's highly anticipated return to Batman and the gigantic Secret Wars miniseries. As you can see below, Star Wars books accounted for four of the top ten bestselling issues of last year:
1. STAR WARS #1 MARVEL COMICS
2. SECRET WARS #1 MARVEL COMICS
3. BRAVEST WARRIORS: TALES FROM HOLO JOHN #1 BOOM! STUDIOS
4. ORPHAN BLACK #1 IDW PUBLISHING
5. DARK KNIGHT III: THE MASTER RACE #1 DC COMICS
6. STAR WARS VADER DOWN #1 MARVEL COMICS
7. DARTH VADER #1 MARVEL COMICS
8. SPIDER-GWEN #1 MARVEL COMICS
9. INVINCIBLE IRON MAN #1 MARVEL COMICS
10. PRINCESS LEIA #1 MARVEL COMICS
We're still not entirely sure what's up with Boba Fett in the new Star Wars canon. In the old expanded universe, he survived his encounter with the Sarlacc and went on to have all kinds of adventures. In the new novel, Star Wars: Aftermath, we see an unknown figure acquire the dead bounty hunter's armor for vague purposes. In any case, the Star Wars Minute YouTube channel has put together a brief history of Slave II, the ship Boba Fett uses after the events of Return of the Jedi in the old universe. Whether or not Slave II will ever actually exist again is unknown.