The Delightful 'Raiders!: The Story Of The Greatest Fan Film Ever Made' Has Been Acquired By Drafthouse Films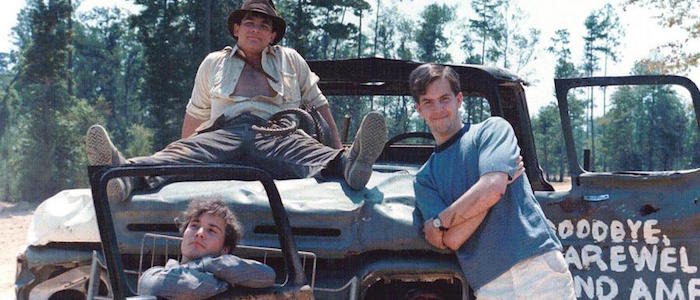 I have a soft spot for Drafthouse Films, one of the few film distribution companies whose ongoing mission statement seems to be "Oh, this movie is really good and/or weird, let's buy it." How else do you explain their astonishing library of movies, which includes everything from The Look of Silence and Miami Connection to The Overnighters and Dangerous Men? Now, they've gone and picked up another winner: Raiders! The Story of the Greatest Fan Film Ever Made.
Raiders! is a documentary chronicling the kids who spent seven years shooting a shot-for-shot remake of Steven Spielberg's Raiders of the Lost Ark, only to abandon the project with one sequence left. Then, decades later, they reunite to finish their project. It's warm, sweet, funny, and surprisingly melancholy. Find additional details, including an early trailer for the film, below.
Directed by Jeremy Coon and Tim Skousen, Raiders! often plays like a real-life Amblin movie. A group of kids (somehow managing to survive in the years before the internet), emboldened by youth and a love of movies, embark on an insane and occasionally dangerous quest. Personalities clash, potential romantic entanglements create rifts, and everyone gets away with stuff that would be unthinkable today. The stories of them making their film (which has been assembled under the title of Raiders of the Lost Ark: The Adaptation) are fun and funny and will fill your veins with a warm dose of nostalgia.
However, Raiders! also acts as a bucket of icy water, following these kids as they grow up find their filmmaking aspirations dashed. Coon and Skousen pull few punches in how they tell this story, never shying away from the failures of their subjects. When everyone comes together to finish the film as adults after their childhood project becomes a beloved cult item, the cameras capture every moment of folly and every increasingly poor decision. It's compelling stuff (and you read /Film's SXSW review right here).
Here is Drafthouse Film's official synopsis for the film:
After Steven Spielberg's classic film was released almost 35 years ago, three 11-year-old boys from Mississippi set out on what would become a 7-year-long labor of love and tribute to their favorite film: a faithful, shot-for-shot adaptation of the action adventure film. They finished every scene...except one; the film's explosive airplane setpiece.
Over two decades later, the trio reunited with the original cast members from their childhood in order to complete their masterpiece. Featuring interviews with John Rhys Davies, Eli Roth and more, Raiders! is the story of the project's culmination, chronicling the friends' dedication to their artistic vision-mixed in with some movie magic-to create the greatest fan film ever made.
And here is the first trailer, which was originally created for the film's 2015 festival run:
Raiders!: The Story of the Greatest Fan Film Ever Made doesn't have a release date yet, but you should expect it to hit theaters and VOD sometime in 2016.