Peter Mayhew Wasn't The Only Actor Playing Chewbacca In 'Star Wars: The Force Awakens'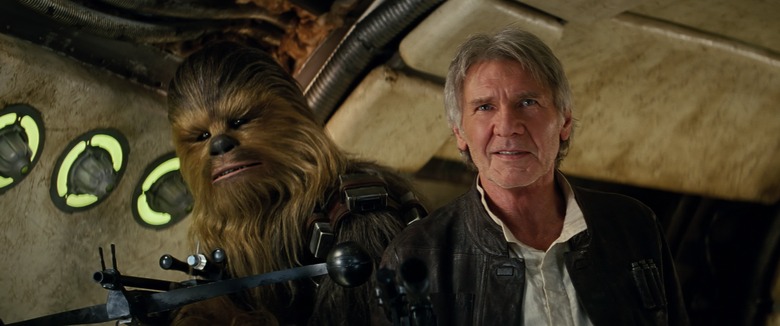 Even though fans have never seen his face in a Star Wars movie, fans of the sci-fi saga know exactly who Peter Mayhew is. For those who don't, he's the 7'2" British actor who played Chewbacca in the original Star Wars trilogy and Revenge of the Sith. And Mayhew was once again recruited to play the Wookiee in Star Wars: The Force Awakens. However, there's a new actor who also helped bring the Wookiee to life as well. Find out who this new Chewbacca actor is after the jump.
29-year old Finnish actor Joonas Suotamo had the honor of stepping into the massive, hairy shoes of Chewbacca alongside Peter Mayhew. The actor who originated the role of Han Solo's furry companion is 71 years old, and nowadays he gets around with the help of a cane. He just isn't as spry as he once was. But you just can't get any random stuntman to play the role of Chewbacca. Not only is the character tall, but Mayhew has done a lot of work to bring the character to life. And that's where Suotamo came into play.
Just one of the happiest moments of my life #starwarstheforceawakens #european #premiere #theyoungwookiee #instamoment #maytheforcebewithyou #theforceawakens #finn
A photo posted by Joonas Suotamo (@joonassuotamo) on
Business Insider reveals that the actor, who is 6'11", is a former insurance agent with a film degree from Penn State, where he played basketball and presumably got all the rebounds. And it's a good thing he took up sports while he was in college, because it was his former coach who tipped him off to a project looking for someone around seven feet tall with blue eyes, to match with Mayhew's. Even though Suotamo wasn't quite tall enough, he was told to submit a tape of him acting like a caveman, with no idea what movie he was auditioning for.
His tape resulted in him getting called into audition for a movie called Foodles. Some internet research, along with the insane amounts of paperwork he had to sign, keyed him into the fact that this was going to be a Star Wars movie. But it wasn't until his first of three trips to audition for the role that he figured out he was playing Chewbacca, prompting him to study the character's movement in the original trilogy very closely.
The hard work paid off because he was called to meet with director J.J. Abrams in London and there he was told that he would be playing Chewbacca along with Mayhew. Suotamo was on set for five months, putting on the body suit and black eye make-up to hide his skin under the mask, all so he could shoot duplicate scenes of exactly what Mayhew was doing on set.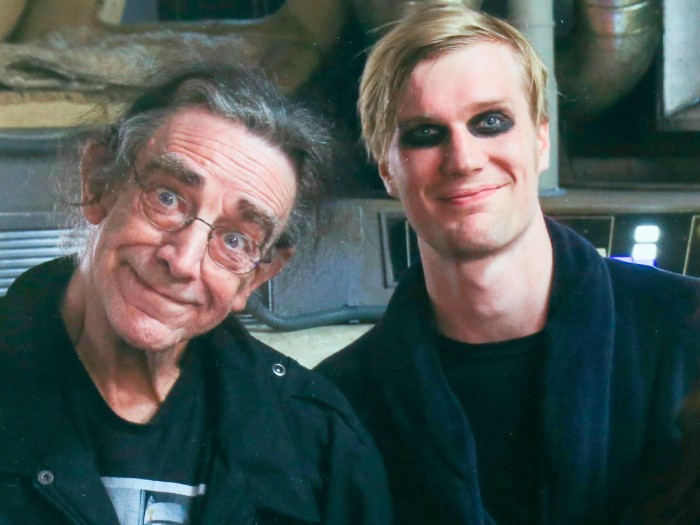 But just how much of Suotamo's work made it into the movie? That's not something the actor is willing to divulge:
I will never get into it. That's for people to guess and figure out.
My bet is that a significant amount of the action scenes were completed by Suotamo, if only because Mayhew has such a difficult time getting around. Plus, Abrams recently told Yahoo:
We had a wonderful guy, this Finnish actor who is twice as tall as I am, playing Chewbacca in many of the action scenes. He had this love and respect and connection for this character of Chewie all his life. The fact that he got to play Chewie in so many scenes was a powerful thing for him, but Peter was often there while Joonas was doing this, almost as a consultant.
Production easily could have just used Suotamo in the role for the entirety of the movie, but the wrath of Star Wars fans would be far worse than paying two actors to play Chewbacca on set. Plus, at the end of the day, Mayhew isn't going to be alive forever. And assuming Chewbacca continues to survive, someone has to be on tap to play the character when Mayhew just can't do it anymore.
For more on Suotamo, including his reaction to being on the Millennium Falcon and filming a certain scene with a major spoiler, check out Business Insider's full profile on the actor. We'll see what Suotamo and Mayhew get up to as Chewbacca in Star Wars: Episode VIII in about a year and a half on May 26th, 2017.