Netflix's 'Fuller House' Tried To Get Elizabeth Olsen To Fill In For The Olsen Twins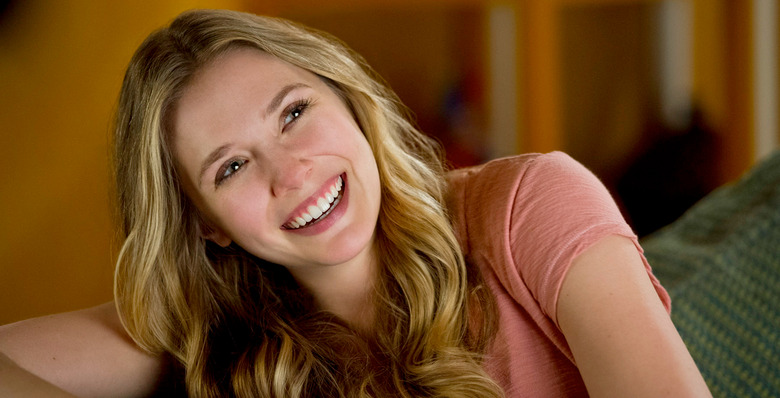 We've known since last summer that Mary-Kate and Ashley Olsen would not be making an appearance on Netflix's Full House revival series Fuller House. The twins won't even be making a cameo as the singular child Michelle Tanner, but the character's absence is said to be explained by the fact that she's now a fashion mogul in New York City. That's a nice little nod to the Olsens' real-life career, which has been cited as the reason for their not getting involved in the new series. Until now.
John Stamos recently appeared on The Howard Stern Show where conversation turned to Fuller House. The actor who plays Uncle Jesse revealed a more humble reason as to why they didn't end up appearing on the show. Plus, he also reveals what could have been an interesting solution to their lack of involvement.
In the radio interview (via EW), Stamos had this to say about Mary-Kate and Ashley Olsen's decision to stay out of Fuller House:
They seemed very into [Fuller House]; they just were afraid of acting. They hadn't acted; they don't consider themselves actresses.
So the twins weren't necessarily looking to distance themselves from the show that gave them a career or too busy to make it work, but they're just not confident in their acting skills anymore. After all, they haven't been on screen much in the past decade. Mary-Kate had a role in Beastly starring Vanessa Hudgens and Alex Pettyfer, but Ashley's last role was an uncredited one in the faux documentary I'm Still Here, and that really didn't require much acting.
There is an Olsen who has been doing a lot of acting though, and that's the twins' sister Elizabeth Olsen. Stamos revealed to Sirius XM's Radio Andy (via ScreenCrush) that executive producer Jeff Franklin actually reached out to see if she wanted to take a role on the show:
We actually went to...I don't think this has been talked about. I didn't do it, I think Jeff Franklin did. I said, 'Call the sister. Ask her.' We talked to her agent and her agent was like, 'Come on, she's not going to do that.' But we did call her agent.
Indeed, Olsen has quite the flourishing career right now, and to take a role on a nostalgic comedy sitcom on Netflix would be a bit of a step back for the actress. It's also quite a commitment that could keep her from starring in more movies, especially since she already has a contract with Marvel Studios as Scarlet Witch. So having Elizabeth Olsen in Fuller House just wasn't in the cards.
But Netflix's Ted Sarandos isn't counting out the return of Michelle in some capacity as he said back in June:
There's all kind of stunt availability that can happen down the road on the show.
Don't hold your breath though, Full House fans. Fuller House debuts on Netflix on February 26th, and you can watch the first trailer for the show right here.