'Baywatch' Reboot: Kelly Rohrbach Is The New Pamela Anderson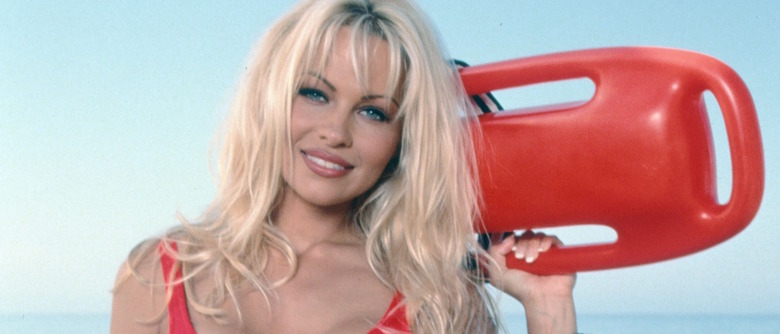 A generation after the original Baywatch debuted on TV, Paramount is preparing to introduce a whole new generation to the joys of slow-mo beach runs. Which means, of course, they'll need a new C.J. Parker, the pneumatic lifeguard played by Pamela Anderson in the 1990s TV series.
Well, as of now, the search is over. Actress and model Kelly Rohrbach has been set to fill Anderson's iconic red swimsuit in the Baywatch movie, joining Dwayne Johnson, Zac Efron, and Alexandra Daddario. Click through to see the first video of Rohrbach in action on set. 
Rohrbach confirmed the casting on Instagram with a cute little clip.
It's official! ????????????????So excited to finally announce that I'll be joining @therock in the upcoming #BAYWATCH movie! It has been an amazing ride thus far, can't wait for what's to come! Feeling beyond blessed and grateful! Here we go!! ???????? #waitwhosmitch
A video posted by @kellyrohrbach on
And in case you were worried Rohrbach might not measure up to the original, Johnson shared a few short videos on Instagram demonstrating that his new co-star has what it takes. "Yes, she's a walking smoke stack but more importantly... she's smart, tough and funny. Just the way we like 'em," he wrote.
For our #BAYWATCH and the iconic role of "CJ Parker" I had to make sure @kellyrohrbach was ridiculously sexy running in SLO-MO.... A video posted by therock (@therock) on
For our #BAYWATCH and the iconic role of "CJ Parker" I had to make sure @kellyrohrbach was... tough. A video posted by therock (@therock) on
Rohrbach is a model who's appeared in Sports Illustrated's swimsuit issue. Tabloid junkies might also recognize her as Leonardo DiCaprio's ex-girlfriend. She has a small handful of acting credits under her belt already, CW Seed's The PET Squad Files, and Woody Allen's next film starring Kristen Stewart and Steve Carell.
Seth Gordon is directing the new Baywatch from a script most recently reworked by Damian Shannon and Mark Swift. Beau Flynn and Ivan Reitman are producing along with Johnson, Dany Garcia, Michael Berk, Douglas Schwartz, and Greg Bonnan.
The film will be a more comedic take on the source material, not that the Baywatch TV show was ever all that serious to begin with. Johnson plays Mitch (David Hasselhoff's character from the original series), and Daddario is Summer (played by Nicole Eggert in the original series). Plot details are being kept under wraps, but earlier reports indicated it'd follow Johnson and Efron's polar-opposite characters as they team up to save their beach.