Bad News, 'Community' Fans: Yahoo Screen Shuts Down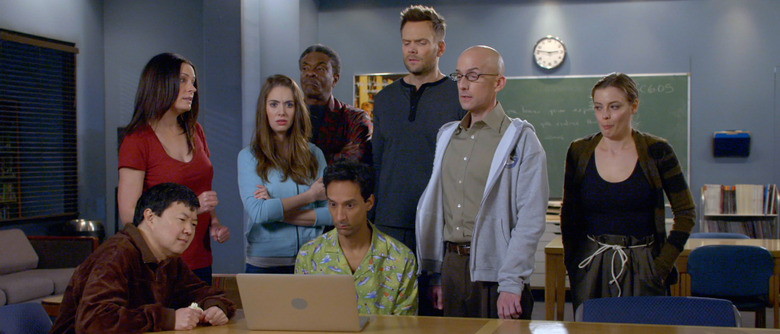 Yahoo Screen saved Community, but it seems Community couldn't save Yahoo Screen. Yahoo has confirmed it's shutting down the streaming video platform, which launched two years ago to house both original and syndicated programming. The content that already exists will be folded into other sections (sorry, "digital magazines") at Yahoo. More about the end of Yahoo Screen, and what this might mean for Community, after the jump. 
A rep for Yahoo confirmed to
that Yahoo Screen had been shuttered last week. "At Yahoo, we're constantly reviewing and iterating on our products as we strive to create the best user experience," they said. "With that in mind, video content from Yahoo as well as our partners has been transitioned from Yahoo Screen to our Digital Magazine properties so users can discover complementary content in one place."
For example, Yahoo Screen's Live Nation channel will continue to stream live concerts, only now it'll be on the Yahoo Music page. And Community's sixth season isn't too hard to find — it's sitting right there on the
page, alongside other original Yahoo series like Sin City Saints and the Paul Feig-created Other Space. Katie Couric's daily news report is also expected the continue.
Yahoo Screen launched in September 2013, boasting over 1,000 hours of content and a partnership with Viacom. Its offerings included the Saturday Night Live archive, and an exclusive livestream of an overseas NFL game. The service garnered some of the biggest headlines of its brief history in summer 2014, when it
 Community after NBC gave it the axe. (Hey, the move worked for Netflix with Arrested Development, right?)
Nevertheless, Yahoo Screen continued to struggle against the likes of Netflix, Hulu, and Amazon. Rather than help Yahoo Screen establish itself in a crowded market, the original video content led to a
last fall, with CFO Ken Goldman admitting that "we couldn't see a way to make money over time" on series like Community, Sin City Saints, and Other Space.
It's just the latest in a string of blows for Yahoo, but that's a story for a tech site. For our purposes, this means Community is all but dead. (Also Sin City Saints and Other Space, presumably, but those never had the following Community did.) Although there were
discussions about a seventh season, star Joel McHale pointed out that the cast's contracts were up, and that the stars had become
.
Looking back, it seems insane Community even lasted as long as it did. It struggled in the ratings through all five seasons on NBC, said goodbye to some of its biggest stars, and even lost and later regained showrunner / creator Dan Harmon at one point. Nevertheless, it's now fulfilled the "six seasons" half of its "six seasons and a movie" mantra. I'd say a movie looks pretty unlikely at this point, what with so many of the talents now wrapped up in other projects, but then again who'd have bet on it getting six seasons to begin with?