Watch The THR Directors Roundtable With Quentin Tarantino, Ridley Scott, And More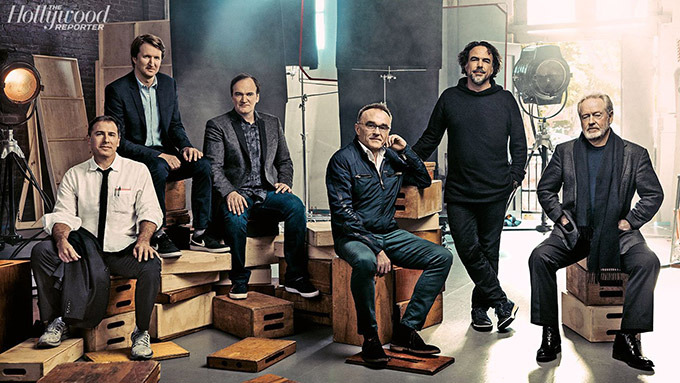 Around the end of every year, The Hollywood Reporter releases one-hour roundtable video interviews with writers, actors, directors, and more. Often the filmmakers will discuss their work with a surprising amount of honesty. This year is no different, and once again, they've found a few filmmakers you'd want to spend an hour with, including directors Quentin Tarantino (The Hateful Eight), Ridley Scott (The Martian), and Danny Boyle (Steve Jobs).
After the jump, watch the one-hour long chat.
The conversation also includes David O. Russell (Joy), Tom Hooper (The Danish Girl), and Alejandro G. Iñárritu (The Revenant). All three men have been featured in The Hollywood Reporter in the past, but after the somewhat lukewarm responses for Joy and The Danish Girl, it's a little surprising they didn't go with George Miller (Mad Max: Fury Road), Ryan Coogler (Creed), or a number of other directors instead. The outlet shoots these conversations often before the films come out, but it would've been nice to bring a little new blood in here, especially since they cover some familiar territory from the past roundtables.
I shouldn't be complaining, though, as these conversations are almost always enlightening and entertaining, and Russell and Hooper are engaging speakers. Here's what they, in addition to Tarantino and more, had to say in the THR directors roundtable:
The conversation begins on a high note, with Tarantino discussing the decline of cinema:
I don't know if we're giving people enough reason to leave their house and go to the movies. I'm not trying to be a broken record, but I do think the digital production, the digital shooting, and the digital projection has a whole lot to do with that, because we're just watching a DVD — and I can watch that at home. To tell you the truth, movies that I would've went out to see 10 years ago, I can wait for them.
The directors that shoot digitally (Scott and Boyle) don't chime in, but add the standards have been lowered for audiences and there are just too many movies being made, and Scott even goes as far to say there are too many filmmakers working today. The Martian director also mentions the idea sequels are wearing audiences out, even though he's currently prepping his own Alien sequel, but he does add this lovely insight into the power of "vision":
To run out of stories and ideas is entirely wrong. In the head, the capability, and the sensibility of whoever the filmmaker is, you can make a feature film about a pen, depending on what your vision is. It's just that simple. Any story is a good story. If they say "what's your plan," there is no plan. If I want to make a film about blue pens, the biggest single word is "vision."