Star Wars Bits: Lawrence Kasdan Chats About That Han Solo Movie, A Massive 3D-Printed Star Destroyer, And One Lonely Luke Skywalker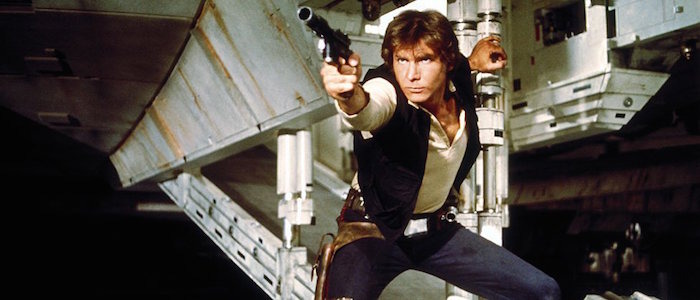 Welcome back to Star Wars Bits, your regular source of sweet, nourishing, life-enriching Star Wars news! In today's edition:
Lawrence Kasdan teases his Han Solo movie.
Fascinating work-in-progress Ralph McQuarrie art is revealed.
Peter Mayhew reveals himself to be one stellar guy.
Someone printed their own 24-inch Star Destroyer.
Two Star Wars novels get new release dates.
Luke Skywalker is on Twitter and he's very lonely.
The classic Star Wars movies re-cut into modern movie trailers.
Following a Directors Guild of America screening of Star Wars: The Force Awakens, co-writer/director J.J. Abrams and co-writer Lawrence Kasdan participated in a Q&A that focused mostly on the film everyone had just watched. However, Kasdan was also grilled about the upcoming Han Solo movie he's writing for directors Chris Miller and Phil Lord. Interestingly, Kasdan says he accepted this gig before he was roped into helping finish The Force Awakens:
I wasn't sure I wanted to be involved. And I was a little relieved when they said Michael Arndt had been hired to write 'Episode VII,' because whoever writes that episode, I don't know what you do with it. But they said, 'Here are these other stories we'd like to do.' And the one that caught my attention was a young Han Solo because that's my favorite character.
Kasdan later doubled down on the message that everyone in connection to this project has been trying to make clear – this isn't a Han Solo origin movie, but rather just a look at this character having an adventure in the years before the original 1977 Star Wars:
It will not be here's where he was born and this is how he was raised. I think what it will be is, what was he like 10 years earlier, maybe a little earlier, you'll get a glimpse. But Kurosawa once said the heroes are the ones that are still changing and the villains are locked and petrified into what they are. And Harrison embodies in 'Force Awakens' someone who is still not settled on who he is.
Fair enough, Mr. Kasdan. But we're keeping an eye on this project. Han Solo is sacred turf.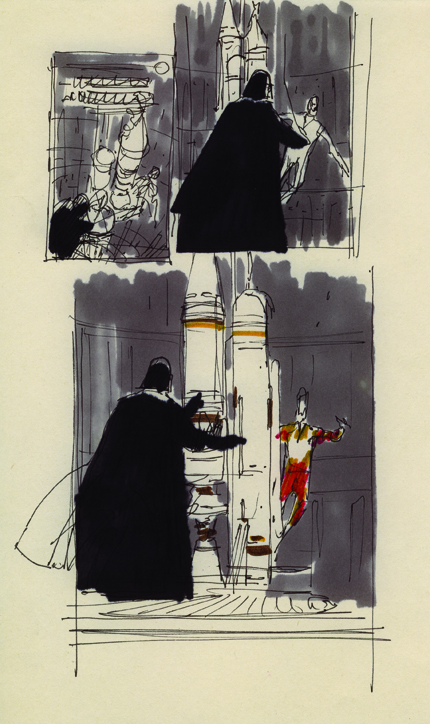 The office Star Wars site has been sharing art that famed illustrator Ralph McQuarrie, who is best known for designing countless iconic elements of the original Star Wars trilogy, created for a series of published and unpublished books in the late '70s and early '80s. Having the chance to view his earliest sketches and, in some cases, the finished product, is fascinating. There are few things as pleasurable as watching a talented artist do what he does best.
Digital Spy reports that Ashley Fleetwood, widow of Daniel Fleetwood, was recently invited to visit the home of Peter Mayhew. Mayhew is, of course, the actor who has played Chewbacca since 1977. Daniel Fleetwood is, of course, the Star Wars fan who passed away last year shortly after J.J. Abrams granted him an early screening of the finished film. It turns out that Mayhew's home has a "Chewie Museum" and everything:
Star Wars actor Peter Mayhew, who plays Chewbacca in the blockbuster saga, invited the widow of late fan Daniel Fleetwood to his home.
Ashley Fleetwood was granted a visit to Mayhew's farm in Texas, which includes a "Chewie museum".
Daniel, who was terminally ill and passed away last month aged 32, was granted an early screening of new film The Force Awakens after a social media campaign went viral.
It looks like you can add Mr. Mayhew to that list of fine, upstanding celebrities you secretly keep in the back of your brain.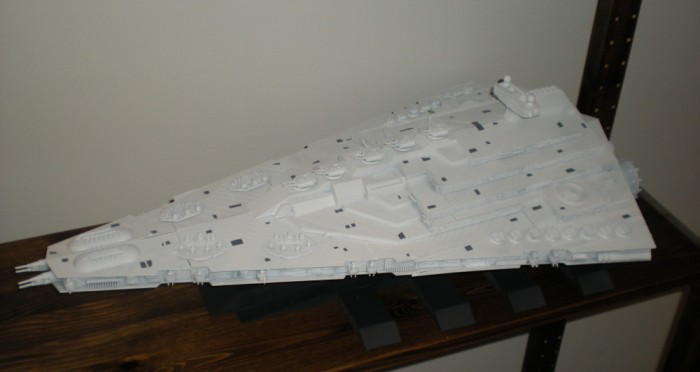 Here's a two-foot long 3D-printed Star Destroyer that was exactingly recreated piece by piece and assembled with hot glue. Welcome to 2016. Feeling lazy yet?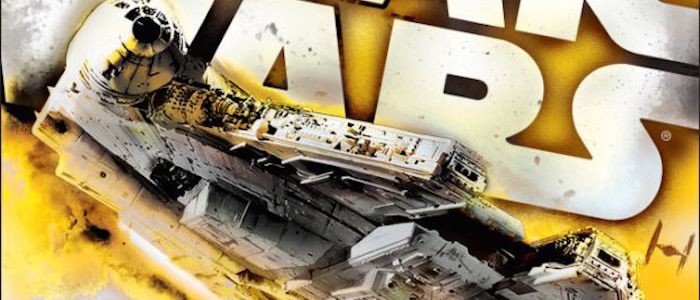 The Star Wars Books Facebook page has revealed that the next two Star Wars books, New Republic: Bloodline and Aftermath: Life Debt, have new release dates. For reasons not specified, both books have been pushed back two months, arriving in May and July instead of March and May. Here's the full statement:
Just a little bit of publishing news today. Based on our publisher moving some dates, we are shifting the release dates for Claudia Gray's NEW REPUBLIC: BLOODLINE and Chuck Wendig's AFTERMATH: LIFE DEBT about six weeks each.
NEW REPUBLIC: BLOODLINE now 5/3 (was 3/29)
AFTERMATH: LIFE DEBT now 7/19 (was 5/31)
Both books are available for pre-order NOW from wherever you enjoy purchasing books. We look forward to sharing more info about these titles soon.
Aftermath: Life Debt is the sequel to last year's hugely disappointing Star Wars: Aftermath, which took place directly after the events of Return of the Jedi. Therefore, we're a bit more interested in New Republic: Bloodline, which is set six years prior to the events of The Force Awakens.
When I face a tough choice, I ask myself, "What would my dad do?"

Probably kill a bunch of Padawans.

I should find a new role model.

— Very Lonely Luke (@VeryLonelyLuke) January 3, 2016
By now, you're surely familiar with Emo Kylo Ren, the Twitter account that tells of the villain's days as a disgruntled teenager, powered by angst, the Dark Side, and a friendly rivalry with his school chum, the soon-to-be-General Hux. Now, another new The Force Awakens-inspired Twitter feed has arrived, giving us a humorous glimpse into the mind of the exiled Luke Skywalker as he mopes around that Jedi temple. Our verdict: pretty good. Not Emo Kylo Ren good, but solid.
I met my dad & sister on the same day

We didn't recognize each other

Dad tried to kill me

I blew up his house

Worst family reunion ever.

— Very Lonely Luke (@VeryLonelyLuke) January 4, 2016
io9 has published a fun article running down characters and storylines from the now-erased Star Wars expanded universe that deserve to be reincorporated into the new canon. From Shadows of the Empire to the mere existence of Darth Plagueis, it's a solid reminder of just how much we lost when Lucasfilm rebooted the canon... but also how much can possibly be rescued in the years ahead.
How would you sell The Empire Strikes Back if it was released today? The video above tries to answer that question, taking footage from the best Star Wars movie of them all and re-assembling it using the same musical beats and editing rhythms of the advertising for Star Wars: The Force Awakens. The result is pretty cool – it's fascinating just how well this 35-year old movie cuts as a modern movie preview. And, of course, there's a companion trailer for Return of the Jedi below.