'Monster Hunt', China's Highest-Grossing Movie Ever, Is Coming To The U.S.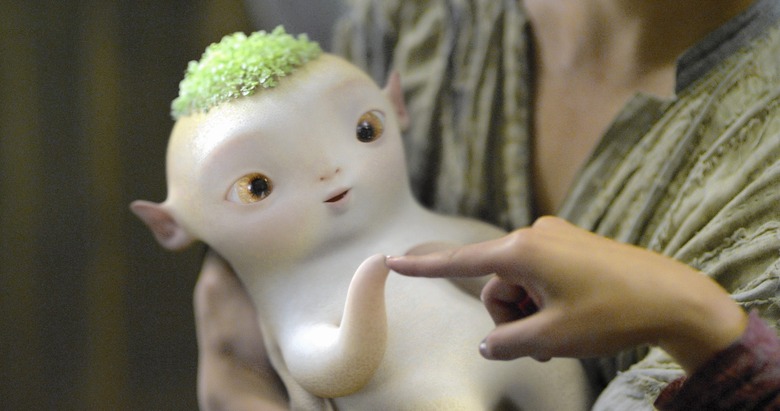 Just as the unstoppable Hollywood force that is Star Wars: The Force Awakens finally makes its way to China, a Chinese box-office juggernaut is turning up on our shores. Monster Hunt, which became the country's highest-grossing movie of all time last summer, is opening in North America later this month thanks to FilmRise and Asia Releasing. More details on the Monster Hunt US release after the jump. 
Variety reports Monster Hunt will open in 3D on January 22 "in all major North American markets." The film will be available in both the original Chinese version (with English subtitles) and a new English dubbed version. The strategy should help Monster Hunt reach both Chinese audiences in North America, and North American audiences looking for fresh entertainment during the January doldrums.
"Chinese audiences in North America will for the first time be able to see this film on the big screen in 3D in its original language," said Asia Releasing founder and CEO Milt Barlow. Meanwhile, "We have carefully edited the English language version to be the equivalent of a PG rating, and we believe North American kids and their parents will embrace the film in the same way as Chinese audiences have," said FilmRise CEO Danny Fisher.
Made for around $50 million, Monster Hunt has grossed over $390 million to set China's all-time box office record. It beat out several foreign titles to get there, including Furious 7, Transformers: Age of Extinction, and Avatar. Directed by Shrek the Third co-director Raman Hui, the live-action / CG fantasy epic centers on a war between monsters and humans. At the center of the story is Wuba, a baby monster born to a human man. (And by "born to," we mean he actually gives birth to it.)
Reviews for Monster Hunt have been mixed to positive. Outlets like Variety have praised its "technical wizardry" and "tyke-friendly" appeal, while THR took issue with its "epically muddled" plotline. Screen Daily predicted way back in July that Monster Hunt's "uneven tone and wayward plotting" could hinder it in international markets (like the U.S.), so we'll have to wait and see how things pan out.
Although mainstream Hollywood films have increasingly catered to Chinese audiences, the cultural exchange hasn't really gone the other way. Foreign films are still niche market in the U.S., with rare exceptions. Still, maybe the cute little baby monster will attract enough curious American moviegoers to make it a modest success. After all, if there's anything Star Wars' BB-8 taught us, it's that adorable blobs cross all cultural and linguistic barriers.