Joss Whedon Is Really And Truly Done With The Marvel Cinematic Universe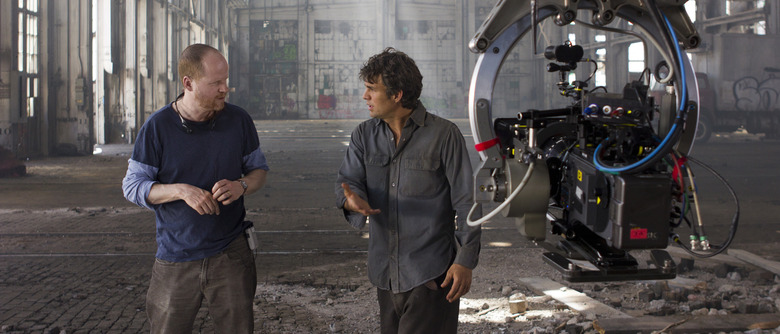 Considering Avengers: Age of Ultron basically broke Joss Whedon, it shouldn't come as any big surprise that he's tapped out of the Marvel Cinematic Universe. But in case there was ever any doubt, Whedon has now confirmed that yes, indeed, he is done with the Marvel Cinematic Universe. As he put it, he and Marvel have made "a completely clean break." Read the Joss Whedon Marvel Cinematic Universe comments after the jump.
Whedon was the driving force behind much of Phases One and Two of the Marvel Cinematic Universe. Not only did he direct both Avengers films, and help create Marvel's Agents of S.H.I.E.L.D., he also served as a general consultant on other Marvel projects over the past several years. But the Avengers: Age of Ultron shoot was a huge struggle for him, as Whedon has readily admitted in interviews, and now he's done with Marvel for good.
During a Q&A at Oxford Union (via Uproxx), Whedon clarified his relationship (or rather, currently, lack thereof) with Marvel Studios. When asked whether he would "have any involvement in the wider Marvel Cinematic Universe," Whedon responded:
No. You know, I was their sort of consigliere for a while. ... I sort of had my finger in all of the films in the second phase. But then I just had to concentrate only on Ultron, and sort of know that when it was done I was just going to stop. So I made a completely clean break. Not because we had a falling out, just because I was like, 'I can't.' If I was still there going, 'Well, here are my thoughts on this film,' I'd be there every day. I wouldn't do anything else. 'Cause there's a lot of films, and it's a lot of fun. It's very seductive. When you can put your little fairy dust on things and just improve them slightly, and they actually listen to you. You know, I was a script doctor for a long time, and the part where they listen to you is very rare. So it was important for me to, for my own self, to just go, 'No. We can still be friends, but...'
Whedon has been frank about his issues with the Avengers: Age of Ultron shoot. He butted heads with the executives about which scenes to include, leading to a film that felt overstuffed and half-baked in places. And all the chatter surrounding the release of the movie led Whedon to quit Twitter — not because of "feminist outrage" as some fans snarked, but because, he stated, he needed some quiet so he could start working again. In the Q&A, he explained why it was important to him to move on:
I've gone off the reservation for a while. It was five years that I was working on either an Avenger or S.H.I.E.L.D., with just a little, a smattering of Ado in the middle. Not much Ado. A little. And that was an enormous gift they gave me. They handed me several hundreds of millions of dollars and said, 'Do what you do.' Which is very rare, and I was very lucky. But at the same time, it's important for me not just to have my own thing and do something smaller, but also to create a new challenge for myself because I will start to repeat myself.
Though the filmmaker joked that he could still return for Avengers 5 – and though stranger things have happened — it's pretty clear he has no interest in coming back any time soon. For now, Whedon has devoted himself to smaller projects. "I've been working on some little personal projects that I cannot describe, but I can tell you that they're really hard, and I'm totally failing," he said. "It feels great."
Marvel, meanwhile, has left Phase Three in the capable hands of Joe and Anthony Russo, who helmed Captain America: The Winter Soldier, returned for next year's Captain America: Civil War, and will be back again to direct the two-part Avengers: Infinity War, out in 2018 and 2020.
You can watch the whole Whedon Q&A below. The quotes above begin around the 8:15 mark.