If You Have The Money, You Can Buy Optimus Prime And Bumblebee From 'Transformers'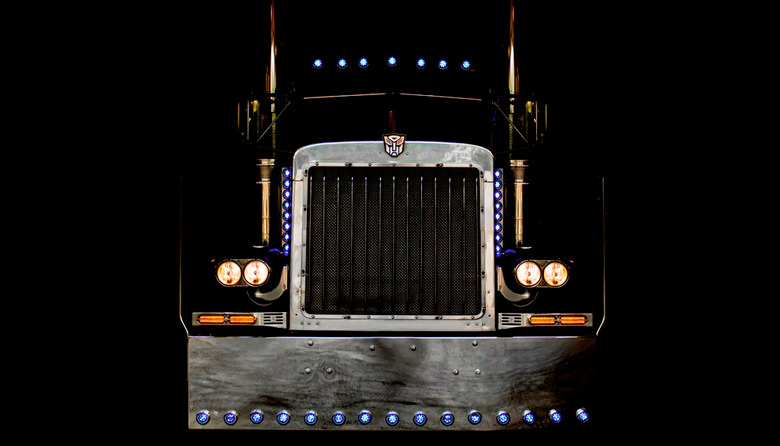 We all have cars, but wouldn't it be cool if we had Transformers? Sadly, we're not likely to have full-size cars that can transform into sentient robots anytime soon, but if you've got a huge load of cash lying around, you can have the next best thing.
Automobile auction house Barrett-Jackson will be having a special auction at the end of January, and there are two very special items up for bid that should get any Transformers fan excited. Full-size and functional Optimus Prime and Bumblebee cars will be up for sale. Find out more about the two vehicles below!
Here are the images for the Optimus Prime auction from Barrett-Jackson (via Transformers Live):
The description for the semi truck, which was meant to be a tribute to Steven Spielberg's thriller Duel, says:
An entire team of artists and illustrators worked tirelessly, drawing potential trucks and cars, trying to zero in on just the right look for each robot/vehicle. When the film's production designer showed Michael Bay a photo of the enormous Peterbilt tractor, the director was immediately taken by the lines and size of the truck, even through he know he would face intense criticism for his choice – in the same way he did for selecting a GM Camaro in place of the original VW Beetle known as the beloved robot Bumblebee.
Speaking of which, a 1967 Chevrolet Camaro that was used as a form of Bumblebee in Transformers: Age of Extinction will also be on sale with Optimus Prime. Here are some photos of that sweet vehicle which is currently owned by director Michael Bay himself:
And here are all the sweet features of the Camaro:
Fuel-injected Corvette LS3 engine, 6-speed overdrive transmission, custom suspension, mini tubs, Wilwood brakes plus added stunt extra caliper, 9" Ford rear end, touchscreen navigation stereo system, custom three-piece racing wheels, Nitto low-profile tires, hideaway headlights, custom Halo LED yellow headlights, yellow Ridetech "TigerCage" rollcage, custom-made carbon-fiber fender flares and front splitter, power hood latch, satin black paint with high-gloss yellow accents, carbon-fiber engine covers, Auto Meter Cobalt gauges, system kill within glovebox, Eddie Motorsport hood hinges, custom billet core support bars with yellow accents, smoothed firewall, hydraulic braking assist.
The auction will be happening in late January, and you can get more details right here. There's no estimate as to how much these cars might go for, but they're sure to land a pretty penny despite the fact that they're being sold as-is.