Syfy Journeys Into 'The Expanse' For A Second Season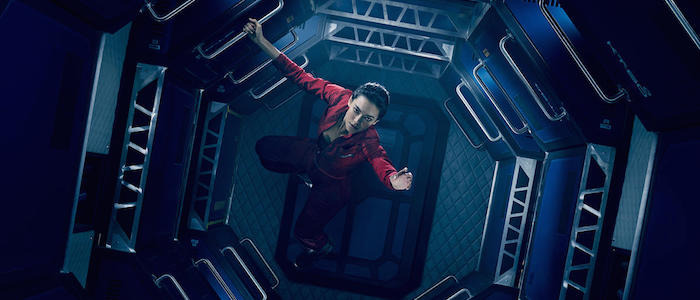 Syfy's The Expanse is one of those shows that makes me feel guilty for cutting the cord. Sure, I'll be able to experience this gritty space opera soon enough when it decides to hit a proper streaming service (you can watch it on Syfy's official site right now, but it feels less than ideal), but it feels like it has the potential to be the next great science fiction show, a proper heir to the likes of Battlestar Galactica and Firefly. Not being able to be part of the weekly conversation with a show that feels so far up my alley is more than a little maddening.
At the very least, it's good to know that there will be plenty to explore when I do ultimate dive down this particular rabbit hole. Syfy has renewed The Expanse for a second season and it will premiere sometime in early 2017.
The news of The Expanse season 2 comes to us via TV Line, where they have a statement from Syfy network president Dave Howe:
The Expanse is firing on all cylinders creatively, building a passionate fan base among viewers and critics alike, and delivering on Syfy's promise of smart, provocative science fiction entertainment. We can't wait to see where the story takes us in Season 2.
While I haven't had a chance to check out the show, I have read the first book in the series upon which The Expanse is based, and it's very good. Written by James S.A. Corey (the pen name for authors Daniel Abraham and Ty Franck), Leviathan Wakes is a crackling read, filled with tons of action, morally ambiguous characters, wild genre concepts, and a rich, detailed science fiction universe that is big without being too big. Although there are shades of everything from Star Trek to Game of Thrones sprinkled throughout its pages, its closest cousin is probably the video game Mass Effect. Based purely on what's been printed on paper and bound into book form, it's easy to see why Syfy snatched this series up.
Set a few centuries from now, The Expanse finds humanity expanding deeper into the solar system. Mars and the moon are fully colonized. Cities and research stations have been established throughout the asteroid belt. But people will be people and a series of violent events soon bring various parties to the bring of war. Gun battles, mystery-solving, ethical dilemmas, and even a dash of wild horror ensue.
This renewal comes before the current 10-episode season of The Expanse reaches its halfway point, which sounds like a serious a vote of confidence from its network. Although season 2 doesn't have an air date yet, it will increase to 13 episodes. To say whether or not cast members Thomas Jane, Steven Strait, Cas Anvar, Dominique Tipper, Wes Chatham, and Shohreh Aghdashloo return would be a spoiler at this point.
If The Expanse continues to do well, there is plenty more material to draw from. With five books already in print and more on the way, this series has the potential to stick around for a long time.