'Alien: Covenant' Is Set A Decade After 'Prometheus' Because In Space, No One Can Hear You Soft-Reboot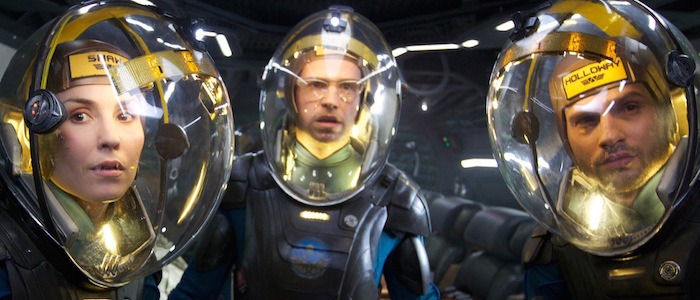 If you want to get nerds shouting at each other, bring up Prometheus. A misunderstood masterpiece? A flawed, fascinating misfire? A low point for the Alien series? You'll find all of these opinions and more floating around the internet, which means that the upcoming Alien: Covenant is facing down a variety of expectations. For some fans, it has to redeem the previous movie. For others, it needs to deepen the mythology that was introduced in Prometheus. Director Ridley Scott, riding high off the success of The Martian, certainly has his work cut out for him.
But today's headline does not come to us courtesy of Mr. Scott. It comes to us courtesy of costume designer Janty Yates, who revealed that Alien: Covenant will be set ten years after the crew of the Prometheus was wiped out and Elizabeth Shaw (Noomi Rapace) and David (Michael Fassbender) set out in search of the Engineers' home planet.
Yates, who has designed the costumes for every Ridley Scott movie since she took home an Academy Award for Gladiator in 2000, recently sat down to speak with Collider. Although the subject of their chat was The Martian (which hits Blu-ray and DVD in less than two weeks), she did spill a few details about that aforementioned time jump in Alien: Covenant, saying that the sequel will be set "...10 years in the future beyond Prometheus."
Here's what we can gleam from this: Alien: Covenant, as expected, is starting to sound more and more like a soft reboot that will refocus and reset the Alien universe following the mixed reaction to Prometheus. With that decade-long gap, Scott and his collaborators are essentially free to do whatever they want: reboot, re-arrange, make room for all kinds of aliens to show up, etc. It's a canny move and a smart way to appease both Prometheus fans and detractors.
This explains why we haven't heard a thing about Rapace's Elizabeth – in the time between movies, something must have happened to her. It's a decision that makes sense. While Rapace has given her fair share of fine performances, nothing about her character resonated with audiences and the role of "tough female heroine who faces the Xenomorph threat" has been handed off to the hugely talented Katherine Waterston. Meanwhile, Fassbender's mischievous android David, who was a highlight of the previous film, gets to return.
The specific details of Alien: Covenant remain under lock and key, but we do know this much from the official synopsis that was released a few months ago:
Ridley Scott returns to the universe he created in ALIEN with ALIEN: COVENANT, the second chapter in a prequel trilogy that began with PROMETHEUS — and connects directly to Scott's 1979 seminal work of science fiction. Bound for a remote planet on the far side of the galaxy, the crew of the colony ship Covenant discovers what they think is an uncharted paradise, but is actually a dark, dangerous world — whose sole inhabitant is the "synthetic" David (Michael Fassbender), survivor of the doomed Prometheus expedition.
And yes, it's going to be the first in a new trilogy. Unless something goes wrong and the next movie has to soft reboot again. We'll find out for sure when Alien: Covenant opens on October 6, 2017.